Should Zack Snyder Make Justice League 2? Let's Talk This Out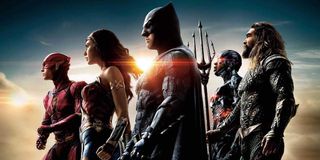 Zack Snyder's DC fans fought for three long and hard years to get Warner Bros. to release his Director's Cut of Justice League, the movie that he wanted to bring to theaters in 2017 before a family tragedy pulled him away, allowing the studio to replace him and pivot the DCEU to a more audience-friendly tone. For years, the drumbeat chant of "Release the Snyder Cut" consumed everything that Warner Bros. tried to promote, with social media channels flooding for Snyder calls until the studio had to relent and get the version fans wanted in front of eyeballs. HBO Max became the chosen platform, and the four-hour cut of Justice League finally was unleashed.
And they all lived happily ever after, right? Not exactly. Zack Snyder's Justice League ends on several notable cliffhangers, introducing anticipated DC heroes like Martian Manhunter (Harry Lennix), and walking viewers through a Knightmare future that would be triggered by the death of Lois Lane (Amy Adams). Needless to say, fans immediately started to ask for Warner Bros. to Restore the SnyderVerse… only, WarnerMedia CEO Ann Sarnoff made it clear that this is not in the studio's plans. But should it be? There are cases to be made for and against the continuation of Zack Snyder's DC universe, even if it's just on the streaming platform. Let's run through some of the Pros and Cons, and try to figure out the best way forward for all parties.
Pro: There's Evidently An Audience For Zack Snyder's DC Content
Zack Snyder's fans are passionate, and they are loyal. They were never going to back down from the call to Release the Snyder Cut of Justice League, and the victory they notched over the studio in the name of artistic integrity should be celebrated. But through their actions, and thanks in large part to the real version of Justice League now being screened, the ranks of people who call themselves Snyder Supporters in the DC Universe appears to have grown. Former SNL comedian Leslie Jones trends on social media by live tweeting her screening of the #LongAssMovie. Critics who tore down Snyder's previous DC efforts now claim his vision is preferred. Variety's Owen Gleiberman summed it up best in his column exploring the future for Snyder when he writes:
Warner Bros., but continuing to tell stories in this world, isn't preaching to as small of a choir as they once might have been. The Genie is out of the bottle regarding the true direction of Snyder's vision. To cite his own terms, the bell's already been rung, and more people are lining up to listen than ever before.
Con: Restoring The SnyderVerse Is Way More Expensive Then Releasing The Snyder Cut
As Zack Snyder told the hosts of CinemaBlend's ReelBlend podcast, Warner Bros. didn't want to spend a dime to help him release his version of Justice League. The studio, through anonymous reps, view the SnyderVerse as a cul-de-sac, and have moved on to other stories in the DC universe (whether Snyder fans want to hear that or not). Snyder resorted to restoring his cut for free -- he has said in interviews he didn't get paid for the work -- and even shot scenes (which the studio didn't want) in his driveway. Now fans would like a studio that was unwilling to put money into a mostly-finished Justice League to start from scratch on a Justice League 2 production that, if done properly, would cost north of $200 million? That won't happen. It was a much easier yet still difficult hurdle to get the Snyder Cut of Justice League released. It seems like a massive uphill climb to get WarnerMedia to completely change strategy and plow forward with more stories in Snyder's DC universe.
Pro: Streaming Services Need Original Content
It's highly unlikely any DC stories set in the SnyderVerse would find their way to theaters. DC Films has a full slate of movies lined up for their shot at the big screen, from Aquaman and Shazam sequels to Matt Reeves' The Batman, with Robert Pattinson in the lead role. HBO Max stepped up to house the Snyder Cut, and HBO Max seems like a natural fit for the continuation of the story that is teased out in the Epilogue of Justice League.
Every streaming service, from Apple TV+ and Netflix to HBO Max and Hulu, need content exclusives to keep audiences invested. Some of these are cheaper-to-produce reality programs. Others are heavy-investment original series (think Stranger Things or The Witcher) that extend for multiple seasons. This is where I think more Snyder content would fit. Imagine Snyder tackling a multi-part Cyborg series with Ray Fisher in the lead, or Ben Affleck being able to tell that Deathstroke vs. Batman story that he almost made into a movie? Fans would keep their HBO Max subscriptions, and new fans could be lured into the fold. As the streaming services compete for eyeballs, having HBO Max as the home for Snyder Cut makes business sense.
Con: Zack Snyder Might Want To Move On
It's been hard to read where Zack Snyder is on the future of his DC universe. He has been dropping hints at where his Justice League 2 and Justice League 3 would have gone, mapping out Superman's entire arc on the ReelBlend podcast. But after spending a decade in the DC realm, it's wholly possible that Snyder is ready to move in a new creative direction. He's going to eventually release Army of the Dead on Netflix, and is involved in the spinoffs that are set in that universe. He's lined up to direct The Last Photograph, the story of a war photographer in South America. And he's been circling an adaptation of The Fountainhead for years.
Beyond creatively, Zack Snyder might just be ready to move on from Warner Bros., a studio that has sent a crystal clear message that they do NOT want his vision of the DC universe in any way, shape or form. They had to be dragged, kicking and screaming, to the negotiation table to release the Snyder Cut of Justice League. Ann Sarnoff's calculated shot across the bow of the Restore the SnyderVerse community established her position as wanting Snyder's vision to be over. What filmmaker wants that attitude from a potential collaborator?
Summary
Personally, I think it's time for everyone in this story to move on. The most ardent Zack Snyder fans are going to have a hard time accepting that, and I understand. But the current creatives responsible for the DC universe have made it clear they don't see the value in Snyder's interpretation of these characters, and even tried to meddle in the Snyder Cut version of this movie, implementing "rules" that dictated what he could and could not show.
Snyder has made the point that every movie he's ever made has been a fight, but why do they have to be? Let this filmmaker venture out to find studio collaborators who appreciate his gifts (hello, Netflix), and relish the three DC movies he was able to provide, including the four-hour behemoth that was supposed to be forbidden, but that now waits for you to stream, in perpetuity, because of the battle fans fought and won.
Your Daily Blend of Entertainment News
Sean O'Connell is a journalist and CinemaBlend's Managing Editor. He's frequently found on Twitter at @Sean_OConnell. ReelBlend cohost. A movie junkie who's Infatuated with comic-book films. Helped get the Snyder Cut released, then wrote a book about it.