Resident Evil Reboot: Release Date, Cast And Other Quick Things We Know About Welcome To Raccoon City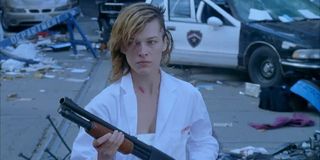 Twenty-five years ago the survival horror game Resident Evil was introduced to the world, bringing new life to the zombie genre. Over the years, the series began to lose touch with its roots and turned into something completely different, and the same can be said about Paul W.S. Anderson's films based on the acclaimed Capcom series. Now it looks like the film side of things, starting with Resident Evil: Welcome to Raccoon City and its cast headlined by Robbie Amell, is following in the footsteps of the games, which recently went back to the basics.
This should be welcome news to those of us who grew up walking that fine line between absolute terror and excitement exploring Spencer Mansion or the Raccoon City Police Department way back when. With a story that draws directly from the original survival horror games, includes what sounds like elements of horror, and a truly remarkable cast playing the series' most recognizable characters, Resident Evil: Welcome to Raccoon City sounds like a step in the right direction.
Resident Evil: Welcome To Raccoon City Opens In Theaters November 24, 2021
Video game and horror fans will be able to go back to the place where it all started for the franchise when Resident Evil: Welcome to Raccoon City opens in theaters November 24, 2021. The movie was previously set to be released in early September but became the latest in a long line of Sony Pictures delays this year.
The Cast Includes Robbie Amell, Hannah John-Kamen, And Tom Hopper
Paul W.S. Anderson's Resident Evil franchise featured a decent amount of the characters that appeared throughout its video game counterpart, but Welcome to Raccoon City will see on-screen portrayals of essentially all of the major characters introduced in the original game as well as its 1998 sequel, Resident Evil 2.
Leading the bunch is Robbie Amell, who will be portraying Chris Redfield, the member of the Special Tactics and Rescue Services (STARS) team first introduced in 1996. Ant-Man and the Wasp's Hannah John-Kamen will be taking on fellow STARS member Jill Valentine. On the Resident Evil 2 side of things, Kaya Scodelario will be portraying Claire Redfield while Avan Jogia is to take on the role of Leon Kennedy, the Raccoon City Police officer who had one hell of a first day on the job.
Tom Hopper, from The Umbrella Academy and Game of Thrones fame, will be taking on longtime series antagonist Albert Wesker. Other notable Resident Evil characters like Ada Wong (Lily Gao), William Birkin (Neal McDonough), and Chief Brian Irons (Donal Logue) are also set to appear.
Resident Evil: Welcome To Raccoon City Will Adapt The First Two Games In The Capcom Survival Horror Series
Resident Evil: Welcome to Raccoon City, which is set in the year 1998, will serve as an adaptation of the first two games in the franchise and will tackle storylines focused both on the Spencer Mansion and the zombie outbreak in Raccoon City that was unleashed by the shadowy Umbrella Corporation. This is something series producer Robert Kulzer thought was something that needed to be explored all these years later as he said in a statement (via Deadline):
In addition to that, director Johannes Roberts said in a statement (also via Deadline) that he wanted to go back and recreate the "terrifying visceral experiences" of the first two games while also telling a ground story set in a dying American town.
The Resident Evil Reboot Was First Announced In 2017
The movie that would eventually become Resident Evil: Welcome to Raccoon City has been in the works since 2017 when the franchise's production company Constantin Film began looking at ways to bring a new future to the series. This news, which was first reported by Variety, came out shortly after the release of Paul W.S. Anderson's final zombie-horror movie Resident Evil: The Final Chapter, but details were light at the time. Over the past few years, however, much has been ironed out and we're now only a few months away from returning to Raccoon City.
The Movie Is In No Way Connected To Paul W.S. Anderson's Resident Evil Franchise
Even though Johannes Roberts is fond of the previous Resident Evil movies as well as its star Milla Jovovich and director Paul W.S. Anderson, the Welcome to Raccoon City director, he explained during a SXSW panel (via EW) in March 2021 that the new film has nothing to do with what came before in terms of the movies. Instead of serving as a continuation or having connections to the franchise that brought in over $1 billion at the box office between 2002 and 2017, Roberts' movie will be something different.
Director Johannes Roberts Took Inspiration From John Carpenter
In addition to taking cues from the original the games with their distinct tone and claustrophobic camera angles, director Johannes Roberts revealed during a SXSW 2021 interview with IGN, that his "filmic inspiration" for Resident Evil: Welcome to Raccoon City was none other than horror movie icon John Carpenter. But instead of being inspired by Halloween, Escape from New York, or even They Live, Roberts pointed out movies like Assault on Precinct 13 and The Fog due both movies featuring strangers coming together in a claustrophobic space.
Roberts Has Described Resident Evil: Welcome To Raccoon City As Being 'Super, Super Scary'
Those early Resident Evil games (and even everything starting with the return to form with Resident Evil 7) are absolutely terrifying, no matter your age, and that's something that director Johannes Roberts wanted to portray with Welcome to Raccoon City. During a 2019 interview with Screen Rant, the filmmaker explained that he couldn't say much about the film (it was in early development at that point), he did reveal it was "super, super scary," which isn't something that could be said about the previous entries in the film franchise. And just as the video game portion of the property has returned to horror, so has the movie franchise.
With elements of horror, a story based on the original games, and one hell of a cast, there's plenty to get excited about with Resident Evil: Welcome to Raccoon City. Now we just need a trailer to drop for one of the most anticipated 2021 movies so the excitement can reach a fever pitch.
Philip grew up in Louisiana (not New Orleans) before moving to St. Louis after graduating from Louisiana State University-Shreveport. When he's not writing about movies or television, Philip can be found being chased by his three kids, telling his dogs to stop yelling at the mailman, or yelling about professional wrestling to his wife. If the stars properly align, he will talk about For Love Of The Game being the best baseball movie of all time.