Bruce Campbell Teasing Evil Dead's Ash In Doctor Strange 2 Is The Best April Fools Prank Of The Day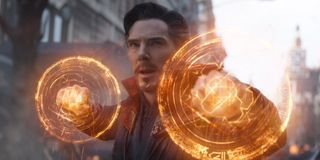 Back in February, Bruce Campbell all but officially confirmed that he will be in Doctor Strange In The Multiverse Of Madness. Posting a photo of the London skyline, the actor wrote on Twitter, "Boy, it was a blast, working in a certain city, with a certain director on a certain movie with a certain actor - it sure was!" and the message was pretty clear that he had the opportunity to once again collaborate with longtime friend Sam Raimi. What we don't know at this point is anything about the role that he is playing in the blockbuster, and Campbell has crafted an April Fools Day prank taking advantage of that fact – suggesting that next year we will get to see a Marvel Cinematic Universe/Evil Dead crossover.
As you can see below, Bruce Campbell has "accidentally" posted a photo of his Doctor Strange In The Muliverse Of Madness script, and while the words "Ash Williams" and "Necronomicon" aren't actually featured, there is no questioning the amazingness that is being implied here:
Obviously this is a joke, and one would be incredibly foolish to take it seriously (hence the name of the holiday), but does anyone else really, really wish that there is some kind of double-reverse pranking going on here? Posting this on April 1st, Bruce Campbell knows that nobody is going to take it seriously, but what if it actually is real and (while dancing around copyright) Doctor Strange And The Multiverse Of Madness finds some way to actually have Ash Williams appear?
Again, it's totally nuts to believe it will happen, but it isn't all that outlandish to believe that the Marvel Studios film could feature a scene like this one. The film presumably is going to feature Doctor Strange doing some hopping around the multiverse, so the idea of him accidentally ending up at the Evil Dead cabin isn't totally preposterous. And while we don't actually know anything about the plot of Doctor Strange 2, it's not impossible to believe that the Darkhold is somehow involved following its appearance in the final episodes of WandaVision (which we know is directly tied to Doctor Strange In The Multiverse of Madness via Scarlet Witch).
Need more? Does the fact that there is a Marvel Zombies vs. The Army Of Darkness series do anything for you?
Regardless, this is weirdly a win-win situation. If we do wind up seeing this scene in Doctor Strange In The Multiverse Of Madness, we'll all be able to laugh because the Evil Dead star tricked us into thinking that it was just a prank. And if he instead has a totally different role to play in the sequel, that's great too! Just getting to see Sam Raimi and Bruce Campbell work together again is always going to make us happy, independent of anything else that happens.
Doctor Strange In The Multiverse Of Madness is still in production, but will be heading to theaters on March 25, 2022.
Your Daily Blend of Entertainment News
Assistant Managing Editor
NJ native who calls LA home and lives in a Dreamatorium. A decade-plus CinemaBlend veteran who is endlessly enthusiastic about the career he's dreamt of since seventh grade.
Your Daily Blend of Entertainment News
Thank you for signing up to CinemaBlend. You will receive a verification email shortly.
There was a problem. Please refresh the page and try again.