There's Robert Pattinson As James Bond Art Out There And I Can't Look Away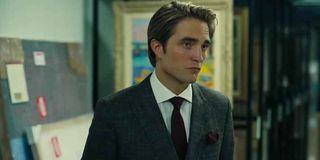 Anytime there is a young British actor who has achieved a certain level of popularity and success, they will almost certainly be linked to the iconic role of James Bond, particularly when a new Bond is expected to be announcement. Robert Pattinson is no exception, being -- in my opinion -- a no-brainer as a candidate to take over the mantle of 007. But what would that look like? New art has an idea.
In many ways, Robert Pattinson fits the mold of James Bond. He is British, handsome, and could believably pull off the charm fans expect from their James Bond. If you needed any more convincing, check out this Barrett Digital art of Robert Pattinson as 007:
The artwork via barrett.digital, gives fans an idea of what Robert Pattinson would like as James Bond in one of 007's signature poses inspired by his role in Tenet. The art really drives home that Pattinson might be a perfect fit to take over the Bond franchise after Daniel Craig hangs up his tuxedo after its No Time To Die finally hits theaters.
Robert Pattinson has basically already auditioned to play James Bond via Christopher Nolan's Tenet, which is a big-budget spy thriller with big set pieces not unlike a James Bond film. The mysterious nature of Pattinson's Tenet character, Neil, lends itself to the twist-heavy and mind-bending narrative and showcases the charm and physicality of someone who can play James Bond.
Robert Pattinson has already landed the role as a young Bruce Wayne, and from the looks of the trailer, he is embodying Batman's dark and brooding nature to a tee. Pattinson is proven as a performer and is steadily racking up the experience needed to potentially be that James Bond front-runner.
Fans of Tenet (and its complex ending) already witnessed what the next James Bond could be like with Robert Pattinson as 007. Here's to hoping Robert Pattinson gets a chance to play the part he's perfect for, though there's definitely some competition on that horizon.
Movie and TV obsessive. A good Heist movie is the way to my heart. Enjoyer of everything from Marvel Movies to Rom-coms.
Your Daily Blend of Entertainment News
Thank you for signing up to CinemaBlend. You will receive a verification email shortly.
There was a problem. Please refresh the page and try again.