Melissa McCarthy's Thunder Force Reviews Have Arrived, Here's What Critics Are Saying About The Netflix Movie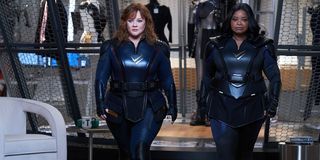 Melissa McCarthy and her husband Ben Falcone have teamed up yet again for another movie. Thunder Force stars Melissa McCarthy and Octavia Spencer as two estranged best friends who reunite after one devises a serum that gives ordinary people superpowers. The film also stars Jason Bateman, Cobby Cannavale, Pom Klementieff, and Falcone (who also directed and wrote it).
Thunder Force has just released on Netflix, so get ready to enjoy a movie night on your couch after reading what critics are saying about the film.
CinemaBlend's very own Eric Eisenberg saw Thunder Force for the home team and was a bit disappointed, rating the film 2 out of 5 stars. He thinks that Melissa McCarthy and Octavia Spencer at least look like they're having fun together, but that's one of the only high points. Eisenberg criticized the boring and predictable plot that doesn't even make sense at times, and argues that the movie isn't funny at all. As he put it,
Katie Rife from AV Club also criticized the lack of actual comedy in what's supposed to be a comedy, calling it "apathetic and airless, no matter how hard McCarthy tries." She noted that there could be a funnier movie underneath the bad CGI and phony emotional conflict, but the dialogue doesn't even try to reach it. Rife said:
Sheri Linden of The Hollywood Reporter criticized Falcone's screenplay, commenting on the flimsy plot and characters like we've seen in other critics' reviews. She also criticized the supposed "menace" and villains of the film, noting that they seem more like background noise. Linden said:
Kate Erbland of IndieWire argues that Melissa McCarthy's character actually had some texture to her, but that the rest of the film lacked any sense of creativity or pizzazz. She criticized Falcone (I'm sensing a pattern here) for not being willing to embrace his film's goofiness, as his subplot is so boring that the audience will forget about it. Erbland continued, saying:
Maureen Lee Lenker of Entertainment Weekly had a bit more positive review of the comedy. She considers Jason Bateman as The Crab (yes, his arms are crab claws) the funniest bit of the movie, and thinks it's an entertaining movie with plenty of funny moments. She said:
Well, critics seem to mostly be disappointed with Thunder Force, but what will viewers think? We'll find out soon, as the spy comedy is available on Netflix now.
If you want even more of Melissa McCarthy, you might be seeing her in Thor: Love and Thunder when it releases, or you can check out her other upcoming projects.
Your Daily Blend of Entertainment News
Your Daily Blend of Entertainment News
Thank you for signing up to CinemaBlend. You will receive a verification email shortly.
There was a problem. Please refresh the page and try again.