Harry Potter's Jason Isaacs On Funny Reason Why His Kids Haven't Seen The Movies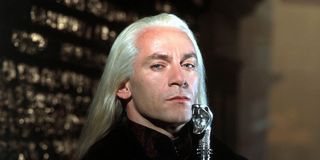 You would think the children of accomplished actors would be psyched if their parents starred in a franchise like Harry Potter, which became a worldwide phenomenon inspiring kids and adults alike worldwide. Apparently not Harry Potter's Lucius Malfoy actor Jason Issacs, whose children haven't seen the movies. And according to him, they have no interest in seeing the magical blockbusters.
Jason Isaacs, who has his feet in both the Star Wars universe and Star Trek universe on top of his iconic villainous role in the Harry Potter series, seems to have given up on his kids' interest in his work. Issacs spoke to Digital Spy about his roles and how his children have received them, saying:
It seems it doesn't matter if your dad is a movie star, as Jason Isaacs's kids can't be bothered with any movies including their old man, which is honestly relatable. Beyond Harry Potter, Isaacs also doesn't want his kids to see some of the films he's starred in because his behavior is often villainous or too mature for his kids. Not wanting his kids to experience the shock of seeing dear old dad do bad things on screen is good parenting, so it's probably a good thing they aren't interested right now.
Jason Isaacs has joined a few Harry Potter alums who have also recently taken a look back on their time making the films, including Rupert Grint (Ron Weasley), who has reflected on his relationship with Emma Watson and Daniel Radcliffe. Matthew Lewis, who played Neville Longbottom, has also recently remarked on his role in the series and the memento he stole from the set.
The Harry Potter franchise certainly has more on the horizon, including Fantastic Beasts 3, which has been delayed, and rumors of future movies being in the works to continue to expand the Harry Potter world. It's fun for the generations of fans to see former cast members like Jason Isaacs reflect on the films that started it all. Some fans are still holding out hope that Jason Isaacs might reprise his role as Lucius Malfoy in a future project. While his character isn't in the Cursed Child plays, perhaps the timeline of the Fantastic Beasts movies would allow for an appearance.
Your Daily Blend of Entertainment News
Movie and TV obsessive. A good Heist movie is the way to my heart. Enjoyer of everything from Marvel Movies to Rom-coms.