Is Netflix's Concrete Cowboy Based On A True Story? Here's What Idris Elba Says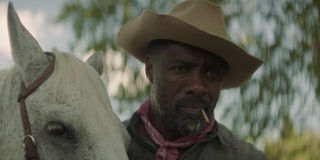 Concrete Cowboy has been one of April's biggest releases so far, garnering positive reviews from critics and great reception from fans. The Netflix film, which follows a group of black cowboys in Philadelphia, has struck a chord and has gotten a lot of people interested in the community the film highlights. Idris Elba, the star of the film, has recently spoke about if Concrete Cowboy is based on a true story, a question that's on many fans' minds.
There's a personal nature to Concrete Cowboy, with Idris Elba comparing the filming to a documentary. The movie revolves around the Black cowboy community in Philadelphia, which a lot of people don't know about. Idris Elba sat down with Today and addressed the question of if Concrete Cowboy is based on a true story, saying:
Idris Elba describes that, while Concrete Cowboy's story isn't based on a true story, the community it portrays is very real. The story touched Elba because Concrete Cowboy highlights the importance of community, and sharing the stories of lesser-known parts of the Black community and experience is essential. Delving into this part of the Black community that might be lesser known to most people might not have been a goal, but it has definitely sparked interest among the Netflix film's viewers.
Concrete Cowboy has a great cast lead by Idris Elba, including Stranger Things star Caleb McLaughlin, who found that the project allowed him to step outside his role on the sci-fi series. Concrete Cowboy's success is a big boon for those looking for a more personal and touching film outside of the recent big blockbuster releases.
Idris Elba is a busy man, with many projects in the works, including James Gunn's refreshed The Suicide Squad. Hopefully, more projects like Concrete Cowboy get sprinkled in-between the big blockbuster films he has lined up. Keep checking back with CinemaBlend for more Idris Elba-related news, as well as plenty of other updates on the film and TV fronts.
Your Daily Blend of Entertainment News
Movie and TV obsessive. A good Heist movie is the way to my heart. Enjoyer of everything from Marvel Movies to Rom-coms.