Concrete Cowboy: What Fans Are Saying About The Netflix Movie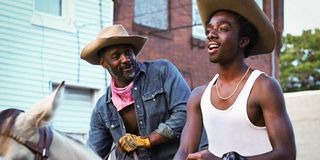 Concrete Cowboy on Netflix, the coming of age drama starring Idris Elba and Caleb McLaughlin as a father and son who spend a tumultuous summer bonding over a series of devastating events and new beginnings at a famed North Philadelphia stable is finally here. We've already shared what critics thought of Ricky Staub's directorial debut based on the real Fletcher Street Urban Riding Club and Greg Neri's YA novel Ghetto Cowboy, but now it's time to see what the audience thinks.
With a Rotten Tomatoes Audience Score currently sitting at 79% it's safe to say that Netflix subscribers are finding something (or some things) they like about Concrete Cowboy. And while we previously touched on all the hilarious Godzilla vs. Kong fan reactions, this time around we'll instead take a more serious look at the history, culture, and performances found in this gripping and emotional tale about a community finding their own way, even when the world around them doesn't see it that way.
People Are Really Excited About The Fletcher Street Urban Riding Club
Although Concrete Cowboy is a work of fiction, it is loosely based on the Fletcher Street Urban Riding Club as well as the African-American horse-riding culture in Philadelphia. And while this was the first many had heard about the famed stables, to others the film struck a chord and brought back memories of growing up in that culture. When searching for Concrete Cowboy on Twitter, you'll find a ton of reactions from people who fall into both categories as well as from those who couldn't get over the fact that the movie cast actual members of that community instead of extras.
Before the movie even came out, one Twitter user was hyped by a West Philadelphia native who grew up with similar experiences and couldn't wait to see how it all worked out:
Another fan of Concrete Cowboy was quick to point out their admiration for the film due to the fact actual members of the Fletcher Street Stables were cast in major roles, which added a level of authenticity and almost gave it a documentary feel:
There was another Twitter user who echoed the praise when they pointed out how cool it was to see people from the actual neighborhood who had experience with horses and stables sharing the screen with Idris Elba and the rest of the outstanding cast:
The praise from Concrete Cowboy fans didn't stop there as Twitter users were enjoyed other aspects of the movie as well, especially the depiction of the African-American culture.
People Were Drawn To Concrete Cowboy's Depiction Of African-American Culture
Another aspect of Concrete Cowboy that is receiving a great deal of praise on Twitter is the way the film depicts African-American culture, specifically the way it handles the treatment of urban cowboys. Some saw the film as "breath of fresh air" that opened their eyes to a culture they never knew existed while others called it an "unexpected gem" that reminded them of their own experiences growing up in a similar situation. Whether it was something new or a nice reminder of the past, this part of Concrete Cowboy was an all-around hit.
One Concrete Cowboy fan posted a lengthy Twitter thread detailing not only their response to the Netflix film but also how it reminded them of lessons learned growing up with their grandfather who taught them about the history of Black cowboys:
Another fan called the film's narrative a "cultural reset" because of how it shows a different side of the African-American experience, saying there can be so much more than slave or cop movies:
One Twitter user, who had no previous knowledge of urban cowboy culture was impacted greatly by Concrete Cowboy for its representation as well as its touching father/son story:
And then there was one fan who grew up watching urban cowboys in their Houston, Texas, neighborhood reminded of home throughout the movie:
In addition to being thrilled by Concrete Cowboy's depiction of the urban cowboy culture, fans of the movie were also blown away by the cast, specifically Stranger Things' Caleb McLaughlin.
Fans Are Excited About Caleb McLaughlin's Future Following Concrete Cowboy
Even though Caleb McLaughlin has had a starring role on the Netflix sci-fi series Stranger Things and has been a part of all three seasons since the show debuted in 2016, his character, Lucas Sinclair, isn't often front and center and doesn't always get the best treatment, even more so with the additions of more characters each year. The same can't be said for McLaughlin's performance as Cole in Concrete Cowboy, a character the actor said was "refreshing" to play while discussing the movie with CinemaBlend. And the Stranger Things star wasn't the only who felt this way as Twitter was quick to point out just how well McLaughlin performed in a leading role.
One Concrete Cowboy fan, impressed by Caleb McLaughlin's portrayal of Cole, said they can't wait to see how he continues to grow as an actor moving forward:
Another fan of the movie, who although admitting Lucas is a cool Stranger Things character, said the want to see more leading roles like the one in Concrete Cowboy:
And then there was another Caleb McLaughlin fan who was a little less forgiving of Stranger Things creators the Duffer brothers for giving his character three minutes of screen time per episode:
Who knows, maybe the Duffers know something we don't and will be giving Lucas a more expanded role when Stranger Things Season 4 finally comes out, hopefully as one of the 2021 Netflix shows returning this year.
As you can see, the fan response to Concrete Cowboy is pretty remarkable and those who have watched the movie already are enjoying quite a lot about the new Netflix original film. If you've already seen the movie and want to know what else is coming out this year go ahead and check out CinemaBlend's list of 2021 movie premiere dates for all the latest.
Your Daily Blend of Entertainment News
Philip grew up in Louisiana (not New Orleans) before moving to St. Louis after graduating from Louisiana State University-Shreveport. When he's not writing about movies or television, Philip can be found being chased by his three kids, telling his dogs to stop yelling at the mailman, or yelling about professional wrestling to his wife. If the stars properly align, he will talk about For Love Of The Game being the best baseball movie of all time.
Your Daily Blend of Entertainment News
Thank you for signing up to CinemaBlend. You will receive a verification email shortly.
There was a problem. Please refresh the page and try again.