Halle Berry, LeBron James And More Pay Tribute To Rapper DMX After His Passing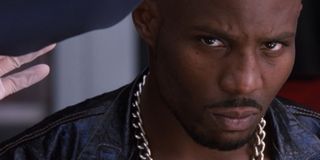 Rap legend and New York icon Earl Simmons, better known by his stage name DMX, recently passed away after a life-long battle with drug addiction. After his passing, fans across the world shared stories, memories and social media posts remembering the late rapper and his vast influence. Among those paying tribute to DMX's impact were major celebrities including Halle Berry, LeBron James and more.
After his family released a statement announcing his passing yesterday, celebrities of every caliber went to social media to remember DMX's legacy. Among them was Halle Berry, who shared a heartfelt post remebering the late rapper:
Space Jam: A New Legacy Star LeBron James shared his own post in tribute to DMX, remembering the legend's iconic bark that could be heard in hits such as "X Gon' Give It To Ya."
Dwayne 'The Rock' Johnson also sent his love to DMX's family after the announcement, wishing them "Love, light and mana."
Even Ben Stiller, who revealed he was a big DMX fan, went to twitter to remember many hours spent listening to his music:
It's no surprise that DMX's passing saw an outpouring of mourning from celebrities and fans across the world. The late rapper was an icon of the '90s, releasing 3 chart topping albums over the course of the decade. He would later show up in films, such as Cradle 2 the Grave, starring alongside martial arts legend Jet Li.
After DMX's massive success in the '90s, he ran into legal trouble, ultimately ending up in and out of jail multiple times over the last twenty years. His numerous arrests made headlines, but fans may remember his more light-hearted side, such as his badass cover of Rudolph The Red-Nosed Reindeer. He was also briefly attached to fight George Zimmerman in a boxing match back in 2014, but the event was ultimately cancelled.
Despite the legal issues, DMX appeared to be on the upswing after being released from prison in 2019. He had a prominent rap battle with fellow icon Snoop Dogg that had fans excited about the rapper's future.
However, DMX was fighting a life-long battle of drug addiction. According to initial reports, an overdose landed him back in the hospital on April 2, 2020. Despite the outpouring of support from fans across the world, and a number of premature reports, DMX's family announced that he passed away just a week later, on April 9, 2020.
It always hurts to see someone as iconic as DMX go. His music helped define a generation with raw emotion and an incredible stage presence. Based on the massive social response to his passing, I think it's safe to say that his music touched millions of people across the world.
Your Daily Blend of Entertainment News
Into tracksuits by Paulie Walnuts, the Criterion Channel and Robert Eggers.