The Hilarious Reason Arnold Schwarzenegger's Son Says He Became An Actor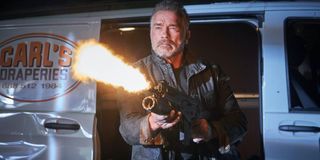 Arnold Schwarzenegger is an icon. When you have so many great roles that your kids get annoyed at you reciting the iconic one-liners of your storied career, you have done pretty well. Schwarzenegger is even the celebrity many fans think would be most likely to fend off an alien attack, so the man is well respected. Not only has he had an enormous impact on action movies, but he's also hilariously the reason his son, Patrick Schwarzenegger, became an actor.
Patrick Schwarzenegger recently appeared on Jimmy Kimmel Live! to discuss his new film, Moxie. Schwarzenegger talks about how he stopped smoking pot by getting a pep talk from his dad and his origins as an actor, along with his father's role in his life. Kimmel asked why Patrick decided he wanted to be an actor, and Patrick replied with a hilarious story about dear old dad Arnold Schwarzenegger:
Patrick Schwarzenegger being inspired by how bad he thought his father was in one of his first films is hilarious. Arnold Schwarzenegger barely spoke English and had minimal experience acting at the time but was still able to carve out such a successful career. The younger Schwarzenegger seeing his dad's performance and saying, "I can do that if you can," is a funny way to appreciate your dad's storied career.
Patrick Schwarzenegger is trying to make his own way in the movie industry, though. His film Moxie, which came out in March, is directed by comedy legend and MCU hopeful Amy Poehler, and it's a fun watch. The up-and-coming actor is also doing some things on the small screen, as he's currently set to star alongside brother-in-law Chris Pratt in Amazon Prime's The Terminal List. You would think the legacy of your legendary father would be kind of intimidating, but Schwarzenegger seems unfazed by his old man, which is probably a good sign for someone making a career for themself.
Maybe Patrick Schwarzenegger will have a movie as great as Total Recall one day and be able to deliver an iconic one-liner of his own like his father, Arnold Schwarzenegger. He has a long way to go to even come close but, judging by his actor origin story, it's no big deal pursuing the family business.
Your Daily Blend of Entertainment News
Movie and TV obsessive. A good Heist movie is the way to my heart. Enjoyer of everything from Marvel Movies to Rom-coms.