Upcoming Michael Rooker Movies And Shows: What's Ahead For The Guardians Of The Galaxy Actor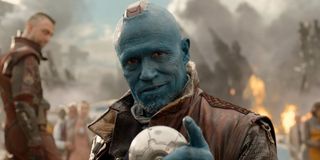 With over 100 acting credits on his resume, scattered across film and television throughout 30-plus years in the business, Michael Rooker is one hard-working character actor who often impresses with his versatile comedic and dramatic talents. Making a name for himself with his chilling titular performance in 1986's Henry: Portrait of a Serial Killer, Rooker has demonstrated his skills in a variety of different projects, and he only continues to excel with a slew of new films and shows in the near future.
Whether it's a reunion between the actor and his long-time collaborator, James Gunn, in The Suicide Squad, a reprisal of one of his most famous characters in Marvel's What If? ..., or his introduction to a long-standing blockbuster franchise with F9, Michael Rooker is a heavily in-demand performer who makes the most of every moment he's on-screen.
Here are the upcoming Michael Rooker movies and shows that you can look forward to.
F9 - June 25th, 2021 (Completed)
Just as the Fast & Furious movies continue to get bigger and more elaborate with each successive installment, so too do the ensembles of these action-packed blockbusters become ever more expansive with each consecutive sequel. Alongside Vin Diesel, this high octane, pedal-to-the-metal adventure is slated to feature the returns of Michelle Rodriguez, Tyrese Gibson, Ludacris, Jordana Brewster, Nathalie Emmanuel, Helen Mirren, Sung Kang, and Charlize Theron. Additionally, John Cena and Michael Rooker will be joining the fun in supporting roles, though not a whole lot is known about their respective parts. That's particularly the case for Rooker's character, a mysterious man known solely as "Buddy," but we don't have long to wait to find out what's in store here.
Following several dashed dates and an extended series of delays due to the COVID-19 pandemic, this long-awaited sequel will make its way into theaters on June 25th, 2021. It hasn't been an easy road for F9, but this is a film that demands to be shown on the big screen. Therefore, Universal pushed this hotly-anticipated sequel into the scorching days of summer, and we can't wait to see what's in store for the family this time around.
The Suicide Squad - August 6th, 2021 (Completed)
Based on the final heart-tugging moments of Marvel's Guardians of the Galaxy Vol. 2, it's pretty unlikely that Michael Rooker will reprise his role as Yondu in Vol. 3. But the actor is set to reunite with James Gunn in his newest superhero vehicle, The Suicide Squad, making him one of the few actors working in both the Marvel and DC universes.
Neither a sequel nor a reboot to the money-making 2016 movie, The Suicide Squad will nevertheless reconnect us with Margot Robbie's Harley Quinn, Joel Kinnaman's Rick Flag, Viola Davis' Amanda Walker, and Jai Courtney's Captain Boomerang while also introducing a splashy cavalcade of highly impudent wise-guys — most of whom we're not supposed to get too acquainted with, as the poppy marketing notes. The R-rated DC Comics adaptation will be goofier and more irreverent than the last Suicide Squad. Hopefully, we'll get a couple of scene-stealing moments from Michael Rooker's Savant.
The high-energy first trailer suggests that Michael Rooker's comic character will play a substantive role, which makes sense considering that the actor has a long-standing working relationship with James Gunn. Of course, the decision to include a decent bit of Rooker footage in this trailer could be a way of deceiving viewers into thinking that the actor will play a sizable part in the proceedings, only to kill the character before the midway mark. We won't know how Rooker's character fares until we see the movie for ourselves, but we don't have to wait too long. The Suicide Squad will screen in theaters and premiere on HBO Max starting August 6th, 2021. It should be a bloody good time.
What If? … - TBA 2021 (Post-Production)
As we noted earlier, Yondu got a loving and emotional send-off at the end of Guardians of the Galaxy Vol. 2. Therefore, it's looking unlikely that we'll see him in the third movie (unless he's included in a flashback). But we haven't seen the last of Yondu ... or, at least, we haven't heard the last of the blue paternal figure. That's because Michael Rooker will reprise his beloved Marvel character in Disney+'s What If? ..., an animated anthology series that explores what would happen if things went down differently in the expansive Marvel Cinematic Universe. Slated to stream later this year, with rumors suggesting that it'll premiere this summer, What If? ... allows Marvel fans to hear Rooker in the role of Yondu once more, though it shouldn't be more than a guest appearance.
In addition to Michael Rooker lending his pipes to the much-anticipated show, What If? ... will also feature the voice talents of Mark Ruffalo, Hayley Atwell, Natalie Portman, Jeremy Renner, Paul Rudd, Taika Waititi, Chris Hemsworth, Tom Hiddleston, Samuel L. Jackson, Michael B. Jordan, Karen Gillan, Josh Brolin, Jeff Goldblum, Frank Grillo, Dominic Cooper, Sean Gunn, Sebastian Stan, and the late Chadwick Boseman, to name only a few famous names attached. Additionally, there's a possibility that Robert Downey Jr., Chris Evans, Brie Larson, and Benedict Cumberbatch will be heard in their respective Marvel parts, though their voice roles haven't been confirmed at this time.
We'll learn more about this animated series in the months ahead, but this performance could prove to be bittersweet if it's truly the last time we hear Michel Rooker as Yondu. Admittedly, the actor cheekily expressed openness in reprising this role, so maybe he'll come back someday. For now, though, this is Rooker's last confirmed MCU appearance.
The President Is Missing - TBA (Pre-Production)
You'd be forgiven if you didn't predict that James Patterson and Bill Clinton would be creative collaborators. Generally speaking, the best-selling author and the U.S. President aren't often paired together in casual conversation. But in 2018, the world-famous writer and former Head of State joined forces to pen The President Is Missing, a pulpy, page-turning political thriller that combined Patterson's well-oiled storytelling mechanics with Clinton's White House experience to create a splashy literary bestseller for the veteran author and first-time novelist. It was only a matter of time before this curious collaboration (written alongside reported ghostwriter David Ellis) would reach either the big or small screen. Now, the oddball piece of pop culture will (potentially) make its way to television screens nationwide with Showtime's proposed mini-series, which is slated to star David Oyelowo, Ann Dowd, Michael Rooker, and Janet McTeer.
While it's far from a literary masterpiece, The President is Missing is a fast-paced novel that reads like the template for an exciting movie or show — basically by design. It's not the least bit surprising, therefore, that Showtime expressed interest in adapting this material. Development reportedly stalled last year, however, and it might not come to fruition. By Ann Dowd's admission, production halted due to the pandemic, and the project is stuck in limbo. Now, the status looks pretty grim. It's possible that the property might get picked up elsewhere, albeit with heavy retooling. Especially with all the big names attached, both on the page and on the screen, it should pique some interest from a few hot-shot producers. For now, though, its status remains uncertain. If The President is Missing comes together, Michael Rooker is attached to play Greg Parkes, the Special Agent in Charge of the Vice Presidential Protection Detail who must protect the Vice President at all costs from imminent danger, as Geek Tyrant reported.
Recent Michael Rooker Projects
Most recently, Michael Rooker played a key character in Blumhouse's Fantasy Island, as well as a memorable mentor figure in Love & Monsters. Particularly when it comes to the latter, these genre efforts allowed the well-known actor to shine in splashy, scene-stealing character roles that play into his kooky brand of off-kilter goofiness. Even in a lackluster movie like Fantasy Island, Rooker can jump in and make a good impression — particularly as an unhinged private investigator who explains the alluring power of the mystical, titular island to our hapless young leads. (If only this movie were better!)
Additionally, at one point, Michael Rooker was attached to Amazon Prime's western/sci-fi series, The Dark Tower, but the project ultimately didn't make it past the pilot stage. It's a shame because Rooker was reportedly set to play Eldred Jonas, the leader of the Big Coffin Hunters, which would've been a good role for his brand of menace. Alas, the Stephen King adaptation didn't come to pass, but the dependable actor is keeping himself busy with several upcoming projects, as we've noted throughout this article.
While it's unfortunate that Michael Rooker isn't given more opportunities to shine as a lead performer, it's always fun to see the oddball actor ham it up in these supporting parts. Certainly, you can count on Rooker to make a big splash on the big screen — no matter how big or small his role might be.
This poll is no longer available.
Your Daily Blend of Entertainment News
Will is an entertainment writer based in Pittsburgh, PA. His writing can also be found in The Playlist, Cut Print Film, We Got This Covered, The Young Folks, Slate and other outlets. He also co-hosts the weekly film/TV podcast Cinemaholics with Jon Negroni and he likes to think he's a professional Garfield enthusiast.