All The Marvel Actors Returning For Disney+'s What If?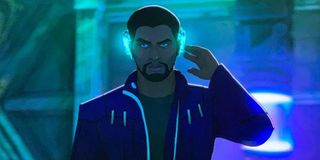 Out of all the new TV shows coming soon to Disney+, the one that I think I am most looking forward to is What If…?, inspired by the comic book of the same name. It is described as a 10-episode animated anthology series that reimagines key events canon to the Marvel Cinematic Universe had things gone a little different. If that is not enough to surprise you, outside of first time Marvel actor Jeffrey Wright hosting the show Rod Serling-style as The Watcher, all of the MCU characters said to appear will be played by their original actors. I am certain that sparks a great deal of questions in your mind and I will be sure provide all the answers that I can in the following breakdown of every actor confirmed to lend their voice to the highly anticipated series, starting with the man who brought most of these characters together.
Samuel L. Jackson (Nick Fury)
It would be wrong to not include Samuel L. Jackson on a trippy, Marvel-inspired anthology as the voice of Nick Fury, although how the former S.H.I.E.L.D. director (also leading his own upcoming live action Disney+ series, Secret Invasion) will be depicted on What If…? has yet to be revealed.
Hayley Atwell (Peggy Carter)
We might be able to infer from the first trailer for What If…? that Nick Fury will discover a frozen Peggy Carter (played once again by Hayley Atwell), who will be reimagined on the series as the Army's choice for the Super Soldier Program instead of Steve Rogers, which, I suppose, would make her Captain Britain.
Dominic Cooper (Howard Stark)
Real-life Brit Dominic Cooper returns to play Iron Man's father and S.H.I.E.L.D. co-founder Howard Stark (circa 1942) for the first time since the short-lived Agent Carter series, but to see Hayley Atwell's character become a Super Soldier on What If…? this time.
Stanley Tucci (Dr. Abraham Erskine)
I wonder if the developer of the original Super Soldier Serum, German-born ally to the U.S. Army Dr. Abraham Erskine (voiced by Oscar-nominee Stanley Tucci), will suffer the same tragic fate on What If…? as he did in 2011's Captain America: The First Avenger.
Toby Jones (Arnim Zola)
That being said, I am also curious if British Golden Globe-nominee Toby Jones' reprisal of Arnim Zola, a Swiss HYDRA scientist and right hand man of Hugo Weaving's Red Skull, will appear in his 1940s era human form, as a computer in the present day, or something completely different on What If…?
Neal McDonough (Dum Dum Dugan)
I mean, for all we know, Arrowverse star Neal McDonough's return to the role of Sergeant Timothy Alloysius Cadwaller "Dum Dum" Dugan (the subsequent leader of the Howling Commandos after Steve Rogers' supposed demise) on What If…? could see him become the Winter Soldier instead of Bucky Barnes.
Sebastian Stan (Bucky Barnes/The Winter Soldier)
However, Bucky Barnes will appear as The Winter Soldier (voiced by Sebastian Stan, of course) on What If…?, and, based on the trailer, he seems to have taken on the role of a savior of the apocalypse against the long-awaited appearance of Marvel Zombies.
Frank Grillo (Crossbones)
Speaking of Marvel Zombies, I think there are few MCU characters better equipped (literally) to take on an army of the undead than Frank Grillo's corrupt former S.H.I.E.L.D. agent Brock Rumlow, whose brief reign as the armored terrorist Crossbones in Captain America: Civil War will, supposedly, be given an extension in some capacity on What If…?
Michael Douglas (Dr. Hank Pym/Ant-Man)
Seeing 76-year-old Oscar-winner Michael Douglas credited as the voice of both Hank Pym and Ant-Man has me curious if we are destined to see more of the brilliant scientist in his crimefighting days on the series and, considering much of the original Ultron's creator's arc in the MCU has already been a big What If…? story in itself.
Paul Rudd (Scott Lang/Ant-Man)
Of course, Paul Rudd is coming back to voice the MCU's present-day Ant-Man, Scott Lang, as well, but besides also being credited as the incredibly shrinking Avenger in the cast list, I cannot find any preceding issues of the What If…? comic to give me any insight as to where his story on the series may lead him.
David Dastmalchian (Kurt)
There may, however, be a clue to Scott Lang's role on What If…? is the inclusion of serial comic book adaptation star David Dastmalchian (The Dark Knight, The Flash, Gotham, the upcoming The Suicide Squad) returning as fellow reformed criminal Kurt from the Ant-Man movies, but there is not much else to infer from that.
Michael B. Jordan (Erik Killmonger)
Furthermore, I have no idea where to even begin when considering the possibilities of how What If…? will reexamine the already complex origins of Erik Killmonger when Michael B. Jordan returns to voice the Black Panther villain.
Jeremy Renner (Clint Barton/Hawkeye)
Clint Barton's frequent, but subtle, reminiscing with Scarlett Johansson's Black Widow in the Avengers movies has always made me curious to see him in his pre-Hawkeye days as a S.H.I.E.L.D. agent and there is a chance that Jeremy Renner's vocal reprisal on What If…? could touch upon that.
Mark Ruffalo (Bruce Banner/Hulk)
With how often we can easily assume Bruce Banner (Mark Ruffalo) has imagined what his life would be if had he never become the Hulk, it is not too far-fetched to infer that What If…? may take advantage of that opportunity, considering Avengers: Endgame already lived out the "Professor Hulk" scenario.
Chris Hemsworth (Thor)
On the other hand, there is much that could be expanded on with Hulk's time on Sakaar before Chris Hemsworth showed up in Thor: Ragnarok, which could be a major source of inspiration for either he or Bruce Banner's story reinventions on What If…? considering the inclusion of the next couple of characters.
Jeff Goldblum (The Grandmaster)
Anyone who has ached to see more from Jeff Goldblum's dazzling performance in Thor: Ragnarok is in luck as The Grandmaster does have a role in What If…?
Taika Waititi (Korg)
Another scene-stealer from Thor: Ragnarok (and Avengers: Endgame, too) whom we can be thankful to know is in What If…? is Korg, once again voiced by Academy Award-winning filmmaker Taika Waititi, who will also be directing and starring in the upcoming fourth installment, Thor: Love and Thunder.
Tom Hiddleston (Loki)
I do have another theory, however, that Thor may not even be the star of his What If…? episode and instead instead take the backseat in a story that sees Loki (voiced by Tom Hiddleston) claiming Mjolnir first, which would take inspiration from a real issue of the original comic book series from 1984.
Natalie Portman (Jane Foster)
If that turns out to be case, maybe What If…? will see leading astrophysicist Jane Foster fall in love with Loki instead of Thor, considering we already know that Natalie Portman will be making a live action return to the role in Thor: Love and Thunder as Chris Hemsworth's successor to the "mighty" God of Thunder title.
Josh Brolin (Thanos)
It was "inevitable" that this series would have a place for Josh Brolin to come back as Thanos, who actually joined the Avengers in a 2015 issue of What If…?, although I would be interested to see an episode imagining the post-Decimation world had it not been reversed in Avengers: Endgame.
Karen Gillan (Nebula)
There is plenty to be inspired by in Thanos' rocky relationship with his daughter, Nebula, for her story on What If…?, such as imagining Karen Gillan's partially robotic warrior as the purple Titan's favorite child over Gamora instead.
Djimon Hounsou (Korath)
After witnessing two awfully different portrayals of Korath the Pursuer as a merciless henchman to Ronan the Accuser in Guardians of the Galaxy and a more soft-spoken Starforce operative in Captain Marvel, I am very intrigued to see what Djimon Hounsou will bring the role on What If…?
Michael Rooker (Yondu Udonta)
Based on his brief appearance in the What If…? trailer, former Walking Dead star Michael Rooker does not seem to be changing much about his country-fried depiction of Ravager leader Yondu Udonta from the Guardians of the Galaxy movies on the series, which is just what I was hoping for.
Sean Gunn (Kraglin)
Other than starring alongside Michael Rooker in his brother's new take on The Suicide Squad, 2021 will see Sean Gunn lending his voice to What If…? as his second most famous MCU character (after performing the motion capture for Rocket Raccoon), Kraglin.
Chris Sullivan (Taserface)
In Guardians of the Galaxy Vol. 2, Kraglin would come to regret allowing Yondu's Ravager faction to be usurped by Taserface, the hilariously nicknamed scene-stealer whom Emmy-nominated This Is Us star Chris Sullivan will reprise on What If…?
Chadwick Boseman (T'Challa)
Before his devastating death in 2020, Chadwick Boseman was able to portray his Black Panther character one last time for one of the most fascinating concepts to be seen in What If…?: T'Challa as Star-Lord.
What do you think? Has it been your dream for Black Panther to become a Guardian of the Galaxy for a while now, or that does barely scratch the surface of what you want to see on this highly imaginative upcoming series? Let us know in the comments and be sure to check back for additional information and updates on What If…?, as well as even more inside looks at what to expect from your favorite upcoming comic book movies and TV shows, here on CinemaBlend.
Your Daily Blend of Entertainment News
Jason has been writing since he was able to pick up a washable marker, with which he wrote his debut illustrated children's story, later transitioning to a short-lived comic book series and (very) amateur filmmaking before finally settling on pursuing a career in writing about movies in lieu of making them. Look for his name in just about any article related to Batman.