Upcoming Rebecca Ferguson Movies: Dune, Mission: Impossible, And More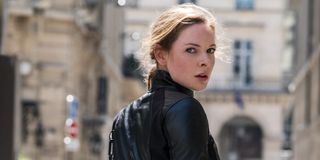 It has already been a little more than a year since Rebecca Ferguson proved to the world that she had what it took to be in a class of her own, in terms of screen presence, with her terrifying portrayal of Rose the Hat in Mike Flanagan's adaptation of Stephen King's Doctor Sleep. The way that the Swedish actress carried every scene in which she was featured, including the stuff of nightmares that was the gruesome death of Jacob Tremblay's "Baseball Boy," was a treat, albeit disturbing. And although we may never see Ferguson take on a character that menacing for some time, the Golden Globe-nominated actress has quite a few projects coming out in the next couple of years, including 2021's Dune and Mission: Impossible 7.
But, where else will we see the actress who has given commanding performances in shows like The White Queen and The Red Tent, and notable movies like Life, The Girl on the Train, and The Greatest Showman, in the near future? Well, those who couldn't get enough of Rebecca Ferguson's chemistry with Hugh Jackman in The Greatest Showman are in for some great news here pretty soon. The same can be said for those of us who want to see where it all started for the Swedish actress in an unreleased movie that was completed way back in 2008. Here's everywhere we'll see Rebecca Ferguson in the coming months and years.
Reminiscence - April 16, 2021 (Post-Production)
Rebecca Ferguson is set to appear alongside Hugh Jackman in Lisa Joy's feature-length debut, the science fiction drama Reminiscence. The movie centers on Nicolas "Nick" Bannister (Jackman), a veteran living in a near-future Miami that has been ravaged by the impact of climate change, who has what sounds to be a very risky and futuristic occupation: offering paying customers the opportunity to relive any memory they wish. This is where Mae (Ferugson) comes in, as a mysterious woman with an even more mysterious past who ends up becoming a client for Nick, and also a passionate lover. But, things take a turn for Nick when he sees, through another client's memories, Mae committing a series of violent crimes. This sets the solitary figure on a path to uncover the truth, no matter what he may find.
The existence of Reminiscence was first announced in January 2019, when Deadline reported that Westworld co-creator Lisa Joy would be making her feature-length directorial debut, with a science fiction drama set to reunite the two leads of The Greatest Showman (and for another troubled relationship with the potential for terrible consequences). The project continued to gain momentum months after the initial reveal with the addition of Thandie Newton, Daneil Wu, Cliff Curtis, and several others, and entered production in New Orleans and Miami that October, with shooting going into January 2020. The movie is one of the 17 titles Warner Bros. plans on releasing on HBO Max the same day as in theaters, which will be April 16, 2021.
Dune - October 1, 2021 (Completed)
One of the most highly anticipated movies, not just for Rebecca Ferguson, both for cinema in general, is Denis Villeneuve's upcoming bid-budget and star-studded film adaptation of Frank Herber's cult classic novel, Dune. In the movie, Ferguson will portray Lady Jessica, Paul Atreides' (Timothée Chalamet) Bene Gesserit mother, and the concubine of Duke Leto Atreides (Oscar Isaac). The story picks up as the Duke is given control of the desert planet Arrakis, commonly known as Dune, which happens to be home of the spice, the most valuable drug in the universe (thanks to its abilities to grant users extended life and superhuman abilities), as well as ferocious sandworms. Lady Jessica and Paul Atreides join the Duke on his journey to take control of spice mining operations, but also find themselves in a danger they've never known.
The latest adaptation of Dune, which features a cast including Dave Bautista, Jason Momoa, Zendaya, and a who's who of Hollywood talent, was originally supposed to come out in November 2020 but like essentially every other movie that was scheduled for release this year, we won't get to see Denis Villeneuve's version of the classic novel until next year, October 1, 2021, to be exact. When Dune is finally released, however, we will have the opportunity to decide if we want to go to the theaters or watch it at home on HBO Max (for one month, anyway). And since Dune will only cover roughly the first half of Frank Hubert's story, there's a good chance we'll see a followup movie at some point in the not-so-distant future.
Mission: Impossible 7 - May 27, 2022 (In Production)
It seems like it was only yesterday when Rebecca Ferguson joined the cast of Mission: Impossible - Rogue Nation, but it's already been more than six years since the then-up-and-coming actress from The White Queen and Hercules was hired to work alongside Tom Cruise's Ethan Hunt and the rest of the IMF team. Since that fateful casting decision in 2014, Ferguson's Ilsa Faust has gone from an MI6 operative undercover with the Syndicate, to someone that Hunt could actually trust, even when his gut and Faust's actions told him not to.
And after appearing again in Mission: Impossible - Fallout in 2018, Ferguson's character will appear once more for some unfinished business in the upcoming Mission: Impossible 7. Not a lot is known about how how Faust (or anyone, really) will play into the plot of the seventh chapter in the adventures of the world's most daring spy agency, but judging by videos from the set, the movie is going to be as insane as previous installments.
Production on Mission: Impossible 7 was supposed to get underway in early 2020, but was put on ice for a few months once the pandemic forced Hollywood to close down movie sets around the world, until new safety measures and procedures could be put into place. Filming didn't pick back up for Rebecca Ferguson, Tom Cruise, and the rest of the cast (which also includes Vanessa Kirby, and newcomers Hayley Atwell, Shea Whigham, and Pom Klementieff) until September 2020. This ultimately led Paramount Pictures (the film's distributor) to cancel the original release date of July 23, 2021, for a more hopeful May 27, 2022.
Mission: Impossible 8 - July 7, 2023 (Pre-Production)
If little is known about the plot of Mission: Impossible 7 and how Rebecca Ferguson's Ilsa Faust plays into things (well, besides the fact she'll be shooting a massive gun at some point), even less is known about how her character will play into the events of that film's sequel, Mission: Impossible 8, which is set to enter production just after the final shot is captured on the 2022 Ethan Hunt stunt show.
This should probably go without saying, but the events of the eighth installment in the Mission: Impossible franchise will be tied to its predecessor, unless writer-director Christopher McQuarrie goes in some crazy direction and makes that Ilsa Faust spinoff movie that was teased a few years back. One thing that is for sure about the movie is that it will have something to do with a certain character from the original Mission: Impossible movie from 1996, as Vanessa Kirby's Alanna Mitsopolis, a.k.a. the White Widow, is the daughter of "Max" (Vanessa Redgrave).
And while we don't know when Mission: Impossible 8 will enter production, the movie does have a release date, though not as early as everyone had originally hoped. Before the delays that postponed production on the seventh film, Mission: Impossible 8 was supposed to be released on August 5, 2022, but now we won't see Ethan Hunt risking life and limb for the sake of the world until July 7, 2023.
Cold Night - TBD (Completed In 2008)
The final film on this list of upcoming Rebecca Ferguson vehicles is more of a mystery than anything else, simply because production was completed on it way back in 2008, which, for those who aren't the best at math, was 12 years ago. Written and directed by André Costa, Cold Night centers on a private detective by the name of Hamse Leth (Thomas Bang), who spends a cold winter night attempting to find meaning in his life. Along the way, he encounters characters like Jenny Sorensen (Rebecca Ferguson), who leave the man questioning his place in society as well as his own reality.
André Costa released a trailer for Cold Night on his Vimeo page (opens in new tab) in early 2020 with the final moments listing the cast and a note that it was finally being released later this year. There haven't been any updates regarding the film's release in the months since the trailer was posted.
Those are all the upcoming movie projects involving Rebecca Ferguson that we can expect to see in the next couple of years. If you want to know what is coming out (in what is going to be a very busy 2021 at the theaters), check out CinemaBlend's 2021 Movie Release Guide.
Philip grew up in Louisiana (not New Orleans) before moving to St. Louis after graduating from Louisiana State University-Shreveport. When he's not writing about movies or television, Philip can be found being chased by his three kids, telling his dogs to stop yelling at the mailman, or yelling about professional wrestling to his wife. If the stars properly align, he will talk about For Love Of The Game being the best baseball movie of all time.
Your Daily Blend of Entertainment News
Thank you for signing up to CinemaBlend. You will receive a verification email shortly.
There was a problem. Please refresh the page and try again.