Mortal Kombat's Sub-Zero On How He'd Like To Return To The Franchise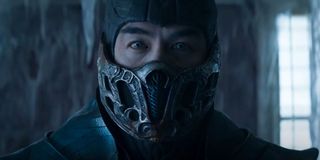 Spoilers for Mortal Kombat lie ahead.
Fans are hyped about the new Mortal Kombat movie and all of the insane kills littered throughout the super violent video game adaption. The creatives definitely have more than just one film in mind, as future movies are very meticulously throughout this installment. There were many victims of fatalities, including Sub-Zero, a true standout in the film. Now Joe Taslim, who played Sub-Zero, has described how he'd like to return to the franchise.
Joe Taslim was excellent as Sub-Zero, embodying the villain as a genuine boss-level threat in the movie. Mortal Kombat definitely has future movies on its mind and is set in a universe where no one is truly dead, allowing characters to return in one form or another. Joe Taslim has spoken about how he would like to continue in the franchise, telling The Hollywood Reporter:
Joe Taslim has his fingers crossed that there will be a sequel, and he will be able to return as Noob Saibot, another incarnation of his Sub-Zero character. He sees it as the logical step for his character and, judging by the response to his performance from viewers, he could definitely get the chance to go again if there is a sequel. Taslim goes on to say:
Joe Taslim also pitches his idea for what he thinks is the most exciting path, which would be a prequel involving Bi-Han and his origins as Sub-Zero as well as bringing his brother into the fold. Anything is on the table and, if fans keep supporting the film like they have been, we will definitely see both a sequel and prequel in the future.
The stars of Mortal Kombat are already thinking about who they want to face off against next as well as who they think should play Johnny Cage, who was teased at the end of the movie. The cast is clearly excited for the future of the franchise as much as fans are. Let's hope we will be seeing more fatalities in the near future.
Mortal Kombat is currently playing in theaters and streaming on HBO Max.
Your Daily Blend of Entertainment News
Movie and TV obsessive. A good Heist movie is the way to my heart. Enjoyer of everything from Marvel Movies to Rom-coms.
Your Daily Blend of Entertainment News
Thank you for signing up to CinemaBlend. You will receive a verification email shortly.
There was a problem. Please refresh the page and try again.