Who Should Be Mortal Kombat's Next Johnny Cage? The Cast Has Thoughts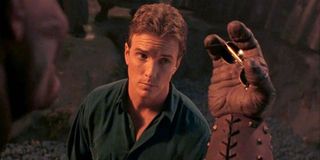 The upcoming Mortal Kombat reboot promises to entertain long standing fans of the franchise and newcomers alike. Despite almost every single original fighter making it into director Simon McQuoid's version, one of the franchise's biggest stars is notably absent. Hollywood heart-throb and action movie extraordinaire Johnny Cage will not be in the upcoming movie. However the stacked cast has thoughts on who should take up the role in a potential sequel.
Ahead of Mortal Kombat's release I had an opportunity to chat with the cast of the movie. Of course, I had to ask them about Johnny Cage's absence and who they think could fill the characters high-kicking shoes. Josh Lawson, who plays Kano, had this to say:
Now that's a casting I could see. James Marsden already has action experience from his time as Cyclops in the X-Men trilogy, so he could be a great fit for Cage. While Josh Lawson had someone specific in mind, Jessica McNamee, who plays Sonya Blade, is more concerned about the audition process rather than the actor:
Imagine walking in to audition for Johnny Cage and Sonya Blade is just standing there, ready to kick ass. I suppose that would set the tone. Jax actor Mehcad Brooks echoed McNamee's sentiment, suggesting that whoever ends up playing Cage needs to be able to fight:
Lewis Tan, who plays franchise newcomer Cole Young, agreed with Brooks, and went on to suggest multiple candidates for the perfect Johnny Cage :
While having to hunt down the perfect actor to play Johnny Cage is certainly a good problem to have for the cast and crew of Mortal Kombat, Tan also mentioned that some new blood in the franchise couldn't hurt:
Certainly the list of potential Johnny Cage actors is a long one, but director Simon McQuoid is everything but concerned about the casting:
There you have it! I know I'm not the only one who is a bit disappointed Johnny Cage didn't make it into Mortal Kombat's comeback movie. That being said, it sounds like there are plans in place for a potential appearance in a sequel. Hopefully, the upcoming reboot performs well enough to garner a franchise. Seriously, give me the MCU but it's rated R and dudes are constantly punching each other's heads off.
Although fans will have to wait for a sequel to potentially see Johnny Cage back in action, they can check out the rest of the original roster when Mortal Kombat releases in theaters and on HBO Max tomorrow. If you just can't wait, be sure to check out the first seven minutes of all the beautiful brutality right here.
Into tracksuits by Paulie Walnuts, the Criterion Channel and Robert Eggers.
Your Daily Blend of Entertainment News
Thank you for signing up to CinemaBlend. You will receive a verification email shortly.
There was a problem. Please refresh the page and try again.