The Mortal Kombat Cast Already Knows Who They Want To Face Off Against In Mortal Kombat 2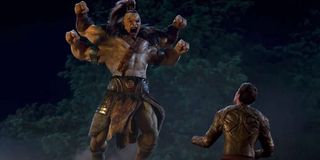 As many fans no doubt know, the Mortal Kombat franchise is home to an ever-expanding list of fighters. Since the first seven playable characters debuted back in 1992 the list, and lore, has only grown. So, it's no surprise that the cast of Simon McQuoid's Mortal Kombat already have an idea of who they want to face off against in a potential sequel.
Ahead of the Mortal Kombat release I had an opportunity to talk to the impressive cast of the movie and find out exactly who they would like to go toe to toe with in Mortal Kombat 2, if it ever happens. Mehcad Brooks, who plays Jax, had this to say:
Although some of the franchise's biggest stars made it into McQuoid's reboot, one major character was notably absent. It's only fitting that Brooks would like to square off against Johnny Cage, should a sequel arise. Jessica McNamee, who plays Sonya Blade, shared his sentiment:
It sounds like everyone wants a piece of Johnny Cage, which is no surprise. He is arguably the most popular character in the franchise, which makes it all the more surprising that he didn't make it into the latest adaptation. That being said, he was teased pretty hard for a sequel, and the cast and crew already have ideas for who could play the Hollywood action star.
Cage's absence aside, the lore of Mortal Kombat is incredibly complicated, almost hilariously so. However, the ever-expanding universe is home to over a hundred potential fighters to choose from, so things look promising from a sequel perspective. Hopefully the latest reboot will be successful enough to garner a franchise. I'd love nothing more than an MCU style saga, but it's rated R and filled with fatalities.
As alluded to by Brooks and McNamee, there's a ton of options when it comes to choosing characters moving forward. Whether it's the bladed fan-wielding Kitana (who is teased in the latest movie) or Cassie Cage, the options are there, it's just a matter of getting the movie made. Fortunately, Mortal Kombat has already broken records and it looks like critics are praising the reboot's commitment to the source material. So there may be hope for the bloody and fun big-screen franchise yet.
Fans can check out Mortal Kombat in theaters and on HBO Max, where it's streaming now. The brutal, high-flying martial arts movie will serve as a jumping off point for a potential franchise, and promises to entertain fans both new and old alike.
Your Daily Blend of Entertainment News
Into tracksuits by Paulie Walnuts, the Criterion Channel and Robert Eggers.
Your Daily Blend of Entertainment News
Thank you for signing up to CinemaBlend. You will receive a verification email shortly.
There was a problem. Please refresh the page and try again.