Spider-Man Actor Andrew Garfield Admits He Uses A Fake Twitter Account, And The Internet Has Thoughts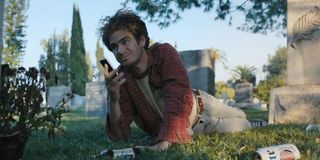 Being a major celebrity comes with plenty of sweet perks, but anonymity usually isn't one of them. When you were once the face of a major franchise, it's hard to stay under the radar, as former Amazing Spider-Man star Andrew Garfield recently admitted. However, the Peter Parker of the past did share that he uses a secret twitter account, and he's seen all of those wild Spider-Man rumors floating around.
The reveal (which was first shared on the Happy Sad Confused Podcast) has since gone viral on Twitter, where fans across the web have shared some hilarious memes responding to Garfield denying his involvement in the upcoming Spider-Man: No Way Home and the news of his secretive Twitter presence.
One user posted a slick The Mitchells vs. the Machines meme to illustrate the frustration that Garfield must be going through, considering a number of fans don't believe his claims about not appearing in the next Spider-Man movie:
Another encouraged Twitter to be mindful of who you call 'one of my followers,' because there's a chance it could be Andrew Garfield on his secret account.
Finally, another user used a clip of Michael Shannon in 2013's Man of Steel to announce that he will track down Garfield's account.
Jokes aside, it's not surprising to hear that Andrew Garfield has a secret social media account. It's actually relatively common for famous people to have burner accounts so that they can still interact with their friends outside of the public eye, and in this case see all of the wild Spider-Man hot takes.
I also find it completely hilarious that the internet simply refuses to believe that Andrew Garfield is not in the upcoming Spider-Man: No Way Home. Rumors surfaced last year that suggested former Spider-Man actors, including Andrew Garfield and Tobey Maguire, would reprise their roles alongside Tom Holland. Despite being denied from virtually everyone involved, the internet just can't let the idea go.
While it sounds like a good idea on paper, not everyone is convinced that bringing back former stars is such a smart move. Don't get me wrong, I get it. Why rehash old territory? That being said I would love nothing more than a Spider-Man: Into the Spider-Verse type event, just live action. Seems like it would be a no brainer to me, but I can't imagine it's easy to get that many big names in the same room for long.
After all, Garfield has recently been busy with his upcoming film Mainstream, which will pair the actor up with Maya Hawke and Johnny Knoxville, to name a few of the bigger stars attached. While it's certainly not a Spider-Man reprisal, the upcoming IFC film sounds like a fun venture along the lines of Garfield's other independent work, such as Under The Silver Lake.
Those of us out there who still think Andrew Garfield got a bad rap for his time as Peter Parker can check out The Amazing Spider-Man and it's sequel on FuboTV. As for more modern fare, including the upcoming Spider-Man: No Way Home, be sure to check out CinemaBlend's 2021 new movie release schedule.
Your Daily Blend of Entertainment News
Into tracksuits by Paulie Walnuts, the Criterion Channel and Robert Eggers.