First Look At John David Washington's New Netflix Thriller Revealed Months After Tenet Tried To Lure People Back To Theaters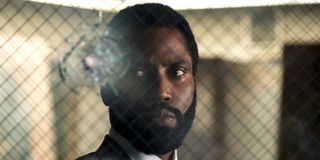 John David Washington is now a full-blown movie star. Despite Tenet having a tumultuous release that was marred by the pandemic, the film also marked John David Washington's arrival as a star. Tenet is getting another life after releasing in theaters earlier this year, now that it's streaming on HBO Max. More people are getting to watch Christopher Nolan's time-bending epic and witness John David Washington take the next step in his career. Now, it looks like he'll stick with streaming for his next flick and Netflix has shared the first look At John David Washington's new thriller months after Tenet tried to lure people back to theaters.
Tenet's failed theatrical release happened during the height of the pandemic and the uncertainty around the movie industry, resulting in smaller box office numbers than expected. In the meantime, theatrical struggles have led a slew of other movies to head to streaming, which is where John David Washington's next movie endeavor has been set up. The actor is set to star in Beckett, which looks exciting. Here is a first look at the film:
Tomb Raider's Alicia Vikander and The Predator's Boyd Holbrook are joining John David Washington in a dramatic thriller following a man (Washington) who gets caught up in a conspiracy while vacationing in Greece. If you are a fan of John David Washington, this genre movie is probably precisely what you want to see from him, and I can't wait to see how the film turns out.
Tenet establishes John David Washington as a really physical on-screen presence even if he can't explain what happens in that film. He is a former professional athlete, so he runs with purpose and can make sliding 15 feet look routine. When he beats a man with a cheese grater, you can feel the athleticism bouncing off the screen. Next, he'll have to maneuver and fight his way through a vast conspiracy while on vacation and it will undoubtedly be a sight to behold.
Commanding the screen clearly runs in the family, and like Christopher Nolan, many fans are holding out hope for Denzel Washington and his son John David Washington to make a movie together. John David Washington is a star now (who still has to do what his old man tells him) and it would truly something to see the pair share the big screen. The way John David Washington's career is going, nothing is off the table, and a movie with his iconic father is certainly in the cards.
The future is bright for John David Washington, and fans will get to see him on streaming train when Beckett hits Netflix this August. As for after that, Washington has a lot of options on deck, and there's even the very unlikely chance we see Tenet 2 in the future. Whatever is in store, the actor is making his mark, and I for one am looking forward to what's next.
Movie and TV obsessive. A good Heist movie is the way to my heart. Enjoyer of everything from Marvel Movies to Rom-coms.
Your Daily Blend of Entertainment News
Thank you for signing up to CinemaBlend. You will receive a verification email shortly.
There was a problem. Please refresh the page and try again.