Ben Affleck Paid Tribute To Ex Jennifer Garner On Mother's Day And The Internet Can't Get Enough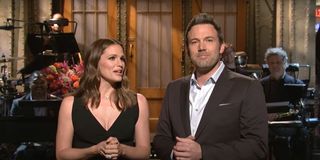 Just because two people aren't together anymore doesn't mean they can't be great parents, or share a cordial relationship. Just look at Ben Affleck and Jennifer Garner. The couple separated in 2015 and their divorce was finalized three years later, but they appear to still get along nowadays.
For example, this Mother's Day, Justice League alum Ben Affleck posted the sweetest tribute to Jennifer Garner on Instagram. Take a look below:
That's so, so sweet. One commenter summed up Ben Affleck's Instagram post up perfectly with the following:
The couple have three children together: Violet (15), Seraphina (12) and Samuel (9). The kids are featured in many of the photos Ben Affleck posted, including a particularly adorable snap of the family dressed as characters from The Wizard of Oz for a past Halloween. Affleck's care is evident, as he made sure to blur the children's faces. My favorite photo is the first: a bare-faced and glowing Jennifer Garner circa 2005 holding newborn Violet.
In the face of such cuteness, the Internet had no choice but to lose its collective mind. The post racked up over 600,000 likes and almost 5,000 comments. Many saluted Ben Affleck's clear appreciation for Jennifer Garner, as well as reiterating the strength of their relationship. There were plenty of supportive comments, like this:
Others went the more effusive route, like this comment:
Other fans focused less on Jennifer Garner and more on Ben Affleck's role as Batman in the DC Extended Universe (the DECU for short). Case in point:
Let's also not forget that these two starred alongside each other in the Marvel movie Daredevil, which paved the way for Jennifer Garner's Elektra spinoff.
Finally, some commenters encouraged Ben Affleck and Jennifer Garner to romantically reunite, like so:
That doesn't seem likely, but it's certainly nice to see a divorced couple remain on such amicable terms (especially in Hollywood). And the love goes both ways: Jennifer Garner has been known to post tributes to Ben Affleck as well, even after the couple officially split in 2018.
They've both since romantically moved on: Jennifer Garner has reportedly been seen with CaliGroup CEO John Miller after their break-up last year, and Ben Affleck only recently ended his relationship with Knives Out actress Ana De Armas. He's also been sighted with Jennifer Lopez, who he was previously involved with from 2002 to 2004.
As for upcoming movies, expect to see Ben Affleck return as the DCEU's Batman in the upcoming film The Flash. With Ezra Miller also reprising the titular hero, the movie is set to be released in theaters November 4, 2022. It will feature multiple versions of Batman and tie in several storylines from the comics. Other DC movies on the way include Aquaman 2 starring Jason Momoa and the Dwayne Johnson-led Black Adam. Jennifer Garner will next appear in Netflix's The Adam Project.
Your Daily Blend of Entertainment News
Actor, singer, and occasional dancer. Likes: fashion, books, old buildings. Dislikes: cilantro, the NJ Turnpike, sneaker wedges.