Upcoming Woody Harrelson Movies And TV: What's Ahead For The Venom: Let There Be Carnage Star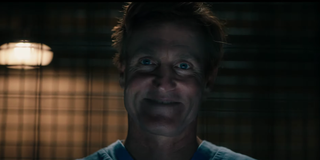 With over thirty years of experience in film and television, both comedic and dramatic, Woody Harrelson is one hard-working actor, and he's not looking to slow down anytime soon. The Oscar-nominated performer has a variety of movies and shows on the near horizon, including Venom: Let There Be Carnage, which will premiere in September, The Man from Toronto in early 2022, and HBO's The White House Plumbers, which is now filming. Certainly, you'll be seeing a lot of Harrelson in the days ahead, and we're here to tell you everything that the ever-busy actor has in store. Here's what's coming up next!
Venom: Let There Be Carnage - September 24, 2021 (Post-Production)
Carnage is set to come. The winking tease at the end of 2018's Venom made it clear that Woody Harrelson would play Carnage in a potential follow-up, and the surprise success of Sony's anti-hero Marvel adaptation guaranteed that a sequel was imminent. Thus, Venom: Let There Be Carnage. Directed by Andy Serkis, this Venom continuation sees Tom Hardy co-writing the story, producing, and reprising his lead role as Eddie Brock, our once-downtrodden reporter who forms an unlikely symbiotic attachment to a mysterious otherworldly black goo with supernatural powers. He'll face one hell of an adversary with Carnage, a psychopath who becomes the host of a murderous alien symbiote of his own. Given the actor's talents for planning scene-chewing meanies, Harrelson is ideal casting for this villainous role. Hopefully, Carnage plays in his favor.
While Venom wasn't a critical darling, to say the least, it became an audience favorite, grossing well over $800 million worldwide. Previously slated for October 2nd, 2020, Let There Be Carnage arrives on September 17, 2021. Soon, the carnage will commence.
The Man From Toronto - January 14, 2022 (Post-Production)
Replacing Jason Statham after a last-minute dropout, Woody Harrelson joins Kevin Hart, Kaley Cuoco, Ellen Barkin, and a few more famous faces in the upcoming action-comedy, The Man from Toronto. Centered around the misadventures of the world's deadliest assassin (Woody Harrelson) and "New York's biggest screw-up" (Kevin Hart) after they're mistaken for one another at an Airbnb rental, the latest film from director Patrick Hughes (The Hitman's Bodyguard) wasn't initially conceived with Harrelson in mind, but it's the type of project that could play into his experience as an action and comedic star. It's also easy to see the actor bringing his brand of menace to an ultra-deadly assassin.
While Jason Statham is a dependable action star, Woody Harrelson is quite arguably an upgrade — though we'll need to wait until next year to see if he has proper chemistry with Hart. The Man From Toronto is currently expected to arrive on January 14, 2022.
Triangle Of Sadness - TBA (Post-Production)
With Force Majeure and The Square, writer-director Ruben Östlund provided two richly searing social commentaries with astutely critical looks at the ways we behave under demanding circumstances. A Swedish filmmaker who is known for his dry delivery and pointed satire, Östlund is among the most invigorating filmmakers working on a grand scale today, which should drive a lot of interest towards his newest romp, Triangle of Sadness. Another dark comedy devoted to manners and misbehavior, this movie follows a fashion model celebrity couple (Harris Dickinson and Charlbi Dean) who are invited on a luxury cruise devoted to the ultra-rich. Captained by a rabid Marxist (Woody Harrelson), the yacht unexpectedly sinks, which leaves the couple stranded on a desert island alongside a group of billionaires and a cleaning lady, which results in a radical change in the social hierarchy when the cleaning lady rises to the top of the food chain.
It's easy to see where the bitting commentary ensues from there. Hopefully, Triangle of Sadness is another thought-provoking, darkly funny delight from the distinct storyteller.
Kate - TBA (Post-Production)
Turns out, The Man from Toronto isn't the only assassin movie that Woody Harrelson has on the docket. He'll also appear in Netflix's upcoming thriller, Kate, which stars Mary Elizabeth Winstead as our ruthless titular executioner who has less than 24 hours to exact her revenge after she's been irreversibly poisoned. In the process, Kate forms an unlikely bond with the daughter of one of her past victims, as Deadline reported back in 2019. Harrelson's role is still rather vague, but Entertainment Weekly notes that he'll play Kate's handler. We'll see what that means soon enough, as Kate is expected to be one of several upcoming action flicks that hits the streaming service sometime this year.
Directed by Cedric Nicolas-Troyan (The Huntsman: Winter's War) and written by Umair Aleem (Extraction), Kate has a great premise, though Netflix's action output can be very hit-and-miss (with more emphasis on the miss). Nevertheless, Woody Harrelson tends to thrive in these ultra-violent shoot-'em-ups. Hopefully, this is another hit for the actor.
The Freak Brothers (Animated TV Series) - TBA (Post-Production)
Based on Gilbert Shelton's transgressive underground comic series, The Freak Brothers will bring the late '60s stoner characters to the modern age with a new animated series from producer Woody Harrelson. Also featuring Harrelson as the voice of Freewheelin' Franklin Freek, this re-imagining released a 2020 mini-episode titled "Kentucky Fried Freaks" to give fans an idea of what they can expect from this television adaptation.
The series proper is expected to arrive sometime this year under Starburns Industries, the same studio behind Rick & Morty, though specifics are hard to come by. What we do know, though, is that John Goodman, Pete Davidson, and Tiffany Haddish will fill out the voice ensemble as our other titular freaks, as well as their feline friend, while Adam Devine and Blake Anderson will also lend their familiar voices to this cannabis cartoon.
The White House Plumbers (Limited Series) - TBA (Filming)
A five-part limited series devoted to one of the biggest political scandals in American history, The White House Plumbers promises to be an exceptionally high-profile HBO mini-series — notably with its high-profile ensemble. Led by Woody Harrelson and Justin Theroux as E. Howard Hunt and G. Gordon Liddy, President Nixon's political saboteurs and Watergate masterminds who accidentally toppled the presidency they were zealously protecting, as Deadline reports, The White House Plumbers will feature supporting turns from Domhnall Gleeson, Lena Headey, Kiernan Shipka, Ike Barinholtz, Rich Sommer, and Kim Coates. The White House Plumbers is in production as of May 2021, so we should probably expect this program to premiere by 2022, if not later in 2021.
Based on the book Integrity by Egil "Bud" Krogh and Matthew Krogh, along with public records, The White House Records is created by Veep's Alex Gregory and Peter Huyck and directed by David Mandel. Therefore, we can expect a satirical take on the material.
The Most Dangerous Man In America (Limited Series) - TBA (Announced)
Soon enough, Woody Harrelson will become The Most Dangerous Man in America. More specifically, the actor is signed on to star in a limited series adaptation of the acclaimed book, The Most Dangerous Man in America, written by Bill Minutaglio and Steven L. Davis. Also attached to produce, Harrelson will play fugitive convict Timothy Leary, as the series follows Leary's daring prison escape and run from the law in 1970.
Beyond being a dangerous getaway, Timothy Leary's escape from prison confinement was considered "the counterculture union of 'dope and dynamite'," as Deadline reports, that "aimed at sparking a revolution and overthrowing the government." The ensuing widespread manhunt for Leary, led by President Nixon, spanned 28 months and involved "homegrown radicals, European aristocrats, a Black Panther outpost in Algeria, an international arms dealer, hash-smuggling hippies from the Brotherhood of Eternal Love, and secret agents on four continents." Currently in pre-production, The Most Dangerous Man in America will be written for the screen by Catch-22's Luke Davies.
The Man With The Miraculous Hands - TBA (Announced)
Not only will Woody Harrelson become The Most Dangerous Man in America, he'll also play the title role in The Man with the Miraculous Hands. Based on the novel by Joseph Kessell, this WWII psychological thriller will star Harrelson as Felix Kersten, a Finnish-born medical professional who reluctantly gets "pulled into the Third Reich's corridors of power as Heinrich Himmler's personal physician and prisoner," as Variety reported.
Set to be written and directed by Oren Moverman, The Man with the Miraculous Hands will reunite Woody Harrelson with the filmmaker behind Rampart and The Messenger, which feature two of Harrelson's finest performances, particularly as the actor received an Oscar nomination for the latter. One would hope, therefore, that the director and star rekindle their spark with this bold dramatic project. But the film is in early development.
Fruit Loops - TBA (Announced)
A long-in-the-works character-based drama centered around a group of mental patients who band together whenever their hospital is sold, per THR, there's no guarantee that Fruit Loops will ever see the light of day. Admittedly, this type of adult-geared dramedy project sounds like a film that belongs to another decade — another era, even — and it's the sort of original project that's hardly ever greenlit nowadays, especially when studios want IPs instead. It also doesn't help that the developing movie was set up at the since-shuttered Fox 2000, which possibly confirms that Fruit Loops has reached a dead end.
Nevertheless, if this long-labored movie does come together, Woody Harrelson would play Leonard F. Cubby, a war veteran with PTSD. It would also come from director Ted Melfi (Hidden Figures). If I were a betting man (and I'm not), I'd wager that Fruit Loops isn't going to happen — not in this iteration, at least. But never say never in Tinseltown.
Be sure to follow CinemaBlend for the latest news on Woody Harrelson and more!
Will is an entertainment writer based in Pittsburgh, PA. His writing can also be found in The Playlist, Cut Print Film, We Got This Covered, The Young Folks, Slate and other outlets. He also co-hosts the weekly film/TV podcast Cinemaholics with Jon Negroni and he likes to think he's a professional Garfield enthusiast.
Your Daily Blend of Entertainment News
Thank you for signing up to CinemaBlend. You will receive a verification email shortly.
There was a problem. Please refresh the page and try again.