Jurassic World: Dominion's Laura Dern Opens Up About Her Sweet Reunion With Co-Stars Sam Neill And Jeff Goldblum On The Set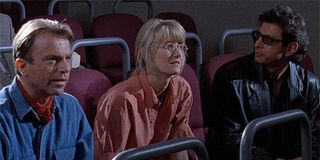 Jurassic World: Dominion is on the way, and Chris Pratt and crew are excited to be able to finish the film mid-pandemic. The new entry in the Jurrasic World franchisie promises thrilling dinosaur action, unlike anything to come before it. The film will also see the returns of Sam Neill's Alan Grant and Laura Dern's Ellie Sattler and Jeff Goldblum (who appeared previously appeared in 2018's Fallen Kingdom), finally bridging the original movies with the current series. Dern has opened up about her sweet reunion with co-stars Neill and Goldblum on the set of Dominion.
Laura Dern, Sam Neill, and Jeff Goldblum all played a part in movie history, bringing to life one of the most iconic blockbusters ever. And now they will all be back on screen together after all these years. Dern recently commented about what it was like to reunite with her co-stars, telling People:
Laura Dern is happy to be back with her original castmates, and seeing how they have been integrated into the new films with new stars has apparently been a great experience. Bringing back the old and mixing it with the new doesn't always work, but Jurassic World: Dominion has the Oscar-winning actress excited for the journey they are embarking on together. Dern goes on to say:
Laura Dern recalls the fantastic experience of working on the first installment of the Jurassic franchise, remembering working with the animatronics developed by Stan Winston and seeing the use of CGI for the first time. All in all, the experience has been a walk down memory lane for Dern, and her excitement Jurassic World: Dominion is sure to spread to the fans.
Laura Dern has had many iconic roles and continues to add to her stacked résumé, but many will likely always remember her for playing the heroic Dr. Ellie Sattler. Jurassic World: Dominion is going to be epic, and there are some dinosaurs we're hoping to see in the third film. Fans just want unbridled Jurassic chaos, even if new research has blown some holes in iconic scenes from the franchise. It'll be exciting to see what's in store for the heroes of in this next installment.
Jurassic World: Dominion hits theaters on June 10, 2022.
Your Daily Blend of Entertainment News
Movie and TV obsessive. A good Heist movie is the way to my heart. Enjoyer of everything from Marvel Movies to Rom-coms.