Take Out Girl Director Shares Why He Never Feels Pressure To Represent The Black Community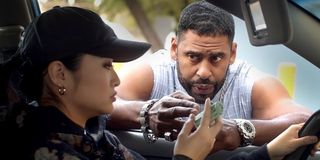 It's 2021, and Hollywood is taking more strides every day in embracing diversity. A greater number of filmmakers from different backgrounds are getting to tell stories, and in some cases, this puts weight on the creator to represent all of the community they are a part of. Hisonni Johnson, director of Take Out Girl, pushed back on this and shared why he never feels pressure to represent the Black community.
When it comes to being a minority, many of us are constantly aware of how we're being presented to and perceived by others. When I'm the only Black person in an office, for example, I wonder if I'm the only Black person some others in the office converse with on a regular basis, and I want to make sure their perception of Black people, in general, is not negative because of me. I sat down with Hisonni Johnson for an interview with CinemaBlend in support of his new film Take Out Girl, and he said the following about never feeling the pressure:
Hisonni Johnson went on to give specific examples of these universal experiences, such as touching a stove. Everyone knows that causes pain. Multiple audiences can relate to the sensation of needing to use the restroom badly when that is represented on screen, regardless of the character's skin color. The director added the following:
Take Out Girl absolutely accomplishes what director Hisonni Johnson describes above. It tells the story of Tera (Hedy Wong), a young Asian 20-something who gets involved with the local drug kingpin by agreeing to move his product through takeout food boxes to help her family's struggling restaurant. While many viewers may have little to no experience with working in a restaurant or exposure to any time of crime, all will be able to relate to Tera's love for her family and fierce loyalty.
Hisonni Johnson has a talent for displaying commonalities between various types of people and that shines through in Take Out Girl. After all, experiencing the life of another is the reason so many of us see movies. Here's what Johnson told me about what he calls his superpower:
Take Out Girl is now available on Digital and VOD. Once you see it, connect with CinemaBlend on social media and let us know what you thought! We're always curating watch lists for you. Check out the best documentaries on Netflix for your next movie night.
Your Daily Blend of Entertainment News
Obsessed with Hamilton and most things Disney. Gets too attached to TV show characters. Loves a good thriller, but will only tolerate so much blood.