The Meg 2: Another Star Is Ready For The Shark Sequel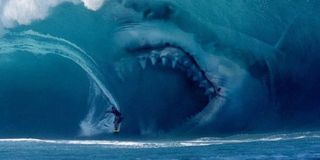 The Meg, starring Jason Statham, made a big splash with fans and the box office, and excitement for a sequel continues to be high. The The Hobbs and Shaw star recently shared a filming update for The Meg 2, getting fans of the deep sea monster movie just as pumped as the director is. Now, another star says she is ready for the shark sequel as well.
Mortal Kombat star Jessica McNamee has expressed her excitement for the sequel and her desire to get started working with Jason Statham and the rest of the team. McNamee plays the ex-wife of Jason Statham's Jonas Taylor and, while she's keen to get back, she is aware of a few potential obstacles. In an interview with Collider, McNamee talked about her role and filming The Meg 2, saying:
Jessica McNamee recognizes the uncertainty of the filming schedule for The Meg 2 due to COVID-19 protocols. With all the rules in place for safety, there is a lot of waiting involved for the go-ahead to go back to work. McNamee says she had such a good time filming the first movie and that she hopes everything works out so the cast and crew are able to get started on it soon.
Jessica McNamee also teased the potential filming locations for The Meg 2, spilling the beans that they are shooting in New Zealand, with the possibility of shooting in Australia as well. McNamee is particularly excited about the prospect of shooting in Australia, as that may be the only way she will be able to get back into her home country, due to the rules preventing travel because of the pandemic.
Jessica McNamee has been making quite a name for herself over the past few years and has been scoring some juicy roles. While playing Sonya Blade in Mortal Kombat, and she was able to pull off some crazy fights and fatalities needed for the role.
With The Meg having been successful at the box office, we'll hopefully see the sequel sooner rather than later. And with any luck, Jessica McNamee will once again star alongside Wrath of Man star Jason Statham, who has more than a few upcoming projects on the docket. While there are plenty to look forward to, let's hope The Meg 2 is a high priority amid his busy schedule.
Your Daily Blend of Entertainment News
Movie and TV obsessive. A good Heist movie is the way to my heart. Enjoyer of everything from Marvel Movies to Rom-coms.