Looks Like Taika Waititi's Thor: Love And Thunder May Have Finally Wrapped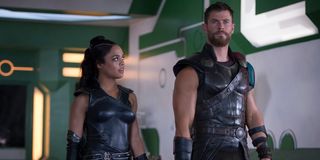 Thor: Love and Thunder is one of the MCU's most anticipated films, as the Taika Waititi-directed film is expected to be released in 2022. The fourth Thor film adds Russel Crowe as Zeus and Christian Bale as Gorr the God Butcher to an already insane cast, and fans can't wait to see what Waititi and Chris Hemsworth have up their sleeves. Last month, Waititi hinted that he and his team only had a few weeks of production left. Now, it looks like it's a possibility that Thor: Love and Thunder may have finally wrapped.
Thor: Love and Thunder hair and makeup artist Luca Vannella recently posted a photo to Instagram that may indicate that filming has wrapped. The crew has been deep into production and, with Taika Waititi himself having stated they only had a few weeks left, it's possible Vannella has indicated that the shoot as a whole is done. Check out the cool post:
The post is a photo of a gift Luca Vanella received from his team, which is a statue of classic comics Thor. Vannella's caption, which says "IT'S A WRAP!!", is what may have revealed that filming for the highly anticipated film has finished. It might be a coincidence, or he may be talking about something completely unrelated. Still, he is someone very close to the film, seeing as how received a congratulatory gift, so the indication that Thor: Love and Thunder has wrapped production may hold some water.
An early 2022 release for Thor: Love and Thunder means that the film is likely almost done, at least filming wise, leaving months for final touches for editing, VFX, and the works. Taika Waititi, between his directing duties and reported "throuple" activities, has been having fun with the film, and he might deliver the best Marvel movie yet. Thor: Ragnarok was a radical change in the Thor franchise and the MCU as a whole, and all signs are pointing towards Love and Thunder pushing the envelope even more.
Chris Hemsworth is poised to put on another fantastic performance as Thor. Ragnarok really unlocked the God of Thunder and all of Chris Hemsworth's talents, making Thor a standout in the MCU. Hemsworth was recently photographed on multiple occasions. In one case, he was looking ripped with his son and, in another, he seemed to be whipping Fat Thor into shape. We last saw Thor, still out of shape, wondering what's next after the climactic events of Avengers: Endgame, and we can't wait to see what the character has been up to since then.
Thor: Love and Thunder is pulling out all the stops with its massively talented cast, visionary director in Taika Waititi, and Thor himself, Chris Hemsworth. The team behind Thor has added a sense of humor and visual style to this franchise, making it a must-watch movie series for Marvel die-hards. Hopefully, Waititi will be able to replicate his success in his upcoming MCU Phase Four film.
Your Daily Blend of Entertainment News
Movie and TV obsessive. A good Heist movie is the way to my heart. Enjoyer of everything from Marvel Movies to Rom-coms.