Surprise, Stephen And Robbie Amell's Next Movie Is Heading To Streaming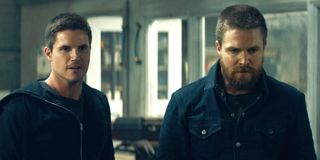 Following their paths crossing paths in the Arrowverse during The Flash Season 1's penultimate episode, cousins Stephen Amell and Robbie Amell teamed up for the sci-fi short film Code 8, which was later adapted into a feature-length tale. A little over a year and a half after the Code 8 movie's release, it's been announced that the sequel, Code 8: Part II, is heading to streaming; Netflix, to be precise.
Netflix has struck a deal with XYZ Films to acquire the global rights to Code 8: Part II. As noted by THR, this marks the streaming giant's first English-language original movie to hail from Canada, although it previously obtained the global rights to the French-language Canadian movie Le Guide de la famille parfaite (The Guide to the Perfect Family). Along with Stephen and Robbie Amell reprising their respective roles, Jeff Chan, who directed Code 8, will helm the sequel too. Chan also wrote the script with Chris Paré, Sherren Lee and Jesse LaVercombe.
It's not terribly surprising that Netflix got its hands on Code 8: Part II given its ties to the first movie. Code 8 was added to Netflix in April 2020 and collected a lot of views on the platform. So it's hardly surprising Netflix would want to snatch Code 8: Part II. News of this acquisition follows several months after Netflix bought the rights to two Knives Out sequels from director Rian Johnson and producer Ram Bergman, with the first Knives Out, like Code 8, having been initially been released theatrically.
For those unfamiliar with Code 8, the movie is set in a world where a portion of the world's population is born with superhuman abilities, but are forced to register their abilities and face discrimination, to the point that many resort to crime simply to survive. Robbie Amell played Connor Reed, a electrokinetic who looked after his mother, a cyrokinetic who suffers from brain cancer. Stephen Amell played Garrett Kent, a telekinetic who worked for a Trust syndicate crime lord helping to flood the streets with Psyke, an addictive drug made from the spinal fluid of Powers, i.e. the people with abilities.
As for Code 8: Part II, the sequel will follow a teenaged superpowered girl who, after witnessing her father's murder, seeks the help of Connor and Garrett. Together, the trio will face off against a unit of corrupt police officers who "deploy advanced robotic technology to prevent themselves from being exposed." Aside from Stephen and Robbie Amell reprising their roles, no other casting for Code 8: Part II has been announced yet, but it's expected to begin shooting in Canada later this year so it'll be ready to premiere on Netflix in 2022. Originally the Code 8 saga was going to continue in a spinoff TV series, but with Quibi having shut down, it appears the project is no longer in development.
While we wait for more news about Code 8: Part II's development, find out what Netflix has delivered this month, and what's still to come in June, with our detailed lineup. For the hardcore Stephen and Robbie Amell fans out there, the former is starring in the upcoming Start series Heels, while the latter is returning for Season 2 of the Amazon series Upload.
Connoisseur of Marvel, DC, Star Wars, John Wick, MonsterVerse and Doctor Who lore. He's aware he looks like Harry Potter and Clark Kent.
Your Daily Blend of Entertainment News
Thank you for signing up to CinemaBlend. You will receive a verification email shortly.
There was a problem. Please refresh the page and try again.