Arrow's Stephen Amell Is Just As Pumped As We Are To See The Boys' Jensen Ackles As A Superhero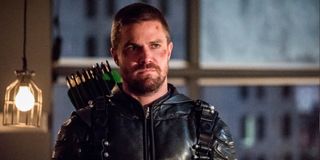 Green supersuits are all the rage these days! Amazon's R-rated superhero series The Boys recently unveiled its first look at Jensen Ackles' new Season 3 character Soldier Boy, and fans couldn't get enough. One of the more recognizable fans who couldn't get enough was Ackles' buddy and fellow CW alum, Arrow vet Stephen Amell.
As someone who wore a famed supersuit for eight seasons on Arrow, Stephen Amell is as pumped as ever to see his friend Jensen Ackles rock his own signature costume for the upcoming season of The Boys. The Arrow alum showed his support to the former Supernatural star on Instagram with a selection of pics, both of them together and of them singled-out and in costume. Not to mention a sweet caption to go along with it. Check it out below!
Stephen Amell and Jensen Ackles have been buddies for years now, bonding over their respective long-running CW shows. Earlier this month, Ackles gave a shout out to Amell, The Flash star Grant Gustin and all other superhero actors while in the midst of constantly working out and staying in heroic shape. If Ackles didn't know the struggle before, he was definitely beginning to understand it after all that work. And while Ackles doesn't have as much experience being a superhero as Amell, fighting demons and supernatural creatures for 15 years has probably helped.
It was last August when Jensen Ackles was first announced to be joining the Amazon series and reuniting with Supernatural creator Eric Kripke, who also created The Boys. Fans quickly got excited at the thought of seeing the former monster-hunter as Vought's very first superhero, with some even envisioning just what his suit would look like. And once filming started on Season 3 earlier this year, Ackles became pretty unrecognizable with his growing beard, making this character that much more distant from Supernatural's Dean.
Since Ackles began filming on the series in April, fans haven't stopped wishing him good luck on his superhero journey. And while there isn't a confirmed release date for Season 3, there have been plenty of teases as to what to expect in the new season, from there being "Payback" to a super-explicit episode straight from the comics entitled, "Herogasm." We don't really need to get more into that episode at the moment, but let's just say it won't be one to forget or watch with your stodgy parents. Meanwhile, the Supernatural alum has been posting BTS photos from set, along with his fellow costars, making fans even more pumped up for the new season.
From one green suited superhero to the next, Stephen Amell is just as pumped to see Jensen Ackles as Soldier Boy as we are. It will be interesting to see the actor's introduction into his highly sordid superhero world. Maybe there will even be a Green Arrow Easter Egg somewhere referencing his super friend? I mean, it would probably be a literal green arrow tattooed on someone's genitals, but a reference is a reference.
As everyone waits to see Soldier Boy in action in Season 3 of The Boys, stream the first two seasons on Amazon Prime. And check out what shows to look forward to for the summer 2021 TV season!
Passionate writer. Obsessed with anything and everything entertainment, specifically movies and television. Can get easily attached to fictional characters.
Your Daily Blend of Entertainment News
Thank you for signing up to CinemaBlend. You will receive a verification email shortly.
There was a problem. Please refresh the page and try again.