Of Course, There Are Tons Of Harry Potter Tattoos, But I'm Surprised By Some Of The Other Movies That Have Inspired The Most Ink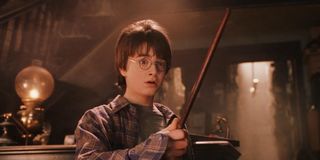 Raise your hand if you ever watched a movie that made you want to pay someone hundreds of dollars to jab you with a needle thousands of times, imprinting a symbol of that film on your skin forever. I should see so many hands in the air right now - myself included - because there are hundreds of thousands of people walking around with some pretty cool movie-related ink on them. While you have probably seen a ton of Harry Potter tattoos, whether it be the Deathly Hallows symbol, "Always" or even a 2-for-1 combo of the two, the Wizarding World isn't the only thing making it onto fans' skin, and it actually doesn't even make the number one spot!
If you've ever wondered which movies have inspired the most tattoos that are out there, Online Bingo has you covered... well, kind of. The gambling site has compiled a list of the top 50 films that have inspired the most tattoos on their fans. The lists come from hashtags used on Instagram for movie-related and inspired tattoos, so obviously not all tattoos could be counted. The list is limited to Instagram users who have posted pictures of their film tattoos, but it still looks to be a pretty competent sample, and it's definitely interesting!
Number 1 on the list goes to Star Wars, which makes a lot of sense and absolutely deserves to have the top spot. The Star Wars fandom goes hard, and has been ever since the first film was released back in 1977. The fandom has been around for over 40 years and keeps growing as new generations get into the franchise, so Harry Potter understandably didn't stand a chance.
Speaking of Harry Potter, that franchise did come in at number 2 with almost fifty thousand less hashtags than Star Wars. Honestly, we can probably up Star Wars' lead though, as more Harry Potter fans are bound to be on social media versus the much older Star Wars fans.
Here's something that may surprise you, though: four out of the top 10 entries in the list go to comic book movie adaptations. Batman grabs the third spot, while Spider-Man, Deadpool, and Iron Man all grab spots in the second half of the top 10 spots, respectively. Maybe that didn't surprise you as much as it did me, because actually 13 out of the entire list of 50 are either DC or Marvel characters. People love their comic book characters, I guess.
Other popular themes we can see on the list are horror icons and, adversely, characters from children's films. Jason from Friday the 13th takes the 4th spot. Both Predator and Alien make an appearance on the list, and Scream. Lion King, Peter Pan and Toy Story are all on the list as well, as are a few films that mesh the two genres, like The Nightmare Before Christmas and Coraline.
While the list doesn't take into count how good the tattoos are - and there are sure to be some serious tattoo disasters in there - there appears to be some pretty great pieces of art work among the ranks, from tiny hand tattoos to massive back tats - Harry Potter related or otherwise.
Constantly thinking about books, coffee, and the existential dread I feel from Bo Burnham's Inside. While writing I'm also raising a chaotic toddler, who may or may not have picked up personality traits from watching one too many episodes of Trailer Park Boys.
Your Daily Blend of Entertainment News
Thank you for signing up to CinemaBlend. You will receive a verification email shortly.
There was a problem. Please refresh the page and try again.