What The Jurassic World Cast Is Doing Now, Including Chris Pratt And Bryce Dallas Howard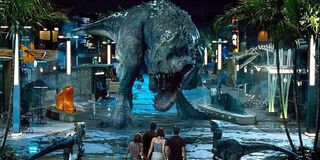 I'm going to reveal something very embarrassing about myself. When Jurassic World first came out back in 2015, I thought it was going to be a massive flop. I know, I know. In hindsight, that sounds utterly ridiculous. We now know that putting the word "Jurassic" in front of anything is going to sell it like gangbusters. But, back then, I thought the whole idea of dinosaurs on the loose had run its course after 2001's somewhat disappointing Jurassic Park III. I had no idea at the time that the Chris Pratt / Bryce Dallas Howard revival would give such a massive shot in the arm to the franchise, or that the series would go on to cross so many box office milestones.
We now know, of course, that it has, and we're currently looking forward to the future of the franchise with the upcoming, Jurassic World: Dominion, which is still slated to come out in 2022. I've come to really appreciate the Jurassic World series, most notably with the animated show, Jurassic World: Camp Cretaceous, but I wanted to focus on that first film in the series and the Jurassic World cast. Sound good? Great! Then cue the T-Rex roar!
Chris Pratt (Owen Grady)
Chris Pratt has come a long way from being the lovable Andy Dwyer on Parks and Recreation. Probably most known as Star Lord (Who?) from the Guardians of the Galaxy series, Chris Pratt has been in several big movie roles since 2015's Jurassic World. In 2016, he starred in the sci-fi film, Passengers, with Jennifer Lawrence. He also did voice work for the sequel to the hit film, The Lego Movie, as well as the dopey (but vital!) older brother in Pixar's vastly underappreciated movie, Onward.
But, really, it's neck and neck between his role as Owen Grady in the Jurassic World series, and his role as Peter Quill/Star Lord in the Guardians of the Galaxy series, with that character's last appearance being Avengers: Endgame, and his next appearance being in Thor: Love and Thunder, which comes out in 2022, just like Jurassic World: Dominion. His next big project is The Tomorrow War, which is about an alien invasion. Seriously, the guy's unstoppable.
Bryce Dallas Howard (Claire Dearing)
Daughter to Hollywood legend, Ron Howard, (she also had a very minor part in her dad's film Apollo 13 as "Girl in Yellow Dress"), Bryce Dallas Howard has kept busy both as an actress, but also as a director, as she directed two great episodes of The Mandalorian. On the acting front though, she was in quite a few notable films prior to starring in Jurassic World, such as a leading role in M. Night Shyamalan's The Village, which is where I first saw her, as well as another major role in his Lady in the Water, which I'm sorry, but I actually liked a lot. She was the first Gwen Stacy in Sam Raimi's Spider-Man 3, and was also in the Twilight series, as well as Terminator Salvation.
But, since 2015, Jurassic World has been her main big screen gig. She also starred in Disney's live-action (and oft-forgotten) Pete's Dragon, as well as Rocketman, and also appeared in the excellent Black Mirror episode, "Nosedive." You'll be able to see her again as Claire Dearing in Jurassic World: Dominion.
Vincent D'Onofrio (Vic Hoskins)
I know it's unfair, but no matter how many stellar roles Vincent D'Onofrio takes on, he will always be Private "Gomer Pyle" to me, from Stanley Kubrick's masterpiece, Full Metal Jacket. But, yeah, Mr. D'Onofrio has done a lot. Like Bryce Dallas Howard, he's tried his hand at directing, such as his 2010 musical slasher film, Don't Go in the Woods. He also directed the Billy the Kid movie, aptly titled, The Kid, which came out in 2019 and stars Chris Pratt.
D'Onofrio, who starred in movies like Sinister 2, Rings, and the Death Wish remake is actually probably more known for his television work, like his long-running role as Det. Robert Goren on Law & Order: Criminal Intent, and more recently, as Kingpin on the popular Netflix Daredevil series. He can be seen next in the period drama, The Eyes of Tammy Faye, as well as an as-of-yet untitled film by German director, Nora Fingscheidt.
Nick Robinson (Zach)
For a long time prior to his role in Jurassic World, I just referred to Nick Robinson as "that kid from Melissa & Joey" (I miss Melissa & Joey). Since Jurassic World, he's had a pretty interesting career, most notably as Simon Spier in the romantic comedy-drama Love, Simon, which he was nominated and won several awards for. He was also in 2019's Native Son, Shadow in the Cloud, and 2021's Silk Road.
TV-wise, "that kid from Melissa & Joey" has done quite a bit, too, notably as a voice-over actor in Love, Victor, which is set in the Love, Simon universe, and the main role in the miniseries, A Teacher. He'll next appear in the Netflix show, Maid, in a leading role.
Ty Simpkins (Gray)
The first time I ever saw Ty Simpkins in anything, he scared the hell out of me as the kid in Insidious. In fact, he had quite a big career as a kid actor prior to Jurassic World, most notably in Little Children, Revolutionary Road, and Iron Man 3.
Post Jurassic World, he was in The Nice Guys, another Insidious movie, Insidious: The Last Key, and would appear all grown up in Avengers: Endgame at Tony Stark's funeral. You can find him in Darren Aronofsky's next flick, The Whale, which I can only hope will be as good as his masterpiece, mother! And shut up. I love mother!
Jake Johnson (Lowery Cruthers)
For my wife and I, Jake Johnson will always be Nick from New Girl. For my daughter and son, he will always be the voice of Peter B. Parker in Spider-Man: Into the Spider-Verse. He's actually been in a ton of stuff, though, besides those two notable performances, including 21 Jump Street, Neighbors, and a guilty pleasure of mine, Let's Be Cops.
TV-wise, he's had a bunch of guest-starring parts, such as his role on FlashForward, Drunk History, and BoJack Horseman. We'll see him again in Jurassic Park: Dominion and in a still untitled sequel to Into the Spider-Verse, which I just can't wait for.
Lauren Lapkus (Vivian)
If you know Lauren Lapkus from anything, it's likely her role as Susan Fischer in Orange Is the New Black, which she was on from 2013 all the way to 2019. Film-wise, she was also in Good Girls Get High, Holmes & Watson, and The Wrong Missy, among others.
She's done a lot more television work though, appearing here and there on a number of famous shows like Lucifer, Good Girls, Life in Pieces, and The Big Bang Theory. She's also done a lot of voice work, like on Bob's Burgers, American Dad!, and most recently, the Animaniacs reboot. You can hear her again in 2021's animated show, Close Enough. She's also the co-host of the podcast Newcomers with Nicole Byer (opens in new tab).
BD Wong (Dr. Henry Wu)
BD Wong is the only connective tissue between Jurassic World and Jurassic Park! For that reason alone, he should be cherished! BD Wong has a television career that spans all the way back to the year of our Lord (and me) in 1983, with his first role on the miniseries, No Big Deal. Since then, he's been in everything from the X-Files to the reboot of Duck Tales. He's done some theater work, too!
Since Jurassic World, he was in The Space Between Us, Jurassic World: Fallen Kingdom, and Netflix's Bird Box. Find him next in—you guessed it!—Jurassic World: Dominion!
Katie McGrath (Zara)
Irish actress Katie McGrath, has done more TV work than movies. If you're into Canadian programming, you might know her from Slasher or Frontier. But you'd probably most recognize her as Lex Luthor's younger half-sister, Lena, on Supergirl. This will be her last ride on the show since it has since been cancelled, but maybe she'll be in a potential spin-off? Only time will tell.
On the film side, she was in The Throwaways, King Arthur: Legend of the Sword, and Buttons.
Irrfan Khan (Simon Masrani)
Irrfan Khan, who passed away in 2020, had a long and impressive career, mostly in Hindi cinema. Outside of India, he was in such big films as Slumdog Millionaire, The Amazing Spider-Man, and Life of Pi.
Khan played Simon Masrani in Jurassic World, the owner of the dangerous, dino theme park. Jurassic World would be his final American film, but his last movie, in general, came out in 2020; the Indian comedy, Angrezi Medium. He had a lengthy and fascinating career.
So, was I wrong that Jurassic World was going to be a flop? Of course, I was! I should have known that even back then. People love dinosaurs, and people have fond memories for Jurassic Park. It only makes sense that it was a roaring success. I'm super excited for this next movie, and it was nice to take a trip down memory lane.
Rich is a Jersey boy, through and through. He graduated from Rutgers University (Go, R.U.!), and thinks the Garden State is the best state in the country. That said, he'll take Chicago Deep Dish pizza over a New York slice any day of the week. Don't hate. When he's not watching his two kids, he's usually working on a novel, watching vintage movies, or reading some obscure book.
Your Daily Blend of Entertainment News
Thank you for signing up to CinemaBlend. You will receive a verification email shortly.
There was a problem. Please refresh the page and try again.