The Mandalorian Proves The Star Wars Movies Made A Pretty Big Mistake In 2015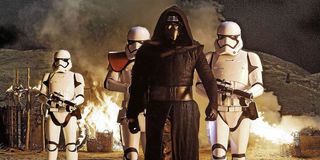 It should have been Jon Favreau and Dave Filoni from Day One.
This was my "controversial" Hot Take while watching the most recent episode of Disney+'s The Mandalorian -- specifics of which I will leave out in case you landed in here having not seen the episode. Go watch it. Right now.
But with each passing episode of the second season of The Mandalorian, building off of the foundation that was laid in season one of the episodic program, convinces me that Lucasfilm made a mistake handing the baton to J.J. Abrams for the relaunch of the Star Wars movie franchise. It should have been Favreau and Filoni. Star Wars films, as a franchise, would be in a much more stable place.
This is not meant as a complete and total slam at J.J. Abrams, or even at Rian Johnson. Both made wonderful, different, exciting, provocative and successful Star Wars films in their own right. It's unusual that there seem to be two camps with regards to the Sequel Trilogy of Star Wars films, and the people who liked Abrams' work don't like Johnson's, and vice versa. But the two, by all reports, didn't collaborate, and were left by Lucasfilm to create the Star Wars movie they WANTED to make, with no regard for an overarching story. By the time we, as a collective audience, reached The Rise of Skywalker, that point was made abundantly clear.
Watching Star Wars: The Force Awakens demonstrates that J.J. Abrams understands, appreciates and adores the visual motif of Star Wars. The Millennium Falcon racing through a canyon to avoid tie fighters looks cool. It IS cool. But The Force Awakens gets a lot of heat (and deservedly so) for mimicking A New Hope instead of branching off and establishing any real Star Wars lore of its own. Perhaps it's because The Force Awakens was too important to fail. Lucasfilm was gambling by bringing Star Wars back to the big screen, and it needed to connect with mainstream audiences who weren't following The Clone Wars in animation. How do you do that? Give them more of what they've already said that they love.
And it worked… until Lucasfilm and Disney needed to connect the threads of the story. They didn't. Rian Johnson broke off and contradicted a lot of what J.J. Abrams established in The Force Awakens with regards to Rey (Daisy Ridley), Kylo (Adam Driver) and Luke Skywalker (Mark Hamill). Their individual ideas might have sounded cool on paper, but without a deeper commitment to big-picture storytelling, these concepts were left in limbo.
The Mandalorian applies the passion and understanding of Star Wars mythology to a larger story. Granted, the television show has more "real estate" on which to explore, getting multiple episodes of longer seasons. But the way that it has tapped into an underutilized concept from the Star Wars lore -- the Mandalore culture -- and used it to both discover new worlds and ALSO please nostalgia-seekers shows how deft Jon Favreau and Dave Filoni are at weaving new Star Wars out of "old" Star Wars.
Filoni has been doing this for some time, albeit in the realm of animation. Star Wars: The Clone Wars and Star Wars Rebels blew out historical passages of Star Wars mythology into living, breathing playgrounds for beloved characters (Obi-wan, Anakin) and new players (Ahsoka Tano, Ezra Bridger). The Star Wars movies, so far, haven't given themselves that freedom, and instead are too tied to the Original Trilogy. Han Solo gets a prequel. Rogue One acts as a prequel TO A New Hope. Where is the originality?
On Disney+, on a weekly basis, where Jon Favreau and Dave Filoni are taking their shot at expanding the world created by Star Wars, honoring it without being enslaved to it. And The Mandalorian has convinced me that these two should have been doing it much sooner… and on a much bigger screen.
Sean O'Connell is a journalist and CinemaBlend's Managing Editor. He's frequently found on Twitter at @Sean_OConnell. ReelBlend cohost. A movie junkie who's Infatuated with comic-book films. Helped get the Snyder Cut released, then wrote a book about it.
Your Daily Blend of Entertainment News
Thank you for signing up to CinemaBlend. You will receive a verification email shortly.
There was a problem. Please refresh the page and try again.