Abomination: 6 Questions We Have About The Hulk Villain's Appearance In Shang-Chi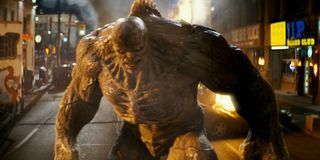 There was already a lot of anticipation for Marvel's Shang-Chi and the Legend of the Ten Rings after that incredible first trailer, but the latest look at the upcoming Simu Liu movie may have topped it. Fans were floored when a familiar face appeared in the second trailer, especially considering it was a face not many were expecting. Abomination is back, and there's a litany of questions that come along with him.
There are so many questions fans should ask ahead of Shang-Chi and the Legend of the Ten Rings, but for those pressed for time and worried about other things, I put in the work already. Here's what we should be asking about Abomination's upcoming appearance, and some speculation regarding those questions and the character's future in the MCU.
Why Does Abomination Look Different?
One major thing that sticks out about Abomination's brief scene in the latest trailer for Shang-Chi and the Legend of the Ten Rings is that he doesn't look quite like the Abomination featured in The Incredible Hulk. The new Abomination has a lot more spikes and fins, and a potentially healthier glow. Did something change that led to this transformation, or is it just a correction on Marvel Studios' part?
It's hard to say, as Marvel Studios' latest take on Emil Blonsky's transformation is certainly more comic-accurate than The Incredible Hulk. At the same time, Blonsky was fresh off the transformation in that movie, so it's possible he just wasn't fully changed quite yet. It's also worth noting that even Hulk made a bit of a transformation after The Incredible Hulk once he appeared in The Avengers, so there may be no actual story reason for this physical change to Abomination.
Is This The Same Abomination We've Seen Previously?
Beyond the fact that Abomination looks physically different, I think we're all a little wary of slight variations on characters now that we've seen Loki. Does Abomination look different because he's a variant of the previous Abomination? Hey, we already know the MCU is headed into the multiverse, and there's reason to believe that Abomination could be a part of all that "madness."
The fact that Abomination is fighting Wong is fascinating. After all, we know from Benedict Wong that his character will be involved in Doctor Strange in the Multiverse of Madness. Is his being there at all tied to trouble happening within the multiverse? Obviously these are answers we couldn't possibly have right now. With that said, it's always common for Marvel movies to tease other upcoming films, so I wouldn't be at all surprised if the cameo doesn't set Wong's upcoming adventure with Doctor Strange just a bit.
Who Released Abomination?
Abomination was still alive at the end of The Incredible Hulk, but he was well under lockdown at the end. The villain is sent to The Raft by Thunderbolt Ross, and when Marvel did a One-Shot where Abomination was considered for The Avengers, he was still there. The Raft isn't exactly an easy place to escape, so how did Abomination get out of there so he can throw down against Wong in a seemingly sanctioned event?
It could be as simple as The Mandarin using his seemingly endless resources to spring the villain from his cell. It could also be our previously mentioned variant theory or that something happened to The Raft that we're not aware of. Regardless, there's obviously an untold story that will need to be told in Shang-Chi and the Legend of the Ten Rings, so hopefully, the character's escape is explained to the audience in some way.
Can He Change Back To Human Form?
With Abomination back in the MCU, it's time to revisit a question that still hasn't been answered in regards to the cinematic version of the character. Can Abomination can revert into Emil Blonsky or is he's stuck in his gamma form permanently? Obviously Hulk traditionally has the ability to bounce back and forth between forms, but in Marvel Comics, Abomination has historically been stuck in his transformed body.
If that's true in Shang-Chi and the Legend of the Ten Rings, it would make an alleged escape from The Raft all the more impressive. After all, smuggling out a giant beast would be much more difficult than some human, and then transporting him would be an entirely different bag of tricks. Obviously, this all goes back to how he would've escaped The Raft, which would tell us a lot more about what's going on with this character.
Will Tim Roth Reprise His Role?
Tim Roth played Emil Blonsky, a.k.a. Abomination, in The Incredible Hulk, so obviously it's a question of whether or not he'll reprise his role for Shang-Chi and the Legend of the Ten Rings. If Abomination is unable to revert back to his human form, another actor could easily step in to voice him, or Roth could stay on and just have a far less involved role as a voice actor.
Again, knowing whether or not Tm Roth appears in the movie would help unravel some of the mystery about Abomination, which isn't really the actual point of this movie at all. For all we know, Abomination's entire appearance only lasts that long as the scene shown in the trailer, which would be a bit disappointing. Again though, it's not like this is his movie, so there's no reason to believe Roth will appear as Blonsky or even have a speaking part.
Will This Lead To Abomination's Appearance In She-Hulk?
While it wasn't known that Abomination would be a part of Shang-Chi and the Legend of the Ten Rings, we did know that Abomination would appear in the She-Hulk Disney+ series. Given that connection, one has to wonder if Abomination's story in Shang-Chi will lead him wherever he appears in the upcoming series.
It wouldn't be all that surprising given the inter-connectedness of the MCU, and perhaps it's a spoiler for Abomination's fate if he'll appear in She-Hulk down the line. Regardless, it'll be a treat to see him in a Marvel movie all the same, and hopefully this sets the stage for yet another Hulk mini-arc that Marvel will tell across many films. Unfortunately, that's the best Marvel can offer until Universal loosens its reins on what Disney can do with the character.
Shang-Chi and the Legend of the Ten Rings premieres Friday, September 3. Hopefully, the movie is just as awesome as the trailers we've seen thus far because Marvel fans are in for a treat if so.
Mick likes good television, but also reality television. He grew up on Star Wars, DC, Marvel, and pro wrestling and loves to discuss and dissect most of it. He's been writing online for over a decade and never dreamed he'd be in the position he is today.
Your Daily Blend of Entertainment News
Thank you for signing up to CinemaBlend. You will receive a verification email shortly.
There was a problem. Please refresh the page and try again.