The Tomorrow War Reviews Have Arrived, Here's What Critics Are Saying About Chris Pratt's Sci-Fi Film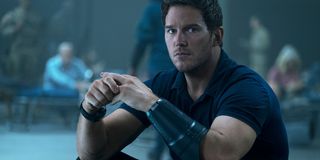 Chris Pratt's next action flick is here! He next stars in The Tomorrow War, a sci-fi film that follows a group of present-day soldiers who are drafted and sent into the future to fight an alien army and save the world. Pratt stars as one of those soldiers, Dan Forester, who teams up with a scientist and his estranged father in a desperate quest to save the planet. The movie also stars Yvonne Strahovski, J.K. Simmons, Betty Gilpin, and Sam Richardson, and was directed by Chris McKay in his live-action directorial debut.
The Tomorrow War was originally going to be released theatrically by Paramount, but Amazon Studios bought the distribution rights due to the Covid-19 pandemic and it will now release exclusively on Amazon Prime Video on July 2. Let's check out what critics are saying about the movie.
Let's start with the home team, as always. CinemaBlend's own Mike Reyes was not very impressed with the action flick, to say the least. He rated The Tomorrow War 1.5 out of 5 stars, listing many critiques. Though he admits the casting is great, the writing completely fails at giving the ensemble any kind of character development or emotional stakes. Speaking of stakes, Reyes commented that there are barely any throughout the messy plot, and somehow the film fails to make the cool sci-fi hallmarks of aliens and time travel boring! He continued, saying:
Well, that was bleak. A less bleak review of The Tomorrow War can be seen from Aaron Neuwirth of We Live Entertainment. Neuwirth was pretty enthusiastic about the sci-fi flick, commending many aspects of the film, from the casting, to the action pieces, to the visuals of the aliens. He felt like it was easy to care about the characters and their efforts to survive. While he did comment on some weak parts of the movie, he was all around impressed, saying:
Simon Abrams from TheWrap was pretty disappointed with the action movie. He noted that there isn't any actual conflict, and the plot is too convoluted and clumsy. He thought there was too much exposition and generic dialogue that makes the film seem way too impersonal. While he did note that there are some intriguing plot points, Abrams said:
Vince Mancini from Uproxx had a bit more positive opinion about The Tomorrow War. He praised McKay's direction, noting that McKay must have had fun making it, which helps make the silliness work. He thought that movie was ridiculous, but it works, summarizing it as:
Kristy Puchko from IGN had several criticisms about The Tomorrow War. She argued that Pratt doesn't have the range for this kind of role, noting that his normal dazzling screen presence is extinguished in this character. She thought that he was outshone by several supporting characters, like Gilpin, Simmons, and Richardson. Puchko found the script lazy and the plot just downright "inexplicably dumb." Overall, she said:
Well, there you have it. The Tomorrow War seems to be getting mixed reviews from critics. Some liked it, some reeeally didn't like it. You'll be able to form your own opinion soon, as the sci-fi action flick drops on Amazon Prime Video tomorrow.
Your Daily Blend of Entertainment News