Anthony Ramos Weighs In On In The Heights' Colorism Controversy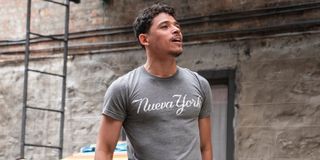 While In The Heights was met with near-universal praise from critics when it was released in June, it also received accusations of colorism and backlash for the lack of Afro-Latinx representation. Both director Jon M. Chu and Lin-Manuel Miranda have since responded to the criticism. Now, the film's star, Anthony Ramos, has also weighed in on the controversy surrounding the musical.
When Lin-Manuel Miranda and Quiara Alegría Hudes' In The Heights hit Broadway in 2008, many people saw it as a step forward for Latinx representation in musical theater. So when Jon M. Chu's long-awaited film adaptation was finally announced, fans were thrilled that they'd see that representation on the screen as well as the stage. In The Heights follows the optimistic Usnavi as he dreams and dances his way through three days in his Washington Heights neighborhood. That neighborhood in New York City was officially designated as the 'Little Dominican Republic' in 2018 due to the large number of residents who identify as Domincan (via Patch).
Fans hoped that the characters on screen would reflect the makeup of Washington Heights -- including its Afro-Latinx population. But the cast is primarily comprised of actors with lighter skin. Anthony Ramos, who plays Usnavi in the In The Heights film, recently told the Associated Press that he's seen the criticism of the film's lack of Afro-Latinx representation, and that he sees it as a chance to learn and do better in the future:
The actor was direct and honest in his response to the situation. He also made it clear that he thinks the accusations of colorism in In The Heights are not a topic that is up for debate and expressed support for those who called out the lack of Afro-Latinx representation should be heard:
Anthony Ramos' feelings regarding the In The Heights criticism are similar to those of Lin-Manuel Miranda, who tweeted a statement and apology. Miranda has been candid about the making of the production, even detailing the studio pushback he received regarding the casting of lesser known stage actors.
In The Heights is currently playing in theaters and streaming on HBO Max.
Your Daily Blend of Entertainment News