Lin-Manuel Miranda's In The Heights Reviews Are In, Here's What Critics Are Saying About The Movie Musical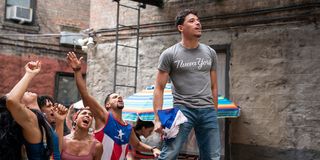 Only a little more paciencia y fe, dear readers, because Lin-Manuel Miranda's In The Heights is almost here! His hit musical has been adapted into a feature film, and after going through developmental delays, it's finally on its way to our screens.
In The Heights stars Anthony Ramos as Usnavi, a role that was originated by Miranda in the Broadway show. Miranda has a small role as Piraguero, or Piragua Guy, and rounding out the cast is Melissa Barrera, Corey Hawkins, Leslie Grace and Olga Merediz. The musical adaptation was directed by Jon M. Chu (Crazy Rich Asians) and will release in theaters and on HBO Max on June 11. We've already seen critics share their thoughts on social media, and now their reviews are rolling in, so let's take a look.
Our very own Mike Reyes rated the musical flick a perfect 5 out of 5 stars, and if that's not an indication of a great film, I don't know what is. He calls In The Heights one of the best movies of the year, praising Ramos for solidly anchoring the cast. He also commends the directorial vision of Chu, acknowledging that sometimes movie musical adaptations can become too stagey, but this one artfully avoids that. Reyes says:
Leah Greenblatt of Entertainment Weekly also praised Chu's direction, calling out specific aspects of the movie (like a waltz up the side of a building) as "magical realism." She also applauds the script, commending screenwriter Quiara Alegría Hudes for the modern updates that help add even more meaning to the story. While talking about the writing and the film overall, Greenblatt said:
Monica Castillo of The Wrap also commended Chu for his "sharp" direction (Hmmm, I'm sensing a pattern here). She also really enjoyed the dancing, giving a special shout out to the number "Paciencia y Fe," and complimented the acting chops of Ramos and other cast members. But one of the biggest aspects of In The Heights that Castillo applauded is its beautiful representation of Latino culture. Castillo said:
Mike Ryan of Uproxx complimented the magic of In The Heights and the love and community that the film shows. He argues that it's a perfect movie to celebrate a hopeful return to normal after such a terrible year, and urges us to see it in a theater, if possible (oh heck yeah). Ryan said:
Hoai-Tran Bui enjoyed In The Heights overall, but had several criticisms that aforementioned critics did not. She criticized Chu's direction, like some of his framing devices that she argued create distance between the audience and the story. She also noted that some of his visual details during the dance numbers specifically are too subdued. But she highly praised the songs and splashy musical numbers overall, saying:
Well, there you have it, folks. Most critics are highly praising In The Heights, and it won't be long now until you can see it on the big screen! (See what I did there?) It releases in theaters and on HBO Max on June 11, so do not throw away your shot to see this - oh wait... wrong show.
In the meantime, check out the other films releasing this summer with our release guide.
Your Daily Blend of Entertainment News