Army Of Thieves: The Cast And Other Quick Things We Know About The Army Of The Dead Prequel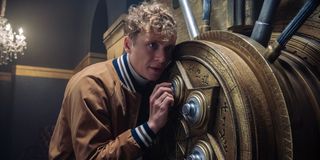 Everyone who wanted more Army of the Dead and even more of Matthias Schweighöfer's Ludwig Dieter are in for some good news as we will soon be watching Army of Thieves, a prequel movie showing Dieter's exploits before the events of Zack Snyder's 2021 zombie movie and maybe, just maybe why he's so obsessed with the film's massive vault in the middle of a Las Vegas casino bursting at the seams with the undead.
So, what is Army of Thieves and how will the Army of the Dead prequel play into the big picture of Zack Snyder's expansive zombie universe? Below is a quick rundown of everything we know about one of the most promising 2021 Netflix movies from its cast to its tone and a few other things you should know before its release. Let's dig in, shall we?
Army Of Thieves Could Premiere At Some Point In 2021 On Netflix
A release date for Army of Thieves has not yet been finalized, but according to Variety, the Army of the Dead prequel will land on Netflix at some point before the end of 2021. Again, nothing has been set in stone at this time. The release window does make sense when you consider principal photography not only began in the late 2020 (October to be exact), it also wrapped two months later, per SlashFilm. We should know more about the Army of Thieves release date in the coming months.
The Army Of Thieves Cast Includes Matthias Schweighöfer, Nathalie Emmanuel And More
In addition to Matthias Schweighöfer, who will be returning as Ludwig Dieter, the Army of Thieves cast is also led by F9 star Nathalie Emmanuel, who will be playing a mysterious character named Gwendoline who recruits the Army of the Dead fan-favorite to pull off quite a remarkable heist. Other members of the cast include Guz Kahn as Rolph, Ruby O. Fee as Korina, Stuart Martin as Brad Cage, Jonathan Cohen as Delacroix, Noemie Nakai as Beatrix, and John Bubniak as Christopher.
Matthias Schweighöfer also sat in the director's chair for Army of Thieves. His previous directing credits include What a Man, The Break Up Man, Joy of Fatherhood, The Manny, and the Amazon series You Are Wanted.
Army Of Thieves Will Follow Ludwig Dieter As He Attempts To Crack A Series Of Safes Across Europe
With Army of Thieves being a prequel to Army of the Dead, the movie will follow Ludwig Dieter in the months before he joined Scott Ward's (Dave Bautista) team that attempted the epic zombie heist, but expect a ton of safe-cracking. According to Netflix, the movie will follow small-town bank teller Dieter as he gets drawn into the adventure of a lifetime that will take him across Europe cracking safes with a team of Interpol's most wanted criminals led by the mysterious Gwendoline. These aren't just any safes but instead legendary vaults long considered to be impossible to crack.
Army Of Thieves Was Written By Shay Hatten And Based On A Story He Wrote With Zack Snyder
Those wondering if Army of Thieves will have any similarities with Army of the Dead will be glad to hear that not only were both movies written by Shay Hatten (who also wrote the upcoming John Wick: Chapter 4) they were both based on stories developed by Hatten and Zack Snyder, who also produces the prequel. Hatten also wrote the upcoming Netflix anime series Army of the Dead: Lost Vegas, which will fill in the story about Scott Ward's crew leading up to the events of Army of the Dead.
Prior to his involvement with the Army of the Dead extended universe, Shay Hatten helped expand the John Wick universe with John Wick: Chapter 3 - Parabellum. He also wrote Maximum King!, a script that focuses on Stephen King during the production of his first and only directorial effort, Maximum Overdrive, per The Hollywood Reporter.
Deborah Snyder Described Army Of Thieves As A Romantic Comedy Heist Film
According to Deborah Snyder, who produced Army of Thieves alongside her producing partner and husband, Zack, the upcoming prequel film will not only tell Ludwig Dieter story prior to the events of the zombie heist thriller, it will do so with elements of both comedy and romance, as she told ET online in May 2021:
Deborah Snyder was pretty vague with her comments so it's hard to tell if Matthias Schweighöfer's Dieter will fall in love with Nathalie Emmanuel's character (which could explain the name of the shop from Army of the Dead), or if the "romantic comedy" elements come from his obsession with a certain vault.
Army Of Thieves Will Have 'Very Few' Zombies
It should be noted that while Army of Thieves takes place during the early stages of the zombie outbreak seen in the opening title sequence of Army of the Dead, the dead are only rising in the cordoned-off Las Vegas and not the world in which Ludwig Dieter and his team of international criminals are working. Still, though, the rest of the world is feeling the impact, especially on banking and financial institutions.
In a May 2021 interview with The Hollywood Reporter, Deborah Snyder explained that Army of Thieves is a heist movie like its predecessor, but this time with "very few zombies." Matthias Schweighöfer was a little more coy about the zombie situation when speaking with ET Online, saying that maybe we'll see some walking corpses after stressing that this is not a zombie movie.
Just As Army Of The Dead Was Compared To Ocean's Eleven, Army Of Thieves Is Meant To Be Similar To The Italian Job
In the months leading up to the release of Army of the Dead earlier in 2021, you would see the film described as Ocean's Eleven with zombies, and now something similar is happening with Army of Thieves. When sitting down with IndieWire, Deborah Snyder compared the heist comedy to The Italian Job, the 1969 crime caper starring Michael Caine centering on a group of renowned thieves who pull off an improbable heist in spectacular fashion. Snyder would go on to say Army of Thieves is a much smaller-scale movie than Army of the Dead but looks really big.
There is still some time before we finally get to see Army of Thieves, so why not go back and see how things worked out for everyone in the Army of the Dead ending or at least look back on how Zack Snyder and company worked Tig Notaro into the movie months after production wrapped.
Philip grew up in Louisiana (not New Orleans) before moving to St. Louis after graduating from Louisiana State University-Shreveport. When he's not writing about movies or television, Philip can be found being chased by his three kids, telling his dogs to stop yelling at the mailman, or yelling about professional wrestling to his wife. If the stars properly align, he will talk about For Love Of The Game being the best baseball movie of all time.
Your Daily Blend of Entertainment News
Thank you for signing up to CinemaBlend. You will receive a verification email shortly.
There was a problem. Please refresh the page and try again.