Billy Crystal: What To Watch On Streaming If You Like The Monsters At Work Actor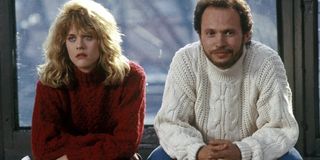 CinemaBlend participates in affiliate programs with various companies. We may earn a commission when you click on or make purchases via links.
With six Emmys, a Tony Award, a Mark Twain Prize, and several adoring fans around the world, Billy Crystal is one of Hollywood's most famous and celebrated comedians, and he has produced decades of great film and television throughout the years. Whether you know him best for his starring roles in When Harry Met Sally and City Slickers, his scene-stealing supporting turns in The Princess Bride and This is Spinal Tap, or his voice-only performances in Monsters Inc. and Monsters University, Crystal has delighted audiences, both young and old, for generations, and that tradition now continues with Disney+'s Monsters at Work, where he reprises his role as Mike Wazowski.
If you love the veteran comedian, here are the Billy Crystal movies and shows that you should stream.
Monsters At Work (Disney+)
A streaming series that explores what happens when the employees of Monsters Inc. get their energy from children's laughs rather than their screams.
Why It's Worth Watching If You Love Billy Crystal: Though it borrows more from the aesthetics of workplace sitcoms than the two films that built this monster-filled world, Monsters at Work is an amusing, appealing addition to the Pixar canon, providing the award-winning animation studio with a chance to try their hand at weekly television. It's not as screamingly funny, particularly as the early episodes follow the mold of other sitcoms (animated or otherwise) in this vein, but it does give viewers plenty of ample opportunities to spend time in this inventive world. This time around, Billy Crystal and John Goodman take on supporting roles as Mike and Sulley, respectively, but their vocal performances remain as entertaining as ever (even if you can hear their ages creeping through). If you love the original Monsters Inc. and its 2013 prequel, you'll have a good time with this new sequel series.
Stream Monsters At Work on Disney+ (opens in new tab).
When Harry Met Sally (HBO Max)
Two close pals (Billy Crystal, Meg Ryan) wonder if they can become more intimate without ruining their friendship.
Why It's Worth Watching If You Love Billy Crystal: If there's a perfect romantic comedy, Rob Reiner's exceptionally charming When Harry Met Sally might very well be it. From Nora Ephron's sharp-as-a-tack screenplay to Reiner's warm-hearted direction to the delightful interplay between Meg Ryan and Billy Crystal, this fun, smart, believable dynamic is benefitted from being emotionally honest, intellectually stimulating, and enjoyable comfort food. Thus, this years-spanning rom-com is a delectable treat with a lasting taste, leaving you immensely satisfied by its renewable pleasures. It's also, quite likely, Crystal's greatest starring role, capturing his comedic and dramatic prowess with an attentive eye and a beating heart. He fits into this part splendidly, and his chemistry with Ryan is tremendously winsome and touching. There are few movies capable of capturing all these great qualities in one wonderful package. When Harry Met Sally is always a welcome addition to date night.
Stream When Harry Met Sally on HBO Max (opens in new tab).
Rent When Harry Met Sally on Amazon. (opens in new tab)
Throw Momma From The Train (Amazon Prime/PlutoTV)
An author struggling with writer's block (Billy Crystal) forms a wicked bond with his student (Danny DeVito) to get rid of the women who ruin their lives.
Why It's Worth Watching If You Love Billy Crystal: Though it wouldn't have the same ruthless confidence of his latter directorial features, including The War of the Roses and Matilda, Danny DeVito's punchy feature directorial debut, Throw Momma From the Train, was a clever, crudely entertaining dark comedy, one that elevated greatly by the sharp buddy chemistry shared between Billy Crystal and DeVito, along with a towering Oscar-nominated supporting turn from the late Anne Ramsey. Though it often favors a broad approach that lacks the sharp precision of DeVito's follow-up films, he knows how to follow the funny. While Crystal's mostly in straight-man-mode here, he's able to get some wryly funny moments throughout this vengeful lark and plays a good foil to his scheming co-star/director. It's not a runaway smash, but it's a fun time.
Stream Throw Momma From The Train on Amazon Prime (opens in new tab) and PlutoTV.
Buy Throw Momma From The Train on DVD/Blu-Ray on Amazon. (opens in new tab)
Standing Up, Falling Down (Starz/Hoopla)
A struggling stand-up comedian (Ben Schwartz) forms an unlikely companionship with a lonely, alcoholic dermatologist (Billy Crystal).
Why It's Worth Watching If You Love Billy Crystal: While the script might not venture far outside of conventions, Matt Ratner's Standing Up, Falling Down is a warm, wistful surprise, one that's elevated by sharp performances from Ben Schwartz and Billy Crystal and the mismatched chemistry they share. In fact, Crystal, as an alcoholic dermatologist with no sense of direction in his twilight years, gives one of his finest performances in years — maybe even one of his best ever. His carefully measured, emotionally searching sadsack is a welcome refrain from the quick-to-please actor, showing us a performer who hasn't gotten enough opportunities of late to showcase his versatile talents. For all its familiar story beats (and low-budget limitations), this returning-to-the-nest oddball couple romp is witty and wistful enough to win you over. It's also just refreshing to see something so uniquely patient, delicate, and rewarding from Crystal again.
Stream Standing Up, Falling Down on Starz (opens in new tab) and Hoopla.
Rent Standing Up, Falling Down on Amazon. (opens in new tab)
Soap (Tubi)
A night-time parody of daytime soap operas.
Why It's Worth Watching If You Love Billy Crystal: Playing the part of Jodie Dallas, the openly gay son of Cathryn Damon's Mary Campbell, Billy Crystal found early success in the ensemble of ABC's well-liked spoof series, Soap. Though it received mixed reviews and controversy upon its debut, Soap has since been lauded as one of the funniest shows on television, and while Crystal's role wasn't central, it gave him exposure at an early age. Particularly as the show made its way into syndication, it was easier for Crystal to expand his fanbase and win audiences over with his charm and wit. While soap operas aren't as commonplace as they once were, the show has remained a conversation starter for how it depicts a number of taboo (or once-taboo) topics in a lighthearted fashion. If you love Crystal, it's a fun show to go back and revisit. That said, the latter seasons are harder to find.
Stream Soap Seasons 1 and 2 on Tubi.
Buy Soap Seasons 1 and 2 on Amazon. (opens in new tab)
The Princess Bride (Disney+)
A fairytale adventure about a beautiful young woman (Robin Wright) and her one true love (Cary Elwes), told as a bedtime story by a kindly grandfather (Peter Falk).
Why It's Worth Watching If You Love Billy Crystal: There are few movies more quoted and beloved than The Princess Bride. With its swashbuckling mix of fantasy, romance, comedy, and adventure, this spellbinding fairy tale story has something for everyone to enjoy, finding a way to make familiar storytelling tropes feel fresh and innovative again. It also has one of the finest comedy casts in ages. Along with Cary Elwes and Robin Wright playing our central lovers, the star-studded ensemble includes Mandy Patinkin, Peter Falk, Christopher Guest, Wallace Shawn, Chris Sarandon, Peter Cook, Andre the Giant, Carol Kane, and Billy Crystal. Regarding the latter, Crystal provides a memorable, make-up-heavy cameo as Miracle Max, an old, cantankerous, wise-cracking healer who lives in the woods. He's in the movie for less than 10 minutes but he's uproariously, side-splittingly funny — perhaps even quite literally.
Stream The Princess Bride on Disney+ (opens in new tab).
Rent The Princess Bride on Amazon. (opens in new tab)
This Is Spinal Tap (HBO Max)
A behind-the-scenes mockumentary following Spinal Tap, one of England's loudest bands, during their eventful, ill-fated tour.
Why It's Worth Watching If You Love Billy Crystal: Providing a brief cameo in the ironic role of a wisecracking mute, Billy Crystal received one of his earliest screen credits as Morty the Mime in Rob Reiner's endlessly quotable rock mockumentary, This Is Spinal Tap. Compared to the main cast, Crystal doesn't get more than a couple of scenes to shine. But even from an early age, it was clear that his quick timing and sharp comedic delivery were always precise and gut-bustlingly funny. Fittingly enough, Crystal only ever needed a few words to crack a smile, and this role — while not the one he'll be remembered for, even if it's one of his best movies — gave us an early indication of what the A-list comedy star would achieve later in his career. Because, frankly speaking, it's rare for a mime to inspire a lot of chatter.
Stream This Is Spinal Tap on HBO Max (opens in new tab).
Buy This is Spinal Tap on Amazon. (opens in new tab)
Monsters Inc. And Monsters University (Disney+)
Two Pixar movies centered around the misadventures of Sulley (John Goodman) and Mike (Billy Crystal), two top-ranking employees at Monsters Inc., an energy-producing factory that generates power by scaring human children.
Why It's Worth Watching If You Love Billy Crystal: Even without the magic of computer animation, Billy Crystal is quite an animated character. Therefore, it was a given that he would give a great performance with only his vocal cords. Sure enough, Crystal gives life to one of his most famous and lovable characters as Mike Wazowski, a one-eyed, brown-horned, green-skinned, loud-mouthed monster who's the loyal co-worker, best friend, and roommate of James P. "Sully" Sullivan (voiced by John Goodman). Through his crackling wit and crooning voice, Crystal is a big ball of energy in both Monsters Inc. and its charming prequel, Monsters University. As buoyant and bouncy as can be, Crystal is at his best when he can riff and rattle. That's certainly the case here.
Stream Monsters Inc. on Disney+ (opens in new tab) and Monsters University on Disney+ (opens in new tab).
Rent Monsters Inc. on Amazon (opens in new tab) and rent Monsters University on Amazon (opens in new tab).
61* (HBO Max)
In 1961, New York Yankees' Roger Maris (Barry Pepper) and Mickey Mantle (Thomas Jane) race to break Babe Ruth's 1927 single-season home run record.
Why It's Worth Watching If You Love Billy Crystal: Admittedly, Billy Crystal's directorial filmography can leave something to be desired. His ambitious debut, Mr. Saturday Night, didn't quite stick the landing, and his sophomore film, Forget Paris, also received mixed notices. Sadly, Crystal's latest feature, this year's Here Today, is deeply felt but also maudlin, fussy, and forgettable, lacking the precision of its emotionally-yearning intentions. Only HBO's 61*, Crystal's third film, found widespread critical acclaim. The baseball period drama is very sentimental, perhaps overly so, but it's aided nicely by its two lead performances from Barry Pepper and Thomas Jane as the legendary Roger Maris and Mickey Mantle, respectively. In the only film where he stayed strictly behind the camera, Crystal made a conventional-but-charming look back at a similar era for America's favorite past-time, and he tells this tale with warm affection and a sharp eye for performances.
Stream 61 on HBO Max (opens in new tab).
Rent 61 on Amazon. (opens in new tab)
City Slickers (HBO Max)
Unhappy middle-aged New York yuppies (Billy Crystal, Bruno Kirby, Daniel Stern) venture to a southwest cattle drive to reclaim their waning youth.
Why It's Worth Watching If You Love Billy Crystal: Though it doesn't always find a proper balance between its midlife dramatics and its slap-happy comedy, it's easy to see why City Slickers was such a celebrated hit in the early '90s. Boosted nicely by the chatty chemistry shared between our three adventure-seeking leads, played by Billy Crystal, Bruno Kirby, and Daniel Stern, and spacious enough to let us soak in the wide majesty of the western plains between the yuks, this concept-heavy, character-focused comedy is something that probably wouldn't be made today, which makes it easy to appreciate its nostalgic yearning on an extra level. It's also benefitted greatly by Jack Palance's tough-nut, Oscar-winning supporting turn. Though Crystal feels oddly dialed back here, perhaps to communicate his general sense of displacement in life, he scores a few easy laughs throughout this rough-riding but easy-to-please studio dramedy.
Stream City Slickers on HBO Max (opens in new tab).
Buy City Slickers on Amazon. (opens in new tab)
Monsters at Work premieres a new episode every week on Disney+.
Will is an entertainment writer based in Pittsburgh, PA. His writing can also be found in The Playlist, Cut Print Film, We Got This Covered, The Young Folks, Slate and other outlets. He also co-hosts the weekly film/TV podcast Cinemaholics with Jon Negroni and he likes to think he's a professional Garfield enthusiast.
Your Daily Blend of Entertainment News
Thank you for signing up to CinemaBlend. You will receive a verification email shortly.
There was a problem. Please refresh the page and try again.