Due To Bond Delays, Terminally Ill Man May Miss No Time To Die. His Daughter Wants To Change That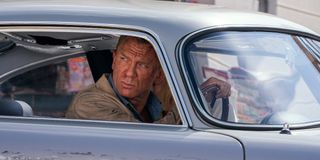 No Time To Die was one of the first films to change their release date back when the pandemic was in its early days; now we're over a year in and the latest James Bond film has yet to hit the big screen. While this may be a mild let down or inconvenience for the majority of people anticipating the film, it's pretty much all or nothing for one James Bond super fan who may not live to see its final release date that's still a few months away. Although he is terminally ill and isn't likely to live to the release date, his daughter isn't giving up hope yet for her father to see the film before he passes.
James Millar has been patiently waiting for No Time To Die to finally be released, but his recent diagnosis of pancreatic cancer has seemingly given him a new sense of urgency. According to Military.com, Millar has only been given a few weeks to live and has very little chance of making it to the release of the film. His daughter is having none of that, though, and is asking producers to let her father see the film before they release it.
This is definitely not an impossible ask, but it is a pretty massive one. No Time To Die has been finished for quite some time and it would be pretty simple to let one man see the film before it heads to theaters. However, No Time To Die has been kept under wraps up until this point, not even releasing many trailers for how long it has been delayed-- which is honestly pretty impressive. There have been no leaks of the film yet, and honoring James Millar's death wish would open the film up for leaks in a big way.
Now, James Bond has a massive following, and you may ask what makes James Millar so special and worthy of a private early screening over other fans, especially other fans who may not live to see the release or who have died since the movie was first set to be released. After all, James Bond has been around for a long time and a lot of the fan base is of an older generation.
James Millar doesn't seem to be just an ordinary fan, though. Millar, being British, already holds James Bond to a high esteem, and he actually has a home full of memorabilia from the franchise. He has even given his home the name of Bond Cottage. His daughter has even put together a viral video displaying his Bond-filled home while asking Universal for a private showing for her dying father. You can check out her video and all of Millar's cool Bond related items below:
James Millar's daughter pinpoints the irony of the situation perfectly in her video, saying it is, in fact, possibly time for her father to die. However, that doesn't necessarily mean he is out of luck on this front, as Universal has seemingly not yet responded. Sure, it's a small chance of success for Millar, but at least a chance is there and his daughter is really pulling for him. No Time To Die is set to release this October 8th, and hopefully Millar is able to catch Daniel Craig's last James Bond film.
Constantly thinking about books, coffee, and the existential dread I feel from Bo Burnham's Inside. While writing I'm also raising a chaotic toddler, who may or may not have picked up personality traits from watching one too many episodes of Trailer Park Boys.
Your Daily Blend of Entertainment News
Thank you for signing up to CinemaBlend. You will receive a verification email shortly.
There was a problem. Please refresh the page and try again.