Jason Sudeikis Shares Current Feelings About Olivia Wilde Breakup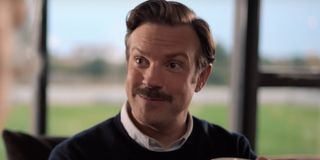 Break-ups are rough, even for celebrities. Maybe even more so for them considering the public nature of most famous relationships. For example, take Jason Sudeikis and Olivia Wilde. The couple had been together since 2011 before calling it quits in late 2020. Their split was heavily scrutinized by media outlets and fans alike. Whether it was due to their celebrity status or a lack of anything to do (because quarantine), Jason Sudeikis and Olivia Wilde were shoved under a microscope. However, Sudeikis has stayed mum on the whole situation - until now, that is.
The Saturday Night Live veteran sat down with GQ to talk Ted Lasso, his Golden Globe win and, of course, his former relationship. It's been a year of ups and downs for Jason Sudeikis: he snagged a Golden Globe award for his role in the surprise hit Ted Lasso, while simultaneously reeling from a very public break-up. It's been over half a year since his split from Olivia Wilde, yet he's only chosen to speak publicly on the matter recently. However, it seems like it was for the best. In regards to the end of his relationship, Jason Sudeikis had a pretty sage outlook:
Wise words, indeed. It sounds like Jason Sudeikis is choosing to focus on the present rather than any past heartbreak. It also seems like it was a good idea to wait before talking about it. Rather than delivering emotional outbursts and tirades he might later regret, Sudeikis opted for a diplomatic approach that reflected his forward-thinking headspace. Rather than smear Olivia Wilde (or her new beau Harry Styles), he chose to look at the past year as a learning experience. He told GQ:
Hopefully Jason Sudeikis did manage to learn something "beyond the obvious" that will help him move forward, because he's way too talented to fall off the map. If you're familiar with his work on SNL, you already know he's hilarious. The 'Two A-Holes' sketches with Kristen Wiig, Officer Sikorsky of 'Scared Straight' and his recurring role as the literal Devil on Weekend Update were just a few iconic SNL moments. Jason Sudeikis has also appeared in movies like Horrible Bosses, Colossal, and Booksmart, to name a few.
And that's only his past work: Ted Lasso was just renewed for a second season, so you can keep an eye out for that on Apple TV+.
Your Daily Blend of Entertainment News
Actor, singer, and occasional dancer. Likes: fashion, books, old buildings. Dislikes: cilantro, the NJ Turnpike, sneaker wedges.