I'm Late To Jason Sudeikis' Ted Lasso But Man, It's Awesome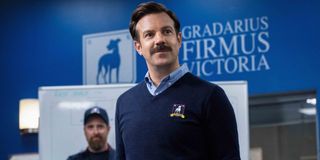 There are far too many program options on streaming services these days. It's a good problem to have, but it usually means that you can be several weeks behind the buzz on a particular program, especially if it avoids the weekly release schedule of, say, The Mandalorian or Raised By Wolves. You might have heard a show is great, have circled it on your radar, but life keeps getting in the way, preventing you from diving in.
This happened with me and the Apple TV Plus show Ted Lasso. Social media reaction made it sound like a must watch, especially because I was a huge fan of Scrubs, Spin City and Cougar Town, all shows created by Ted Lasso developer Bill Lawrence. I also like Jason Sudeikis, when a project figures out how best to use him. He can be very funny in movies like Colossal and Drinking Buddies, but a little bit of his Horrible Bosses persona goes a long way.
Ted Lasso offers the right kind of Jason Sudeikis. In fact, I'd argue that this is the best Sudeikis I've ever seen. The whole show is such a pitch-perfect blend of humor and heart, credible struggle and pulse-racing triumph, I'm pissed at myself that I waited so long to watch it, but I've already jumped back in for an immediate rewatch. What makes Ted Lasso so damn good?
Ted Lasso is a lovable, memorable sitcom lead.
From the moment you meet Ted Lasso (Jason Sudeikis), you instantly like him. He's a puppy dog, dropped into a viper's nest… and the more he struggles, the deeper your emotional investment in the character grows. Lasso is a sweet-natured Midwestern football coach hired, for mysterious reasons, to coach a Premier League soccer club in the UK. Lasso's a proverbial fish out of water, but he never succumbs to the obstacles of feeling out of place.
Ted meets every problem (and there are a lot of them) with boundless enthusiasm, and it infects the show with warmth and humor. His attitude isn't sappy or artificial. He simply sees the good in every situation, and that tone acts like a cloud of happiness boosting up every episode. Ted Lasso is feel-good television because Ted Lasso feels good about life… even when he has real reason to be very down about the cards he has been dealt.
Ted Lasso has a few dramatic tricks up its sleeve.
Before the premiere episode of Ted Lasso ends, there's an "other shoe" that drops. It adds dramatic heft to the show, and makes us care about Ted, instead of dismissing him as a wahoo who is in way over his head. While we wait to see how Ted's drama unfolds, we get roped into the personal and professional lives of numerous key supporting characters – and this is what Bill Lawrence does very well.
Use Scrubs as an example. Zach Braff's attending physician J.D. might have been our window into the world of Sacred Heart Hospital. But as the show developed and grew, we came to care just as deeply about the abrasive Dr. Cox (John C. McGinley), Turk (Donald Faison) and Carla (Judy Reyes), the neurotic Elliot Reid (Sarah Chalke), and even the damn Janitor (Neil Flynn).
This is what's happening with Ted Lasso, after only one season. The coach's influence is being felt all through his dysfunctional underdog team, and we are investing in the stories of past-his-prime baller Roy Kent (Brett Goldstein), red-hot pretty boy Jamie Tart (Phil Dunster)… even the equipment manager, painfully shy Nathan (Nick Mohammed), gets a credible story arc. The balance of character makes every episode of Ted Lasso feel too short, as you want to spend as much time as possible in the locker rooms of this ragtag soccer club, spying on their interesting lives as they play out.
Ted Lasso is a crowdpleasing underdog sports story.
And who doesn't love those? Seriously, cheering for the lovable losers is basically our national pastime, and Ted Lasso offers up a scrappy team with its backs against the collective wall, and a right-perfect villain we hope ends up being a thorn in Ted's side for seasons to come.
Budget restraints mean that Ted Lasso couldn't stage action on the pitch until its finale, when it was necessary. But even with that lack of game action, there was plenty of suspense in the episode-to-episode action, and even casual soccer fans can invest in the stakes of the team, and battles happening in the front office of the team, and the efforts Ted (Sudeikis) goes through to reach his players and make a difference.
Apple TV Plus already went ahead and greenlit seasons two and three of Ted Lasso, because they know what they've got. I do, now, as well, and if you haven't joined me on the Ted Lasso bandwagon, there's no better time than the present to hop on board this happiness express.
Sean O'Connell is a journalist and CinemaBlend's Managing Editor. He's frequently found on Twitter at @Sean_OConnell. ReelBlend cohost. A movie junkie who's Infatuated with comic-book films. Helped get the Snyder Cut released, then wrote a book about it.
Your Daily Blend of Entertainment News
Thank you for signing up to CinemaBlend. You will receive a verification email shortly.
There was a problem. Please refresh the page and try again.