The Best Rachel Weisz Movies And How To Watch Them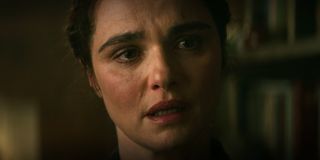 CinemaBlend participates in affiliate programs with various companies. We may earn a commission when you click on or make purchases via links.
Over the years, Rachel Weisz has taken audiences on intricate, mind-bending journeys, on epic explorations of ancient Egypt, and even to the latest chapter of the Marvel Cinematic Universe with Black Widow. These movies are all remarkable in their own way, and that's undoubtedly thanks to the talented and versatile actress's outstanding abilities. There is just something about the Academy Award-winning actress that not only elevates a role but also the entire movie.
But, what are the best Rachel Weisz movies and how can we watch them? Well, funny you should ask, as we have put together a quick rundown of 12 of Weisz's best movies, why they should be considered one of her best, and all the ways you can watch them whether it be online or on physical media like DVD and Blu-ray.
The Constant Gardener (2005)
The 2005 drama The Constant Gardener follows British diplomat Justin Quayle (Ralph Fiennes) as he attempts to solve the murder of his wife Tessa (Rachel Weisz), an Amnesty International activist whose slain body was found in the African wilderness. Bouncing back and forth between the present and flashbacks of the couple's marriage, this political thriller is full of twists, turns, and disturbing revelations.
Why it's one of Rachel Weisz's best movies: Well, The Constant Gardener netted Rachel Weisz her first and only (so far) Oscar when she was named the Best Supporting Actress at the 78th Academy Awards, in addition to multiple other accolades. Besides that, Weisz's portrayal of a social justice worker in an unforgiving world is as inspirational as it is heartbreaking.
Stream The Constant Gardener on IMDb TV.
Rent/Buy The Constant Gardener on Amazon.
Buy The Constant Gardener on DVD/Blu-ray on Amazon.
The Lobster (2015)
Set in a dystopian world with one strange way of handling loneliness, the 2015 surrealist black comedy The Lobster follows David (Colin Farrell) and Short Sighted Woman (Rachel Weisz) as they attempt to form a meaningful relationship in 45 days or be turned into an animal of their choice.
Why it's one of Rachel Weisz's best movies: At times humorous, and at others utterly disturbing, Yorgos Lantheimos' unique love story is made all the better thanks to the commitment by its leads, with Rachel Weisz really knocking it out of the park. The movie also sees Weisz provide a monotone yet never boring narration.
Stream The Lobster on Showtime.
Rent/Buy The Lobster on Amazon.
Buy The Lobster on DVD/Blu-ray on Amazon.
The Favourite (2018)
Set in early 18th Century England, Yorgos Lantheimos' 2018 black comedy The Favourite tells the story of Queen Anne (Olivia Colman) and the competition between her friend Sarah Churchill (Rachel Weisz) and new servant Abigail Masham (Emma Stone) for her friendship, affection, and influence in matters affecting the country.
Why it's one of Rachel Weisz's best movies: All three actresses in this hilarious and offbeat period comedy were more than deserving of the praise and awards they received following the film's release. Rachel Weisz, especially, is firing on all cylinders here and does a tremendous job of blending elements of humor, revenge, greed, pettiness, and love in this remarkable film.
Rent/Buy The Favourite on Amazon.
Buy The Favourite on DVD/Blu-ray on Amazon.
Black Widow (2021)
Set after the events of Captain America: Civil War and before the crossover event of the century Avengers: Infinity War, the Marvel Phase 4 movie Black Widow fills in the gaps for Natasha Romanoff's (Scarlett Johansson) story and introduces us to her estranged "family" as she attempts to close a chapter on her past.
Why it's one of Rachel Weisz's best movies: Florence Pugh is receiving a ton of praise for her MCU debut (and rightfully so), but one of the best parts of Black Widow is Rachel Weisz' Melina Vostokoff, Natasha's mother figure, who, despite helping come up with the Red Room's diabolical technology, puts her love of "family" above everything else in the end. Plus, how great is it seeing Weisz in an action movie again?
Stream Black Widow on Disney+ with Premier Access.
About A Boy (2002)
One of the best movies on Amazon prime, the 2002 romantic comedy About a Boy centers on Will Freeman (Hugh Grant), a wealthy Londoner free of children and responsibility, who takes 12-year-old Marcus Brewer (Nicholas Hoult) under his wing and acts like he's his son in order to impress a new lover, Rachel (Rachel Weisz). As is typically the case with this setup, Will's plan stands to blow up in his face.
Why it's one of Rachel Weisz's best movies: Everyone in About a Boy is absolutely perfect in their respective roles, especially Rachel Weisz. Throughout the movie, Weisz effortlessly pulls off the role of a confident and self-assured single mother who is willing to sacrifice everything in the name of love and new beginnings. But, don't confuse her willingness to forgive as a sign of weakness, because the character, like the actress, is anything but a push-over.
Rent/Buy About a Boy on Amazon.
Buy About a Boy on DVD/Blu-ray on Amazon.
The Fountain (2006)
Told over the course of three intertwined narratives, Darren Aronofsky's 2006 mind-bending romantic science-fiction epic The Fountain chronicles one man's (Hugh Jackman) seemingly endless journey to save the woman he loves (Rachel Weisz) from death.
Why it's one of Rachel Weisz's best movies: Although not the best Aronofksy film, The Fountain is a beautiful, and at times confusing, work of art with heartbreaking and enchanting performances from its two leads. Rachel Weisz is a tour de force in her two roles — Isabella I of Castille in 16th Century Spain, seeking a legendary tree that could free her people and herself from the Inquisition, and Izzi Creo, the modern-day author writing about the Spanish queen — and effortlessly pulls off the double-duty in tremendous fashion.
Rent/Buy The Fountain on Amazon.
Buy The Fountain on DVD/Blu-ray on Amazon.
Youth (2015)
Two lifelong friends — composer Fred Ballinger (Michael Caine) and screenwriter Mick Boyle (Harvey Keitel) — go to the Swiss Alps for a vacation and escape from their personal and professional lives, only to have the outside world descend upon their peaceful retreat when Fred is asked to perform in front of the Queen of England and Mick attempts to finish his latest script.
Why it's one of Rachel Weisz's best movies: The two leads in Youth are the main attraction, but the supporting cast, which includes Rachel Weisz as Fred's daughter and Mick's daughter-in-law, and Paul Dano as a struggling actor, does a great job of tying everything together. This is especially true for Weisz, whose pained performance as a woman/daughter/wife in crisis steals the show.
Buy Youth on DVD/Blu-ray on Amazon.
Disobedience (2017)
The 2017 romantic drama Disobedience follows Ronit Krushka (Rachel Weisz), a woman who returns to her Orthodox Jewish community following the death of her estranged father, a respected rabbi. During her visit, Ronit crosses paths with her childhood friend Esit Kuperman (Rachel McAdams), with whom she has a bond so close and sensual that members of the community disallow it.
Why it's one of Rachel Weisz's best movies: One of the most powerful and moving Rachel Weisz performances, Disobedience sees the actress portray a woman who isn't willing to be subservient to the men and traditions of her conservative Orthodox Jewish community, even if it means sacrificing everything.
Rent/Buy Disobedience on Amazon.
Buy Disobedience on DVD/Blu-ray on Amazon.
The Mummy (1999)
A throwback to the serial adventures of the early to mid-20th Century, the 1999 action horror film The Mummy follows a 1925 expedition to find an elusive treasure deep in the ruins of ancient Egypt. But, the treasure-seeking group bites off more than they can chew when a 3,000-year-old Egyptian priest is woken from his rest and sets out to be reunited with his love, at all cost.
Why it's one of Rachel Weisz's best movies: Rachel Weisz's portrayal of bookworm and Egyptian historian Evelyn Carnahan in The Mummy is absolutely perfect and is the brains and heart to Brendan Frasier's Richard O'Connell. She's believable in her knowledge of the ancient world and adds a level of charm that is unmatched.
Buy The Mummy on DVD/Blu-ray on Amazon.
The Deep Blue Sea (2011)
The 2011 romantic drama film The Deep Blue Sea, through a series of flashbacks, tells the story of the love affair between Hester Collyer (Rachel Weisz) and former Royal Air Force pilot Freddie Page (Tom Hiddleston), and the destruction it brings to her marriage, her way of life, and even her own health.
Why it's one of Rachel Weisz's best movies: Nominated for a Golden Globe, Rachel Weisz is absolutely masterful in her portrayal of a woman caught at the crossroad, one that could bring her adventure, love, and passion but also take away the security, luxury, and ease she's become used to over the years.
Stream The Deep Blue Sea on Hoopla.
Stream The Deep Blue Sea on Tubi.
Stream The Deep Blue Sea on Mubi.
Rent/Buy The Deep Blue Sea on Amazon.
Buy The Deep Blue Sea on DVD/Blu-ray on Amazon.
Definitely, Maybe (2008)
The 2008 romantic comedy Definitely, Maybe follows Will Hayes (Ryan Reynolds) as he tells his daughter, Maya (Abigail Breslin) the story of his life before marriage, and the different women — played by Rachel Weisz, Isla Fisher, and Elizabeth Banks — who could possibly be her mother.
Why it's one of Rachel Weisz's best movies: Rachel Weisz portrayal of "Summer Hartley"/Natasha is one of the characters who is the hardest to read throughout Definitely, Maybe, but that element of mystery makes every one of her scenes must-watch. You never really know where she stands, what she wants, and or what she plans to get out of each interaction.
Rent/Buy Definitely, Maybe on Amazon.
Buy Definitely, Maybe on DVD/Blu-ray on Amazon.
The Brothers Bloom (2008)
Rian Johnson's 2008 crime comedy The Brothers Bloom follows Bloom Bloom (Adrien Brody) and Stephen Bloom (Mark Ruffalo) as they attempt to pull off one final con with an eccentric East Cost heiress, Penelope Stamp (Rachel Weisz) as the mark. Little do the brothers know but this is actually the beginning of something much more complicated.
Why it's one of Rachel Weisz's best movies: Released at a time when Rachel Weisz was mostly showing up in the dramas or romantic comedies, this crime caper was a nice sea change for the actress. Similar to some of the movies she would show up in a few years later, Weisz is equally enchanting and mysterious in this romp of a good time.
Stream The Brothers Bloom on IMDb TV.
Rent/Buy The Brothers Bloom on Amazon.
Buy The Brothers Bloom on DVD/Blu-ray on Amazon.
After reading about all these great Rachel Weisz movies, no one will hold anything against you if you go back and watch them over and over again. And while we wait to see what the future holds for the talented actress we can always check and see what 2021 movies are coming to theaters and streaming services in the very near future.
Your Daily Blend of Entertainment News
Philip grew up in Louisiana (not New Orleans) before moving to St. Louis after graduating from Louisiana State University-Shreveport. When he's not writing about movies or television, Philip can be found being chased by his three kids, telling his dogs to stop barking at the mailman, or yelling about professional wrestling to his wife. If the stars properly align, he will talk about For Love Of The Game being the best baseball movie of all time.