Zac Efron's Firestarter Remake Has Wrapped, Here's How The Actor Celebrated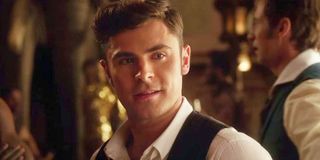 When Zac Efron first shot to stardom as Troy Bolton in High School Musical, no one could have predicted his career trajectory. From starring in Baywatch to bringing back Ted Bundy, he's shown an uncanny ability to choose unforgettable projects. Now he's celebrating the end of production on another impressive credit -- a starring role in a new adaptation of Stephen King's Firestarter.
In a recent Instagram post, Zac Efron let fans know about his massive milestone with Firestarter. Alongside photos of himself and co-star Ryan Kiera Armstrong, Efron let his followers know how excited he is for us all to see Keith Thomas' new movie. Check out the short-but-sweet update below:
In addition to the actors' cool Firestarter crew t-shirts, the firetruck in the background is a cute touch, given the premise of the movie. In Firestarter, Efron will play Andy McGee, a father who must save his pyrokinetic daughter Charlie (Armstrong) from a frightening government agency that wants to use her powers. So it's safe to say that a fire truck probably came in handy at some point on set.
It seems like Efron is really excited about his work on this one, and it's not hard to see why. The actor has branched out into a lot of different genres over the years, from movie musicals to frat house comedies to period dramas. Firestarter will be his first pure horror film, though, and one that should give him a chance to expand his repertoire yet again. And given that his horror movie debut is attached to the Stephen King, it's an especially impressive addition to his résumé.
This, of course, isn't the first time Firestarter has been adapted for the screen. Drew Barrymore starred in a 1984 film based on the book, which has become a bit notorious for being one of the worst Stephen King movies to date (via Rotten Tomatoes). Still, Efron has cause to be optimistic about this one -- while King himself was not a fan of the original adaptation, he had good things to say about the new adaptation's screenplay.
We're living in a bit of a golden age for Stephen King adaptations. In the past few years, the author's extensive library of scary stories has become a popular source for film and TV creators. Some have failed to hit the mark, but those that have - like IT and the Shining sequel Doctor Sleep - are arguably some of the best King adaptations ever.
It's too early to know whether Efron's first foray into Stephen King's creepy canon will be a hit or a miss but, if you're a fan of the actor or the author, it's easy to root for its success. Firestarter's release date hasn't been set yet, but it's fair to assume it will hit theaters some time in 2022.
Your Daily Blend of Entertainment News