Babylon: What's Going On With The Damien Chazelle Movie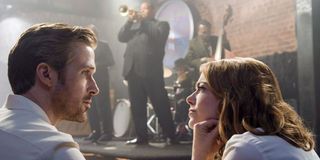 (Image credit: Summit Entertainment)
Damien Chazelle is one of the best young directors in Hollywood. Already an Oscar winner for La La Land (the youngest Best Director winner ever, in fact), a high-level of anticipation surrounds whatever project he takes on. Such is the case with his next feature film, Babylon.
Chazelle's most recent project was the Netflix series The Eddy, for which he served as a producer and directed two episodes, but Babylon represents his first big screen movie since 2018's highly underrated First Man. Let's take a look at what we know about Babylon so far, from what it's about, to casting and just when we might see it.
In November 2019, Damien Chazelle's Babylon Was Announced With A Christmas 2021 Release
More than a year after First Man debuted, Damien Chazelle officially revealed what his follow-up movie would be. Detailed by The Hollywood Reporter, Paramount picked up Babylon, which was written and will be directed by Chazelle and is going to be set in late 1920s Hollywood as the movie industry transitions from silent films to talkies, following the rise and fall of both fictional and historical characters.
This era of Hollywood, which was kicked off by the release of The Jazz Singer (pictured above), has been rich territory for other films like Singin' in the Rain and The Artist, but the prospect of what Chazelle can do with a story set in this landmark era, and with numerous stories to be inspired by, is enticing.
According to the THR report, Chazelle had been shopping Babylon to studios since June 2019 when the script was 180 pages and the projected budget was in the $80-$100 million range. After First Man underperformed at the box office, despite being a critical success, such a high-priced period piece was thought to be a pretty risky bet, which led Chazelle to rework the script and come down on the budget. Whatever he did, Paramount was the one to finally bite.
As part of the announcement, THR shared that Paramount was giving the film a December 25, 2021, limited release, then expanding it wide on January 7, 2022; a proven time frame for a potential Oscar film, which Babylon surely looks to be on paper.
At That Time, Brad Pitt And Emma Stone Were Reportedly In Talks To Star
In addition to announcing Babylon and its release date, the THR report offered the first bit of casting news for the film, which dealt with a pair of heavy hitters - Brad Pitt and Emma Stone were in talks to serve as the film's two leads.
Emma Stone, of course, has an established history with Chazelle, with the two having worked together on La La Land, for which Stone won her Best Actress Oscar. Stone was tapped to play Clara Bow, the real-life Hollywood starlet who was one of the industry's earliest sex symbols and box-office draws. She starred in Wings, the first film to ever win the Academy Award for Best Picture.
Brad Pitt's role, meanwhile, is a fictional character, a silent film star who is among those who struggled to adapt to the introduction of sound. Per THR, Pitt's character is supposed to be based on real-life figure John Gilbert, who's best known roles are probably in King Vidor's The Big Parade, and for starring alongside Greta Garbo in one of her breakout roles in Flesh and the Devil.
Playing a fictional character in old Hollywood in Once Upon a Time in Hollywood led to Pitt snagging his first acting Oscar; maybe he can strike gold twice.
Side note, Pitt is being true to his word about taking less acting roles. Babylon and Bullet Train are the only two films that he is currently slated for as an actor.
In December 2020, Margot Robbie Was In Talks To Take Over Emma Stone's Role
Unfortunately, Babylon will not serve as a La La Land reunion for Emma Stone and Damien Chazelle, with THR reporting in December 2020 that Stone was dropping out for an undisclosed reason. However, her potential replacement is none other than Margot Robbie.
While we lose the Stone-Chazelle reunion with this casting, Robbie and Pitt have their own connection as the pair were co-stars in Quentin Tarantino's Once Upon a Time in Hollywood. Of course, Robbie's Sharon Tate and Brad Pitt's Cliff Booth never actually met throughout the course of Once Upon a Time in Hollywood; perhaps the two would finally get to share the screen in Chazelle's story.
No other official casting news has been shared for Babylon just yet, but according to IMDb there are two other actors rumored to be attached to the film - Tobey Maguire, who is rumored for the part of film producer Irving Thalberg, and Li Jun Li, who could be playing the part of Anna May Wong, the first Chinese-American film star.
In January 2021, Babylon's Release Date Was Moved To Late 2022
When Babylon was announced back in November 2019 and given a Christmas Day 2021 release date, it was likely believed that the film would have little problem meeting this more than two-year window. Of course, we all know what transpired during 2020, so it should come as little surprise that in January, Paramount, among some other schedule shifts, pushed Babylon's release date a full year.
Per Deadline, Paramount still plans a Christmas Day release, just for 2022, not 2021. The plan to start it limited on December 25, 2022, before going wide is still in place as well, with the national rollout of Babylon scheduled for January 6, 2023.
Almost no Hollywood film was released as originally planned during the pandemic. Many films simply punted on 2020, hoping that 2021 would allow for a return to theaters for potential blockbusters and awards hopefuls.
As a result, Babylon, which wasn't ready to start shooting when productions everywhere had to shut down, has been given even more time to get its ducks in a row, and a new release date to meet. Knock on wood that no new issues arise that would put the December 25, 2022, date at risk. However, this means that it'll be just over four years in between Damien Chazelle pictures.
CinemaBlend will keep you updated on the latest news surrounding Babylon as more information is announced. In the meantime, get a peek at what other movies are coming out in 2021 with CinemaBlend's 2021 release schedule.
Your Daily Blend of Entertainment News
D.C.-based cinephile. Will dabble in just about any movie genre, but passionate about discovering classic films/film history and tracking the Oscar race.