Upcoming Jon M. Chu Movies: What's Ahead For The In The Heights Director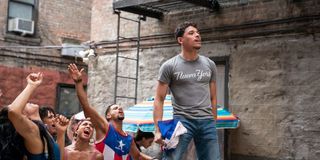 In The Heights premiered on HBO Max and in theaters on June 11, 2021. Since its release, the film has gained praise and criticism from both film critics and audiences. Now that the general public can watch In The Heights streaming, many fans of the film want to know what Jon M. Chu movies are next for the director. Chu has a lot of exciting projects in the works, including Wicked and the Crazy Rich Asians sequels.
Jon M. Chu will be very busy in the next couple of years, taking on many more projects with the same level of expectation, anticipation, and hope as In the Heights. Wicked alone puts a lot of pressure on Chu, as it's the favorite musical of many, and then he has the added pressure to please the fans of the original Crazy Rich Asians movie. Let's explore the upcoming Jon M. Chu movies and TV shows.
Home Before Dark Season 2 - June 11, 2021 - Completed
Jon M. Chu is one of the executive producers of Home Before Dark. He also directed a few episodes of the show, including the series premiere. The Apple TV+ series was renewed for a second season even before the first season premiered. It premiered in April 2020 and the second season started streaming on June 11, 2021.
Home Before Dark stars Brooklynn Prince, Jim Sturgess, Abby Miller, Louis Herthum, and Michael Weston. It follows a young girl who moves from a big city to a small town where her father used to live. She then uncovers a mystery and a cold case. Basically, Home Before Dark is about a child journalist. It's based on the real-life of Hilde Lysiak, the youngest member of the Society of Professional Journalists.
Home Before Dark Season 2 streams new episodes every Friday for ten weeks. The Season 2 finale is set for August 13, 2021.
Untitled Thai Cave Rescue Project - TBD - Announced
In July 2018, Chu took to Twitter to declare that he refused "to let Hollywood #whitewashout the Thai Cave rescue story!" He then joined Ivanhoe Pictures to direct a film based on the story. The real-life story happened between June and July 2018, it involved a junior football (soccer to Americans) team who were trapped inside the Tham Luang Nang Non cave in Chiang Rai Province, Thailand. Twelve members of the team, ages eight to sixteen, and their 25-year-old assistant coach were all trapped in the cave.
They were rescued by an international team of over 10,000 members. In 2019, Tom Waller released his film version of the story called The Cave. In May 2020, MGM also began production on a film version of the events called Thirteen Lives. Ron Howard is directing and the film began filming in March 2021.
The last update of Chu's version of this story was in August 2019. Nattawut "Baz" Poonpiriya joined the project to co-direct with Chu. It's set to be either a miniseries or a film for Netflix.
China Rich Girlfriend-TBD-Announced
After the box office success and critical praise for Crazy Rich Asians, Jon M. Chu announced plans to return for the sequels. The announcement of the potential sequels came in 2018, but as of June 2021, there hasn't been any real news on the development of the Crazy Rich Asians sequels.
In an interview with Insider, Henry Golding, who plays Nick Young in Crazy Rich Asians, told the news site that everyone blames the cast for their busy schedules for the films' delays, but he said it was really Chu who was hard to "lock down." Golding added:
The second novel in the Crazy Rich Asians series, China Rich Girlfriend takes place two years after the events of the first novel. It follows Rachel (played by Constance Wu in the movie), Nick, and their friends and family as they deal with a new set of problems.
Rich People Problems - TBD - Announced
In 2019, Gemma Chan, who plays Astrid in Crazy Rich Asians, told Variety that she heard the plan was to film both sequels back-to-back. At that time, the plan was to film them in 2020 but clearly, they have been delayed even further. However, Chu still presumably plans to film China Rich Girlfriend and Rich People Problems consecutively.
Rich People Problems takes place two years after the events of China Rich Girlfriend and concludes the story of Rachel, Nick, and their friends and families. Whenever the Crazy Rich Asians sequels finally go into production, most of the original cast should be on board, including Awkwafina, Michelle Yeoh, Ken Jeong, and Harry Shum Jr.
Wicked - TBD - Announced
Since 2004, a movie adaptation of the hit Broadway musical Wicked has been discussed and anticipated among fans. In 2019, Universal announced plans for a December 2021 Wicked release. Stephen Daldry planned to direct the adaptation but left the project in 2020. In February 2021, Jon M. Chu signed on to direct Wicked.
In June 2021, Chu told Collider that Wicked was in the early stages of development, but he couldn't answer if production on it would begin in 2021. He shared that filming In The Heights showed him the importance of music and why musicals were so vital. He also shared that he had to find the truth with each song.
Chu also discussed the importance of making Elphaba and Glinda's friendship the focal point of everything. He said this about the upcoming Wicked movie.
Hopefully, Wicked begins filming sometime in 2021, but the film won't likely won't go into production until we receive some casting news.
Triage - TBD - Post-Production
In 2020, ABC ordered Triage as a "second cycle" of pilots. In January 2020, former ABC Entertainment President Karey Burke and EVP Development and Content Strategy Simran Sethi announced plans to change how ABC developed pilots. Along with the first wave of pilots, there would be a second cycle. They would have the first wave ordered by January of that year, and the second cycle would happen sometime outside the traditional pilot filming and ordering window.
This was announced prior to the lockdown, when many movies and TV shows had production shutdown or delayed due to COVID-19. As of June 2021, Deadline lists Triage as still part of the second cycle, and in May 2021, ABC announced that the Triage pilot was finished and they were still evaluating and discussing the show. They hadn't made a decision yet on whether to give it a full-season order.
Jon M. Chu directed the pilot and is one of the executive producers of Triage. The series is a medical drama that follows Finley Briar, a leading surgeon, over the course of three decades at the same hospital. Triage's cast includes Parisa Fitz-Henley, who plays the lead character, Bex Taylor-Klaus, Michael Ealy, Vondie Curtis-Hall, Gabriel Sloyer, and Kathleen Robertson.
A definitive answer about the fate of Triage will likely be made before Fall 2021.
Originally, Jon M. Chu was hired to direct the Disney+ Willow series but left the project in January 2021. He has many projects in the works after his In the Heights success, which is already set to be one of the most discussed 2021 movies of the summer, so he has no plans of slowing down anytime soon. You can watch In the Heights streaming on HBO Max until July 11, 2021.
Spent most of my life in various parts of Illinois, including attending college in Evanston. I have been a life long lover of pop culture, especially television, turned that passion into writing about all things entertainment related. When I'm not writing about pop culture, I can be found channeling Gordon Ramsay by kicking people out the kitchen.
Your Daily Blend of Entertainment News
Thank you for signing up to CinemaBlend. You will receive a verification email shortly.
There was a problem. Please refresh the page and try again.