Fight Club Cast: What The Actors Are Doing Now, Including Brad Pitt And Edward Norton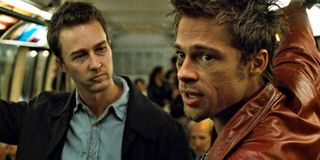 Obviously, the first (and the second) rule of Fight Club is that you don't talk about Fight Club. That said, that indoctrinating regulation hasn't stopped a whole lot of people from chatting breathlessly about David Fincher's cult classic adaptation of Chuck Palahniuk's influential 1996 novel. While the pulpy film wasn't widely acclaimed upon release, the sneering social satire has since been hailed as one of the finest films from one of our best filmmakers, and the lead performances from Edward Norton, Brad Pitt, and Helena Bonham Carter remain among their most revered. Now that it's been 21 years since this movie hit theaters, let's see what the Fight Club cast, including Jared Leto, is doing now.
Edward Norton (The Narrator)
As The Narrator, a dissatisfied, disassociative not-so-ordinary man who forms a hard-knock friendship with Tyler Durden, Edward Norton plays the unnamed protagonist in David Fincher's Fight Club. Following his acclaimed, Oscar-nominated breakout role in Primal Fear, Norton received two more Oscar nominations for his lead performance in American History X and his supporting turn Birdman or (The Unexpected Virtue of Ignorance). Additionally, the star is celebrated and recognized for his work in 25th Hour, The Illusionist, Rounders, The Score, Death to Smoochy, The Incredible Hulk, The Italian Job (2003), and Pride and Glory. Furthermore, Norton is both the star and producer of The Painted Veil, Leaves of Grass, and Down in the Valley, which the actor also edited.
Moreover, Edward Norton was the director, producer, and star of Keeping the Faith. Additionally, he wrote, produced, directed, and starred in Motherless Brooklyn. His other film credits include Moonrise Kingdom, The Grand Budapest Hotel, Red Dragon, Frida, The People vs. Larry Flynt, and Everyone Says I Love You. Next, Norton reunites with Wes Anderson for The French Dispatch. Currently, he's filming a role in Knives Out 2.
Brad Pitt (Tyler Durden)
In the role of Tyler Durden, our narrator's darker half who indulges his most destructive impulses, Brad Pitt plays the co-lead in Fight Club. Most notably, Pitt won two Oscars: one for his celebrated supporting turn in Once Upon a Time ... In Hollywood and another for producing 12 Years a Slave. Also, Pitt is Oscar-nominated for his work in Moneyball, The Curious Case of Benjamin Button, and 12 Monkeys, as well as for producing The Big Short. His other film credits include Mr. and Mrs. Smith, Inglorious Basterds, Se7en, Ad Astra, Legends of the Fall, The Assassination of Jesse James by the Coward Robert Ford, Interview with the Vampire, Troy, Babel, The Tree of Life, and the Ocean's movies.
Next, Brad Pitt will star in Bullet Train. He'll also provide a cameo in The Lost City of D. Currently, the award-winning actor is in the midst of filming Babylon. Additionally, Pitt will produce Blonde, The Curious Incident of the Dog in the Night-Time, Wrong Answer, Women Talking, Americanah, She Said, Black Hole, and a Chris Cornell documentary.
Helena Bonham Carter (Marla Singer)
Playing the part of Marla Singer, a heavy-smoking, coffee-loving, strong-willed woman who becomes something of a love interest for our dual-minded lead character, Helena Bonham Carter gives an exceptional performance in David Fincher's Fight Club. Notably, she was Oscar-nominated for her lead role in The Wings of the Dove and her supporting turn in The King's Speech. Additionally, Carter received two Emmy nominations for her portrayal of Princess Margaret in Netflix's The Crown. Also, the actress was Emmy-nominated for her performances in Burton and Taylor, Live from Baghdad, and Merlin.
Furthermore, Helena Bonham Carter is known for her multiple collaborations with Tim Burton, including Sweeney Todd: The Demon Barber of Fleet Street, Big Fish, Alice in Wonderland, Planet of the Apes, Charlie and the Chocolate Factory, Corpse Bride, and Dark Shadows. She also played Bellatrix Lestrange in the Harry Potter movies. Next, Carter will be seen in BBC's The Cleaner and heard in Netflix's The House. Additionally, she's signed on to star in Call My Agent, The Land of Sometimes, and Not Bloody Likely.
Jared Leto (Angel Face)
As Angel Face, a pretty-faced "Space Monkey" in Project Mayhem, Jared Leto gives one of his most famous performances in Fight Club. Most notably, Leto won an Oscar for Dallas Buyers Club. He's also known for starring in Requiem for a Dream, Lord of War, Mr. Nobody, Chapter 27, and Urban Legends. Additionally, Leto reunited with David Fincher for Panic Room. His other film credits include Blade Runner 2049, American Psycho, The Thin Red Line, Alexander, How to Make an American Quilt, Suicide Squad, and Girl, Interrupted. Furthermore, Leto is known for playing Jordan Catalano in ABC's My So-Called Life. Also, as a musician, he's the lead vocalist for 30 Seconds to Mars.
Most recently, Jared Leto provided a supporting turn in The Little Things and reprised his role as The Joker in Zack Snyder's Justice League. Next, he'll appear in House of Gucci. Moreover, Leto will star in Morbius. Currently, he's filming a role in Apple TV+'s mini-series, WeCrashed. Also, the method actor is soon expected to reunite with Darren Aronofsky in Adrift, play Andy Warhol in an upcoming biopic, and maybe star in Tron 3.
Meat Loaf (Robert "Bob" Paulson)
In the role of Robert "Bob" Paulson, a former bodybuilder who attends the testicular cancer support group, Meat Loaf has a memorable performance in David Fincher's Fight Club. A prog-rock musician who's best known for his wide-ranging voice, he's the powerhouse singer behind the best-selling Bat Out of Hell trilogy. Meat Loaf has nine other albums; the rock legend's most recent release was 2016's Braver Than We Are.
Furthermore, as an actor, Meat Loaf's other film credits include The Rocky Horror Picture Show, Wayne's World, Spice World, Roadie, Stage Fright, and Tenacious D in the Pick of Destiny. He can also be seen in BloodRayne, Crazy in Alabama, Out of Bounds, Leap of Faith, Blacktop, The 51st State, Burning Bright, The Moment, Beautiful Boy (2010), Motorama, and The Gun in Betty's Lou's Handbag. Additionally, on the stage, Meat Loaf appeared in the original cast of Rocky Horror. He was also in on-and-off-Broadway performances of Hair. Moreover, Meat Loaf's TV credits include House, Monk, The Outer Limits, and Elementary. The rocker was last seen in Syfy's Ghost Wars.
Zach Grenier (Richard Chesler)
Playing the part of Richard Chesler, The Narrator's boss, Zach Grenier has a notable role in Fight Club. A veteran character actor, Grenier is known for his supporting turns in Twister and Tommy Boy. Additionally, he later reunited with David Fincher for Zodiac. Furthermore, Grenier can be seen in films like Donnie Brasco, Working Girl, Cliffhanger, Fantastic Four: Rise of the Silver Surfer, J. Edgar, Problem Child 2, The Man Without a Face, Rescue Dawn, Swordfish, RoboCop (2014), Pulse, and See No Evil, Hear No Evil.
Away from film, Zach Grenier played David Lee in CBS's The Good Wife. Currently, the actor plays this part in Paramount+'s The Good Fight. Also, Grenier had recurring roles in Deadwood, 24, BrainDead, and Ray Donovan. His other notable television credits include Law & Order, Law & Order: SVU, and Curb Your Enthusiasm. Additionally, Grenier was Tony-nominated for his performance in Broadway's 33 Variations. Recently, he appeared in FX's Devs. Next, the actor will be seen in the short film, The White Stuff.
Holt McCallany (The Mechanic)
As The Mechanic, a Fight Club regular and veteran, Holt McCallany was a prominent supporting player in David Fincher's fourth film. Most notably, McCallany is known for playing the part of FBI Special Agent Bill Tench in Netflix's Mindhunter, which continued his working relationship with Fincher. His other television credits include CSI: Miami, Blue Bloods, Heroes, Freedom, Lights Out, Golden Boy, and Law & Order. Additionally, in film, McCallany can be seen in Three Kings, Alpha Dog, Sully, Alien 3, Creepshow 2, Men of Honor, Casualties of War, Run All Night, Against the Ropes, Blackhat, and Vantage Point. Furthermore, the actor appeared in The Losers, Shot Caller, The Peacemaker, Jack Reacher: Never Go Back, The Perfect Guy, Monster Trucks, Concussion, Below, and Justice League. Also, last year, McCallany had a supporting turn in Greenland.
Most recently, Holt McCallany was seen in Wrath of Man and Netflix's The Ice Road. Next, the actor appears in Guillermo Del Toro's Nightmare Alley. Currently, McCallany is filming a role in AMC's 61st Street. He's also signed on to star in Our Summer of Song.
David Andrews (Thomas)
In the role of Thomas, another member of the support group, David Andrews provides a vocal supporting turn in Fight Club. The character actor is also known for Terminator 3: Rise of the Machines, Apollo 13, A Nightmare on Elm Street, Wyatt Earp, World War Z, Fair Game, Cherry 2000, and Dear John. His other film credits include Jessabelle, Arthur Newman, The Conspirator, Stealth, A Walk to Remember, Hannibal, Graveyard Shift, and The Palmer Supremacy.
Additionally, on television, David Andrews was seen in JAG, Pulaski: The TV Detective, Justified, CSI: Miami, House of Cards, The Boys, Shooter, The Whispers, Drop Dead Diva, Crisis, Necessary Roughness, Marry Me, and Days of Our Lives. Furthermore, the actor guest-starred on Watchmen, How to Get Away with Murder, For All Mankind, NCIS, Scandal, and Six Feet Under. He can also be seen in Band of Brothers, CSI: Miami, Castle, Criminal Minds, Stargate SG-1, Star Trek: Enterprise, and Dawson's Creek. Most recently, Andrews appeared in the final season of USA Network's Queen of the South.
Eion Bailey (Ricky)
Playing the part of Ricky, The Narrator's young co-worker, Eion Bailey received one of his first film credits in David Fincher's Fight Club. A couple of years later, Bailey found more prominence in the role of Pvt. David Kenyon Webster in HBO's Band of Brothers. Also, Bailey is known for his work as Arthur, i.e. Pinocchio, in ABC's Once Upon a Time, Ben Mercer in USA Network's Covert Affairs, and Steve Knight in Showtime's Ray Donovan. Additionally, the actor had recurring roles in ER and Stalker, as well as a main part in the short-lived series, Significant Others. His other television credits include 30 Rock, Law & Order: Criminal Intent, FBI, and Emily in Paris. Last year, Bailey was the star of Hallmark Channel's Delivery by Christmas. He also won an Emmy for Lifetime's Life of the Party.
Furthermore, away from TV, Eion Bailey's other film credits include Almost Famous, Center Stage, Mindhunters, and Sexual Life. Most recently, the TV actor was seen in Paramount+'s The Stand. Next, Bailey will star in Epix's From, which is filming now.
Fight Club is currently available to stream on Amazon Prime.
Will is an entertainment writer based in Pittsburgh, PA. His writing can also be found in The Playlist, Cut Print Film, We Got This Covered, The Young Folks, Slate and other outlets. He also co-hosts the weekly film/TV podcast Cinemaholics with Jon Negroni and he likes to think he's a professional Garfield enthusiast.
Your Daily Blend of Entertainment News
Thank you for signing up to CinemaBlend. You will receive a verification email shortly.
There was a problem. Please refresh the page and try again.