The French Dispatch: Release Date, All-Star Cast, And Other Quick Things We Know About Wes Anderson's Latest Film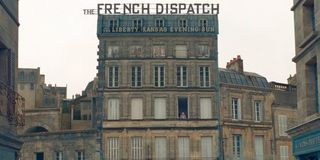 It might not be hot off the presses, but you'll finally get to see Wes Anderson's long-awaited new movie, The French Dispatch, in a theater near you soon. The 10th feature film from The Grand Budapest Hotel writer-director will feature a huge ensemble of familiar famous faces, including several Anderson regulars and a few newcomers to the director's filmography like Timothee Chalamet and Elisabeth Moss, along with a multi-narrative that continues to broaden the distinctive director's ever-expanding signature style. It's only a matter of months before it screens in cinemas worldwide.
In anticipation of this latest Wes Anderson feature, here's what we know (at least, so far) about October's long-delayed, star-studded European farce, The French Dispatch.
The French Dispatch Is The 10th Feature Film From Wes Anderson
At 52 years young, Wes Anderson is entering the double digits. The distinctive director made his 10th feature film with The French Dispatch, i.e. The French Dispatch of the Liberty, Kansas Evening Sun, which will serve as his follow-up to 2018's stop-motion animated Isle of Dogs. Similar to how Moonrise Kingdom followed Fantastic Mr. Fox, this new movie will return Anderson to live-action mode, though this story — which will contain three separate narratives — is expected to be one of his most adventurous movies yet. We'll have to wait to see how this newest film compares to his previous triumphs, which also includes Bottle Rocket, Rushmore, The Royal Tenenbaums, The Life Aquatic with Steve Zissou, The Darjeeling Limited, and The Grand Budapest Hotel.
The Newest Wes Anderson Film Will Arrive On October 22, 2021, Following Its Cannes Premiere
It hasn't been an easy road for Wes Anderson's The French Dispatch, but the destination is near! Following copious delays (as we'll discuss in a bit), the multi-narrative dramedy will screen in theaters nationwide on October 22nd. Prior to that, however, the movie will make its world premiere at the Cannes Film Festival, which has housed several Anderson movies over the years. Additionally, the movie will also be screened at the New York Film Festival before its theatrical rollout. It's been a long, long wait, but Wes Anderson fans can rejoice! It's just a few more months before his new movie is here.
The French Dispatch Tells A Series Of Stories From The Final Issue Of An American Magazine Published In A Fictional 20th Century French City
Throughout production, The French Dispatch kept its cards close to its deck. Or, rather, its magazine close to its stand. Whatever metaphor you wish to use. So much so that misinformation started to spread (as we'll discuss in a little bit). But now that we're closer to the movie's long-anticipated release, we have a better idea of what we can expect from Anderson's latest film. More specifically, The French Dispatch tells a series of disparate stories from the last issue of an American-based magazine — one that's published in a fictional 20th-century French city. From there, we'll follow a variety of French narratives from these bittersweet pages. Yep, that definitely sounds like a Wes Anderson movie! Here's hoping the film plays to the filmmaker's well-proven success.
The French Dispatch Cast Includes Frances McDormand, Timothée Chalamet, Bill Murray, Owen Wilson, Jeffrey Wright, Elisabeth Moss, And Many More Famous Faces
You can always count on Wes Anderson to return to his regular roaster of familiar famous faces. For instance, it's very rare for a Wes Anderson movie to not feature the established acting talents of Bill Murray and Owen Wilson, and The French Dispatch is no exception. Likewise, Willem Dafoe, Jason Schwartzman, Liev Schreiber, Edward Norton, Saoirse Ronan, Tilda Swinton, Frances McDormand, Adrien Brody, Lea Seydoux, and Anjelica Huston will once again reunite with the acclaimed auteur. Additionally, this star-studded cast will include the celebrated A-list acting talents of Benicio Del Toro, Timothee Chalamet, Jeffrey Wright, and Elisabeth Moss. Also rounding out the top-tier ensemble are Lyna Khoudri, Matthieu Amalric, and a few more surprises. Wes Anderson knows how to bring out a cavalcade of celebrities; this movie is certainly no exception!
The Movie Is Inspired By Wes Anderson's Love Of The New Yorker
Even when he's based in Europe, Wes Anderson takes many cues from his western influences. More specifically, The French Dispatch was shaped — in no small part — from the writer/director's love of The New Yorker. The long-revered publication has influenced literature in several different ways, and this new Anderson movie should respect its celebrated character. Certainly, Anderson's career owes several debts to the real-life magazine, as The New Yorker reported (go figure), but this movie will serve as his reverent tribute. Given his eccentric mixes of tones and styles, it's not surprising to know that the storyteller sought inspiration from the generation-spanning magazine.
The French Dispatch Has Faced Several Delays Due To COVID-19 Pandemic
Like many movies that were supposed to come out during the past hellish year, The French Dispatch was weathered its fair share of hurdles on its way to the silver screen. Originally slated to arrive on July 24, 2020 following its May 12, 2020 premiere at the Cannes Film Festival, Wes Anderson's movie was pulled from the calendar and faced several delays prior to its current release date. Hopefully, the wait was worth it!
Despite Past Reports, The Movie Is Not A Musical (Unfortunately)
When The French Dispatch was first announced, there were rumblings that it would be Wes Anderson's first foray into the musical world. Alas, it wasn't long thereafter that these rumors were disproven. During the filmmaking process, producer Jeremy Dawson shot down reports claiming that this movie would be Anderson's first full-out musical, one that was set in '50s France. Even though outlets reported that Mark Mothersbaugh was writing original songs for this period piece, Dawson noted that the upcoming film was "set in France at different times" but it wasn't a musical. Rather, it would be a "story about writers, with connections to Kansas, USA."
*The French Dispatch Has Over 125 Sets *
Though Wes Anderson often works on a modest budget (by Hollywood standards, at least), particularly with the $25 million price tag associated with this newest movie, The French Dispatch isn't lacking in scope, scale, or vision. Indeed, The French Dispatch tells a broad-reaching interconnected interlope of stories, which require a lot of unique characters bouncing between a variety of French-based backdrops. That must cause so many headaches — even for a seasoned filmmaker like Anderson.
Indeed, according to Indiewire, The French Dispatch will feature over 125 different sets, which is incredibly daunting to wrap your head around, especially when you're seated in the director's chair. Alas, there's the reason why Anderson is as revered as he is! Additionally, The French Dispatch marks a first for the long-respected filmmaker; it'll be the first Anderson movie to feature black-and-white photography.
Wes Anderson Is Reportedly Already Working On His Follow-Up Film
On average, we can expect a new Wes Anderson movie every three years. That was the waiting period between Rushmore and The Royal Tenenbaums, The Life Aquatic with Steve Zissou and The Darjeeling Limited, Fantastic Mr. Fox and Moonrise Kingdom — to only name a handful of Anderson movies. Ironically, despite its COVID-related year-long delay, The French Dispatch will follow suit, arriving around three years after 2018's Isle of Dogs — though we might not need to wait too long for Anderson's 11th feature film.
According to The Film Stage, Wes Anderson will start working on his latest film soon — if cameras aren't rolling already. The reported movie will reportedly shoot in Rome, and it's expected to be a romance with a mix of live-action and stop-motion animation. Details regarding this ode to Italian cinema remain limited, and it's hard to know if the project is still expected to start filming later this year. But this mysterious film sounds like a wonderful fusion of Anderson's idiosyncratic influences and sharp sensibilities.
The French Dispatch ships into theaters on October 22, 2021.
Your Daily Blend of Entertainment News
Will is an entertainment writer based in Pittsburgh, PA. His writing can also be found in The Playlist, Cut Print Film, We Got This Covered, The Young Folks, Slate and other outlets. He also co-hosts the weekly film/TV podcast Cinemaholics with Jon Negroni and he likes to think he's a professional Garfield enthusiast.