Jurassic Park III Alum Téa Leoni Has Perfect Response To Throwback Photos From The Film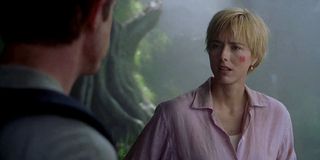 The Jurassic Park/World franchise is filled with a number of notable installments, yet some can sometimes fall by the wayside. 2001's Jurassic Park III is arguably one of those films but, despite this, it still managed to add some action and likable stars to the long-running franchise. Now, Téa Leoni, one of the film's stars, shared the perfect response to some throwback photos from the movie.
The Jurassic World Twitter recently shared some behind-the-scenes photos from Jurassic Park III in celebration of its 20th anniversary. The movie might not be the most highly regarded Jurassic Park film, but it still holds a special place in fan's hearts. So the fact that the franchise is celebrating it is a nice thing to see. Jurassic Park III star Téa Leoni seems to have enjoyed the photos as well, and her tweet was a great way to join in on the celebration:
Most would probably agree with Téa Leoni when she says her role in Jurassic Park III featured the best screaming of her career. It's really hard to debate when you consideri the number of scares and yelling required in a Jurassic film. Leoni's shout-outs to late dinosaur designer Stan Winston and the late actor Michael Jeter are also really sweet The photos are sure to provide fans with some nostalgia and the comfort of knowing that Leoni enjoyed her time working on the film.
In Jurassic Park III, Téa Leoni played Amanda Kirby, the wife of Paul Kirby (William H. Macy). After losing their son on the island of Isla Sorna, they trick Sam Neill's Alan Grant onto the island in hopes that he will help rescue their son. Now, that the Jurassic films are bringing back the original cast of Jurassic Park, maybe we will see Leoni make a cameo in a future movie?
The Jurassic behind-the-scenes nuggets have been coming in full force lately. Jeff Goldblum has recently revealed that one of his iconic Independence Day lines was, in fact, a nod to Jurassic Park. Dwayne "The Rock" Johnson has also shared a connection between the Jurassic movies and Jumanji. It's cool to see just how much the Jurassic Park franchise has influenced those directly involved as well as others who haven't.
Speaking of The Rock, there are still rumors of a long-shot collaboration between the Fast and Furious franchise and the Jurassic World franchise. Tyrese Gibson has been vocal about wanting to see the two franchises come together for a special collaboration, despite his Fast co-star Ludacris' dismissal of the idea. Whatever the future holds though, we know we are getting the OG stars of Jurassic Park in Jurassic World: Dominion and, hopefully, we see other stars like Téa Leoni get to join in on the fun.
Jurassic World: Dominion hits theaters on June 10, 2022.
Movie and TV obsessive. A good Heist movie is the way to my heart. Enjoyer of everything from Marvel Movies to Rom-coms.
Your Daily Blend of Entertainment News
Thank you for signing up to CinemaBlend. You will receive a verification email shortly.
There was a problem. Please refresh the page and try again.