Jeff Goldblum Reveals Iconic Independence Day Line Was, In Fact, A Nod To Jurassic Park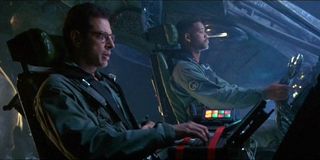 Independence Day is always the movie to watch on the Fourth of July, especially now the film is celebrating its 25th year since its release in 1996. Bill Pullman's iconic Fourth of July speech as President Thomas J. Whitmore helped change the film's name from its original title (Doomsday doesn't sound nearly as good as Independence Day). Jeff Goldblum has some amazing lines of his own in Independence Day, and the actor has revealed his most iconic one was, in fact, a nod to Jurassic Park.
Jeff Goldblum is no stranger to blockbusters. Starring in the massively influential Jurassic Park and then following that up with Independence Day, aka another one of the biggest movies ever. Jeff Goldblum has spoken about Independence Day in recognition of the 25th anniversary of the film and has revealed one of his most repeated lines from the film was taken directly from Jurassic Park, telling Yahoo! Entertainment:
Jeff Goldblum explains how his "Must go faster" line from Jurassic Park made it into Independence Day, saying it was suggested while they were filming the big escape from the mothership with the movies lead Will Smith. You know the famous scene: Jeff Goldblum is backseat driving as Will Smith is trying to escape before the nuke they fire into the heart of the ship explodes. The "Must go faster" line creates a cool moment of recognition and connective tissue to Goldblum's work in Jurassic Park, and it's nice to know it was an intentional homage.
Goldblum goes on to say he hopes that Steven Spielberg liked what they did with his line and that they used it with great affection and admiration for his work. Goldblum also explains how the Jurassic Park line came to be, saying it was organically suggested by Spielberg in the middle of shooting the T-Rex chase scene where Jeff Goldblum's character hears tremors and sees the vibrations in the puddles indicating that something big is coming.
Jeff Goldblum heard the suggestion and wondered if Steven Spielberg wanted his character to give a scientifically appropriate interpretation of the line, but they ended up keeping it simple and went with "must go faster" as the uttered line while the T-Rex bore down on the Jeep. The line is now in the lexicon of Jeff Goldblum-ism's for two different films, truly cementing it as an iconic getaway line.
There are a lot of facts about Independence Day you may not know. Seeing how the film could have turned out if things broke a little differently is fun to think about. Stories like Jeff Goldblum plagiarizing his line from Jurassic Park to make an homage to Steven Spielberg is a fun story that adds to the film's legacy.
To also note, Jeff Goldblum will be reprising his Jurassic Park role, a role he believes is more relevant than ever. The original Jurassic cast is coming back, and they are promised to play a major part in Jurassic World: Dominion. Fans are hoping for some new lines that only Jeff Goldblum can pull off, and maybe some callbacks to all the ones that came before. "Must Go Faster," anyone?
Movie and TV obsessive. A good Heist movie is the way to my heart. Enjoyer of everything from Marvel Movies to Rom-coms.
Your Daily Blend of Entertainment News
Thank you for signing up to CinemaBlend. You will receive a verification email shortly.
There was a problem. Please refresh the page and try again.