Harry Potter's Tom Felton Addresses Those Rumors He's Romantically Interested In Co-Star Emma Watson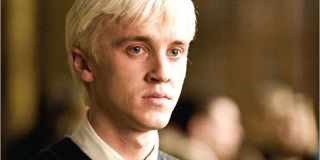 Harry Potter continues to be a premier franchise in the world of movies. The Harry Potter franchise can not stop moving streaming services, making tracking down where you can watch the films troublesome. There may be more movies on the way, and there is a possibility of a TV series on HBO Max. It's an ever-present entity in entertainment, and the stars of the original movies are the subject of a lot of speculation regarding their relationships. Harry Potter's Tom Felton has addressed those rumors he's romantically interested in co-star Emma Watson.
The cast of the original Harry Potter series practically grew up together and have shared more than a decade of experiences together, forging some long-lasting friendships. Tom Felton has been rumored to be romantically involved with Emma Watson, and the Draco Malfoy actor has responded, telling ET.com:
Tom Felton reiterates that he and Emma Watson are friends and have been close friends for a long time. Felton says that as far as the romantic side of things, that's more of a product of their characters in the films rather than who the two actors actually are as people. Fandom shipping two characters is normal, but Felton and Watson are not Draco Malfoy and Hermione Granger.
Tom Felton goes on to say that he thinks the world of Emma Watson and recognizes the experiences the young cast went through making the Harry Potter films and how Watson was the only girl and the youngest on set, growing up in that environment. Felton gets emotional and while gushing about Emma Watson, and he clearly cares for her a great deal as a friend.
The cast of Harry Potter has certainly been active recently, with Tom Felton hawking merchandise, telling stories about his father calling him Slotherin instead of Slytherin, and Evanna Lynch visiting and reviewing a new butterbeer store in New York. The influence of Harry Potter is not wavering, and along with the Fantastic Beasts franchise, there will surely be more to come out of the wizarding world.
Fantastic Beasts 3 has been pushed back all the way to July 2022 and has replaced Johnny Depp with Mads Mikkelsen as the film's villain Gellert Grindelwald. So the wait for another adventure in the world of Harry Potter continues and hopefully Fantastic Beats 3 is able to capture exactly what fans are hoping for. In the meantime you can always start a rewatch of the original Harry Potter movies.
Movie and TV obsessive. A good Heist movie is the way to my heart. Enjoyer of everything from Marvel Movies to Rom-coms.
Your Daily Blend of Entertainment News
Thank you for signing up to CinemaBlend. You will receive a verification email shortly.
There was a problem. Please refresh the page and try again.