The Best Wesley Snipes Movie Performances, Ranked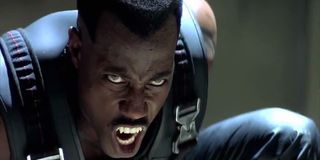 I only play roulette on occasion, but when I do, I always bet on black. And it's all because of Wesley Snipes, who was the predominant Black action hero of the 1990s. Sure, Richard Roundtree paved the way in the '70s with his character Shaft, along with many other Black actors. But Wesley Snipes movies helped propel Black action flicks into the mainstream. I don't think it's hyperbolic to say this, but without Blade, there likely wouldn't be a Black Panther movie.
With Coming 2 America coming soon, it got me thinking about how much I love Wesley Snipes. He made his first film appearance in the 1986 sports comedy, Wildcats, and has kept busy ever since. But while Snipes is probably most associated with action movies, which likely earned him a spot in the middling The Expendables 3, he also has great comic timing, making him very well-rounded as an actor. So, with that out the way, what are Wesley Snipes best movies? Well, "forget what you think you know," and check out this list!
10. Major League (Willie Mays Hayes)
Willie Mays Hayes, who can "run like Hayes" and "hit like Mayes" (or so he says) is what I was talking about earlier when I mentioned Wesley Snipes comedic chops in the intro. I mean, he would have to be funny, right? Major League is one of the most quotable and hilarious movies of the late '80s, early '90s, and Snipes holds his own with Charlie Sheen and future 24 President, Dennis Haysbert, in this classic comedy.
That said, Wesley Snipes' physicality also comes into play with this role. When you see him in his famous 100-yard dash scene, there's no doubt in your mind that this man could probably run very fast. And when he's stealing all those bases toward the end, you just accept it as a fact. Because Wesley Snipes is a beast! He just also happens to be a beast who can make you laugh.
9. White Men Can't Jump (Sidney "Syd" Deane)
From baseball to street basketball, White Men Can't Jump, which also stars Woody Harrelson, as Billy Hoyle, "a slow, white, geeky chump," and Rosie Perez as Billy's girlfriend, Gloria, was one of my favorite movies as a kid, which is funny since it sure has a lot of F-bombs in it. Wesley Snipes plays the cocksure Sidney "Syd" Deane, who is at first Billy's rival, but then winds up being his friend and hustling with him. It's a good time all around.
Wesley Snipe's Sidney is probably what made me love the movie, though. He brags, dances around, and is both a jerk and kind-hearted at the same time. He also shoots a mean jump shot. White Men Can't Jump might be Harrelson's movie, but I couldn't see anybody else besides Wesley Snipes playing the role as his partner above the rim.
8. The Fan (Bobby Raybum)
Back to baseball! In Major League, Wesley Snipes' character played for the failing Cleveland Indians. But in The Fan, which also stars Robert De Niro as a lunatic fan and a knife salesman (!), Snipes plays "San Francisco's brightest star" who can really wallop the ball out of the park. If he cares to, that is. Honestly, The Fan isn't a great movie—it's kind of like a sport version of Misery—but the fact that a tough guy like Wesley Snipes can play a scared baseball player worried about his kidnapped son just shows Snipes' remarkable range.
Also, while The Fan doesn't really rank all that highly in Tony Scott's filmography, I do think that the film is certainly elevated quite a bit by Wesley Snipes's performance, which is definitely the main highlight of the film.
7. New Jack City (Nino Brown)
New Jack City is kind of like if Scarface and Deep Cover starring Lawrence Fishburne, had a baby. Snipes plays Nino Brown, a drug dealer on the rise during the crack epidemic. And Ice T plays an undercover detective named Scotty Appleton who infiltrates Nino's drug ring since Nino killed his mother.
This movie is pretty much the Wesley Snipes show throughout, and all that cool arrogance that he would exhibit in White Men Can't Jump is on full display in New Jack City, where Snipes could be both menacing and charming in the same scene. Also, Ice T's acting isn't really all that great in this movie, making Snipes' performance stand out all the more so in this early '90s gangster epic.
6. Passenger 57 (John Cutter)
I can already picture the elevator pitch for Passenger 57. It probably went something like this: It's like Die Hard … but on a plane! Because that pretty much sums up the plot of Passenger 57, which single-handedly made Wesley Snipes an action star overnight. Remember that "always bet on black" line I used in the intro? Yeah, that's from this movie. But you already knew that, right? It's pretty much this film's most famous line of dialogue.
Here's the thing, though. Passenger 57 could have dovetailed and been an airborne version of Under Siege. But Wesley Snipes is not Steven Seagal. Not by a long shot, and Snipes' coolness lifts this film off the ground to create a badass action movie that is often quite silly, but always awesome. Between this and Money Train, I put Snipes right up there with other action stars of the '90s like Jackie Chan, Stallone, and Schwarzenegger. He just kicks so much ass it's insane.
5. Jungle Fever (Flipper Purify)
Even though Spike Lee's Jungle Fever feels a tad dated today, Wesley Snipe's performance as an architect who cheats on his black wife for a white woman still resonates today. It's mostly because Wesley Snipes doesn't mind playing a character who you dislike, as long as the performance fits the role.
Samuel L. Jackson steals the show in this movie. But Wesley Snipes proved all the way back in 1991 that he didn't need to be shooting anybody or kicking people in the kidneys to deliver a powerhouse performance.
4. Demolition Man (Simon Phoenix)
Demolition Man is still a wild ride, even today. And oh, man! 2032 isn't all that far away! In a future where crime has pretty much been eradicated, here comes Simon Phoenix (Snipes) cryogenically frozen and getting thawed out to wreak more havoc. Snipes really has a lot of fun in this role. And why wouldn't he? In a society where you can get a fine for even swearing, Snipes is going to be as bad as he wants to be, and we're all the luckier for it.
Demolition Man is an action movie at its heart—I mean, it was a Sly Stallone sci-fi vehicle after all. But it's also surprisingly funny, and Wesley Snipes is the spark who gives this movie a great deal of its humor.
3. Dolemite is My Name (D'Urville Martin)
Wesley Snipes has reached the age where he can play the kind of character who would scoff at the roles that he himself took on when he was younger, which is what he does in Dolemite Is My Name as real life director, D'Urville Martin. Eddie Murphy's Dolemite is outrageous in this movie, and it's hilarious to see Snipes' D'Urville Martin shaking his head at everything Dolemite is doing in the movie that he's directing.
Dolemite Is My Name is a funny movie. And while Snipes' character doesn't really stick around for the entirety of the story, he stands out for his seriousness in an otherwise silly film.
2. To Wong Foo, Thanks for Everything! Julie Nermar (Noxeema Jackson)
After starring in macho movies like Demolition Man, New Jack City, and Passenger 57, the next move for Wesley Snipes was obviously to throw on a wig and dress in drag. I mean, that's obvious, right? Because that's just what he did in the cult classic, To Wong Foo, Thanks for Everything! Julie Newmar. After tying for "Drag Queen of the Year" with Patrick Swayze's character, Wesley Snipes (as the fabulous Noxeema Jackson) goes on a road trip with him (and John Leguizamo!) to a podunk area that doesn't know what they're in store for once these three ladies come to town.
I mean, come on now. You want to show how much of a man you are? Then dress up as a woman. I love just how much Wesley Snipes commits to this role, which never feels like a cheap shot. In fact, the film was pretty ahead of its time, making homophobia look as disgusting and wrong as it is all the way back in 1995. And at no point does Wesley Snipes not look like he's having a good time, making it easy for the audience to have a good time with him, too. You go, girl.
1. Blade (Blade)
Wesley Snipes IS Blade. Or was Blade, anyway. Now, Mahershala Ali is going to be Blade. But for a time, you wouldn't even imagine anybody else filling in the role of the daywalker. That's how iconic Wesley Snipes' performance is.
And it's all because Wesley Snipes is the total package. He can kick butt, he can look cool doing it, and he can even crack jokes, making Blade one of the most unique and fun comic book movie series of all time. I bet you this. Once Mahershala Ali's version of Blade is brought to life, you're going to have plenty of Wesley Stans who are going to say that no matter how good Mahershala Ali's performance is, it will still never match Wesley Snipes'. It will probably be like the whole Tobey Maguire is better than everybody argument when it comes to Spider-Man. But unlike with Tobey Maguire, I actually think the argument might be warranted with Wesley Snipes' Blade. And yes, I just went there.
And that's the list. But what's your favorite Wesley Snipes performance? Sound off in the poll or in the comments section down below.
This poll is no longer available.
Rich is a Jersey boy, through and through. He graduated from Rutgers University (Go, R.U.!), and thinks the Garden State is the best state in the country. That said, he'll take Chicago Deep Dish pizza over a New York slice any day of the week. Don't hate. When he's not watching his two kids, he's usually working on a novel, watching vintage movies, or reading some obscure book.
Your Daily Blend of Entertainment News
Thank you for signing up to CinemaBlend. You will receive a verification email shortly.
There was a problem. Please refresh the page and try again.