Star Wars' Mark Hamill Shares Story Behind That Group Reunion Photo Featuring Jar Jar Binks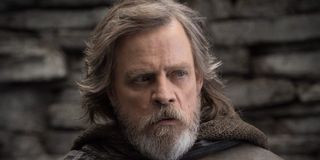 Mark Hamill has tons of Star Wars stories and behind-the-scenes facts that he has accumulated since starring in the original 1977 film. For instance, Hamill recently revealed that he had been a much more significant part of Disney's Star Wars films, secretly voicing several alien and robot characters under a pseudonym. Now, the actor has shared an interesting story behind that group photo featuring Jar Jar Binks.
While Mark Hamill likes to tell stories and have fun, he also likes to set the record straight while doing so. The recent revelation revolving around the notable Star Wars reunion photo that was released years ago may draw some mixed responses from fans. Hamill explained that while he really likes the photo, he didn't exactly get to participate in the way that you might expect. He posted on Twitter:
So Mark Hamill wasn't actually present for the photoshoot that included Harrison Ford, Carrie Fisher, Ewan McGregor, and the man that created it all, George Lucas. The fact that he was shot separately, does make a lot of sense when you consider just how busy the Star Wars alum was on Broadway at the time.
It should also be pointed out that Hamill was added to the photo pretty seamlessly. He doesn't jump out as photoshopped and, if Hamill wouldn't have revealed the secret, I doubt a number of people would have noticed. Still, there are many who work within the world of photo editing who may have figured this out some time ago.
The photo itself is fantastic, as it features the different generations of characters and stars from the original trilogy and the prequel films. Of, course Jar Jar Binks is front and center, drawing everyone's attention straight to him, but even General Grievous got to be a part of such an iconic reunion. It's amazing to see how much Star Wars has changed over the decades and, now, there needs to be another reunion photoshoot that includes the sequels.
Mark Hamill is at his Twitter best when sharing interesting factoids like his solo photoshoot. One of the best stories he has told on Twitter is how Billy Dee Williams played a prank on him when they met the Royal Family. He even recently revealed a funny story about the iconic "I am your father" scene from The Empire Strikes Back, specifically how it was hard to hear anything during the scene because of the enormous wind machines.
Seeing the Luke Skywalker actor taking to social media to make hilarious comments about his character's severed hand and comment on scientists finding a frozen claw that looks awfully familiar is always a treat for Star Wars fans. We'll surely see more of the same from Mark Hamill on Twitter as time goes on, and I think I speak for most when I say we are thankful for his endless supply of Star Wars fun facts and interesting stories.
Your Daily Blend of Entertainment News
Movie and TV obsessive. A good Heist movie is the way to my heart. Enjoyer of everything from Marvel Movies to Rom-coms.