Turns Out Mark Hamill Has Had A Larger Presence In Disney's Star Wars Movies Than We Thought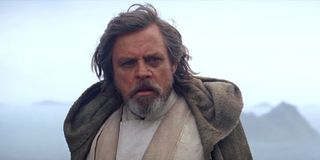 Legendary Star Wars actor Mark Hamill likes to have fun on Twitter, where he shares secrets and behind-the-scenes information with fans, and it's made him a must-follow for any fan For example, he's recently been having fun with Luke Skywalker's severed hand from the iconic "I am your father" scene by responding to merch related to his iconic character's ill-fated limb. But when he's not stirring up the Star Wars Milk debate, Hamill shares some surprising details about his work, and he just revealed that he's actually had a larger presence in Disney's movies than we thought.
Star Wars movies are always filled with awesome designs and quirky robots no matter where you are in the galaxy far, far away. Of course, this also includes a number of sly references and Easter eggs planted throughout different productions. Just recently, Mark Hamill responded to a Twitter post about him voicing a bartender robot in The Mandalorian, he included a massive and cool piece of information. Here's the tweet:
Mark Hamill reveals he has voiced multiple secret cameos throughout the Star Wars sequels (The Force Awakens, The Last Jedi) as well as Solo and Rogue One. It's honestly amazing that the actor has been able to keep his voice work a secret, though he has proven to be good at keeping them. He did, after all, manage to keep his lips sealed when it came to Luke Skywalker's amazing cameo on The Mandalorian.
Mark Hamill is a renowned voice actor, having lent his talents to characters from animated movies, shows, and video games over the last several decades. Of course, his most iconic animated character is, without a doubt, the Joker from Batman: The Animated Series. Hamill's Joker is so good that for a lot of Batman fans, he is the standard for the Clown Prince of Crime, even over his live-action counterparts. Given all of this, it's no surprise that Lucasfilm would utilize his skills for Star Wars movies.
It's more than clear that Mark Hamill loves sharing Star Wars content, and it's easy to understand why. Mark Hamill's history with the franchise goes back four decades, and he's more than proud of his work and those of his collaborators. He even recently shouted out co-star Harrison Ford for no other reason other than just to show love to the legendary actor.
Between the shout-outs and behind-the-scenes looks he has given, Mark Hamill can also tell some generally cool stories. He recently recalled being pranked by Billy Dee Williams while meeting the Royal Family. And of course, the actor doesn't mind throwing out a shady joke or two when it's necessary. Let's hope Hamill keeps dropping gems on Twitter and continues to land sweet vocal roles in the Star Wars films for a long time.
You can check out all of Mark Hamill's Star Wars movie appearances by streaming them on Disney+.
Your Daily Blend of Entertainment News
Movie and TV obsessive. A good Heist movie is the way to my heart. Enjoyer of everything from Marvel Movies to Rom-coms.